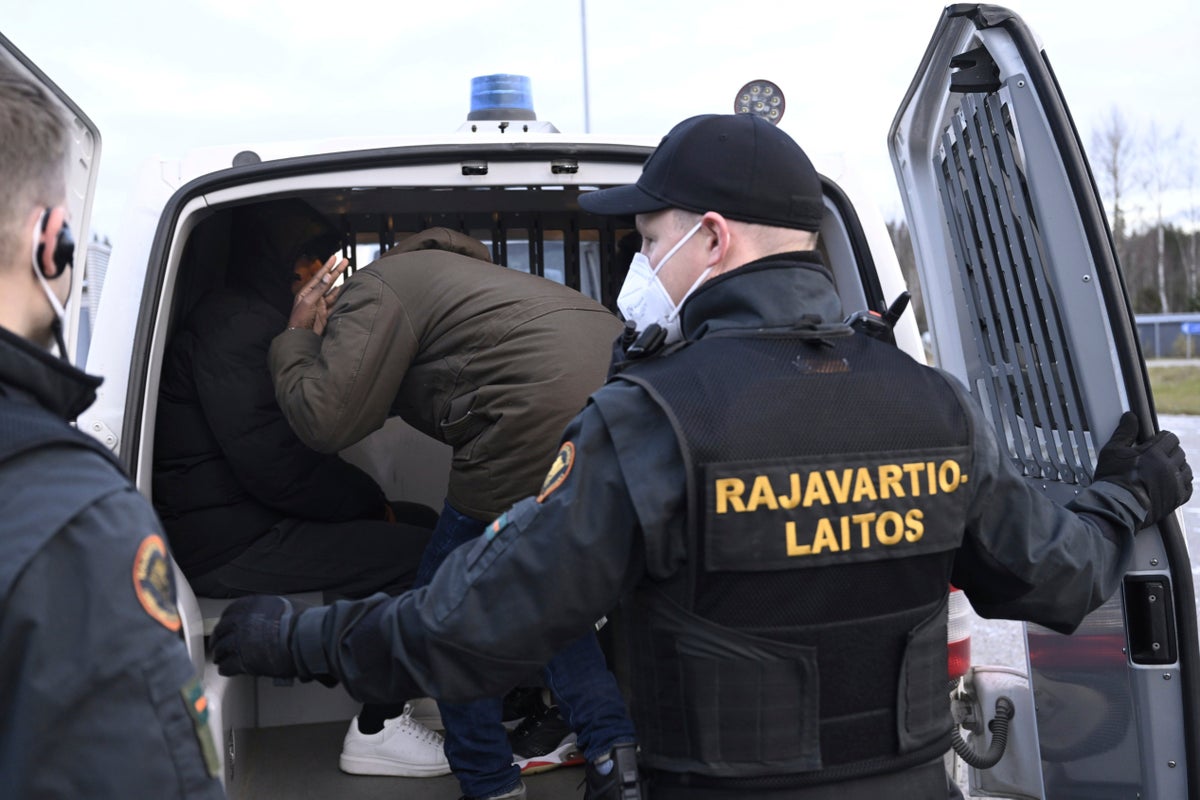 Finland will close four crossing points on its long border with Russia to stop the flow of Middle Eastern and African migrants that it accuses Moscow of ushering to the border in recent months, the government said Thursday.
Finnish Prime Minister Petteri Orpo and Interior Minister Mari Rantanen said the southeastern crossing points — Imatra, Niirala, Nuijamaa and Vaalimaa — will be closed at midnight Friday on the Finland-Russia land border that serves as the European Union's external border.
It runs a total of 1,340 kilometers (832 miles), mostly in thick forests in the south, all the way to the rugged landscape in the Arctic north. There are currently nine crossing points with one dedicated to rail travel only.
"Operations of the Russian border authorities have changed," Finnish Prime Minister Petteri Orpo told reporters.
He referred to dozens of migrants, mostly from the Middle East and Africa, who have arrived in recent days at the Nordic nation without proper documentation and have sought asylum after allegedly being helped by Russian authorities to travel to the heavily controlled border zone.
This represents a major change since Finnish and Russian border authorities have for decades cooperated in stopping people without the necessary visas or passports before they could attempt to enter either of the two countries.
Finnish authorities said this week that Russia has in recent months started allowing undocumented travelers to access the border zone and enter crossing stations where they can request asylum in Finland.
The Finnish Border Guard says migrants have in the past days arrived mainly from Iraq, Syria, Yemen, Turkey and Somalia, and nearly all have arrived at the border zone on bicycles that Finnish and Russian media reports say were provided and sold to them.
Most of them have used Russia only as a transit country to enter Finland and the EU, officials said.
Some 280 third-country migrants have arrived in Finland from Russia since September, border officials said Thursday.
Finnish President Sauli Niinistö on Wednesday linked Russia's actions to Finland's NATO membership in April after decades of military non-alignment, something that infuriated Moscow, which has threatened Helsinki with retaliatory measures several times.
He noted that Finland must be prepared for "certain malice" from Russia due to its decision to join the Western military alliance as a result of Moscow's attack on Ukraine in February 2022.
"Yes, we're constantly being reminded (by Moscow) that Finland has joined NATO," Niinistö told reporters during a visit to Germany.
Finland's Foreign Ministry announced last month that the country of 5.6 million has concluded a deal on a new bilateral defense agreement with the United States. Among other things, the so called DCA-pact allows Washington to send U.S. troops and store equipment, weapons and ammunition in agreed locations in Finland.
___
Follow AP's coverage of global migration at https://apnews.com/hub/migration