Editor's Note: A version of this story appears in CNN's Meanwhile in the Middle East newsletter, a three-times-a-week look inside the region's biggest stories. Sign up here.

Istanbul
CNN
 — 

Turkey has a "special" and growing relationship with Russian President Vladimir Putin despite mounting pressure on Ankara to help bolster Western sanctions against Moscow, Turkish President Recep Tayyip Erdogan said in an exclusive interview ahead of next week's presidential election runoff.
"We are not at a point where we would impose sanctions on Russia like the West have done. We are not bound by the West's sanctions," Erdogan told CNN's Becky Anderson. "We are a strong state and we have a positive relationship with Russia."
"Russia and Turkey need each other in every field possible," he added.
Erdogan is the apparent frontrunner in the Turkish presidential race which heads to a runoff vote on May 28. He and his principal rival, Kemal Kilicdaroglu, have diverged on a number of foreign policy issues, including diplomacy with the West and Russia.
Kilicdaroglu has vowed to repair years of strained diplomacy with the West.
He has also said he would not seek to emulate Erdogan's personality-driven relationship with Putin, and instead recalibrate Ankara's relationship to Moscow to be "state-driven."
But in the days leading up to the first round of the presidential race on May 14, Kilicdaroglu sharpened his tone on the Kremlin, accusing it of meddling in Turkey's election and threatening to rupture the relationship between the two countries.
"Dear Russian friends, you are behind the montages, conspiracies, deep fake content and tapes that were exposed in this country yesterday," he said on Twitter.
"If you want the continuation of our friendship after May 15, get your hands off the Turkish state," Kilicdaroglu said.
By contrast, Erdogan has doubled down on his relationship with Putin – and he thinks the West should follow suit. "The West is not leading a very balanced approach," he told CNN. "You need a balanced approach towards a country such as Russia, which would have been a much more fortunate approach."
He has accused his rival of seeking to "detach" Turkey from Russia.
Since Russia launched its invasion of Ukraine in February 2022, the Turkish strongman has emerged as a key powerbroker, adopting a crucial balancing act between the two sides, widely known as "pro-Ukrainian neutrality."
He helped broker a key agreement known as the Black Sea Grain Corridor Initiative that unlocked millions of tons of wheat caught up in Russia's invasion of Ukraine, averting a global hunger crisis. The agreement was extended for another two months on Wednesday, one day before it was set to expire.
"This was possible because of our special relationship with President Putin," he told CNN, referring to the grain deal.
Russian-Turkish trade comes to $62 billion annually. Earlier this year, Putin waived Turkish gas payments to Russia in a move that was believed to help bolster Erdogan's chances in the election.
Erdogan also helped secure an exchange of prisoners of war between Ukraine and Russia, in addition to hosting some liberated Ukrainian POWS in Turkey, and providing Kyiv with arms. Still his close ties with Putin have made his Western allies nervous.
In his interview with CNN, Erdogan tackled another key flashpoint in Turkish tensions with the West: Sweden's accession to NATO. Turkey – NATO's second largest army – has blocked Stockholm's membership in the alliance, accusing it of harboring militants from the banned Kurdistan Workers Party (PKK).
"As long as Sweden continues to allow the offshoots of terror groups in Turkey to roam free in Sweden, in the streets of Stockholm, we cannot look favorably on Sweden's membership in NATO," Erdogan said.
"We're not ready for Sweden right now," he added. "Because a NATO country should have a strong stance when it comes to fighting terrorism."
Sweden has refused Turkey's repeated requests to extradite individuals Ankara describes as terrorists, arguing that the issue can only be decided by Swedish courts.
Erdogan also criticized US President Joe Biden for calling him an "autocrat" in his 2020 campaign for the White House. "Would a dictator ever enter a runoff election?" Erdogan questioned.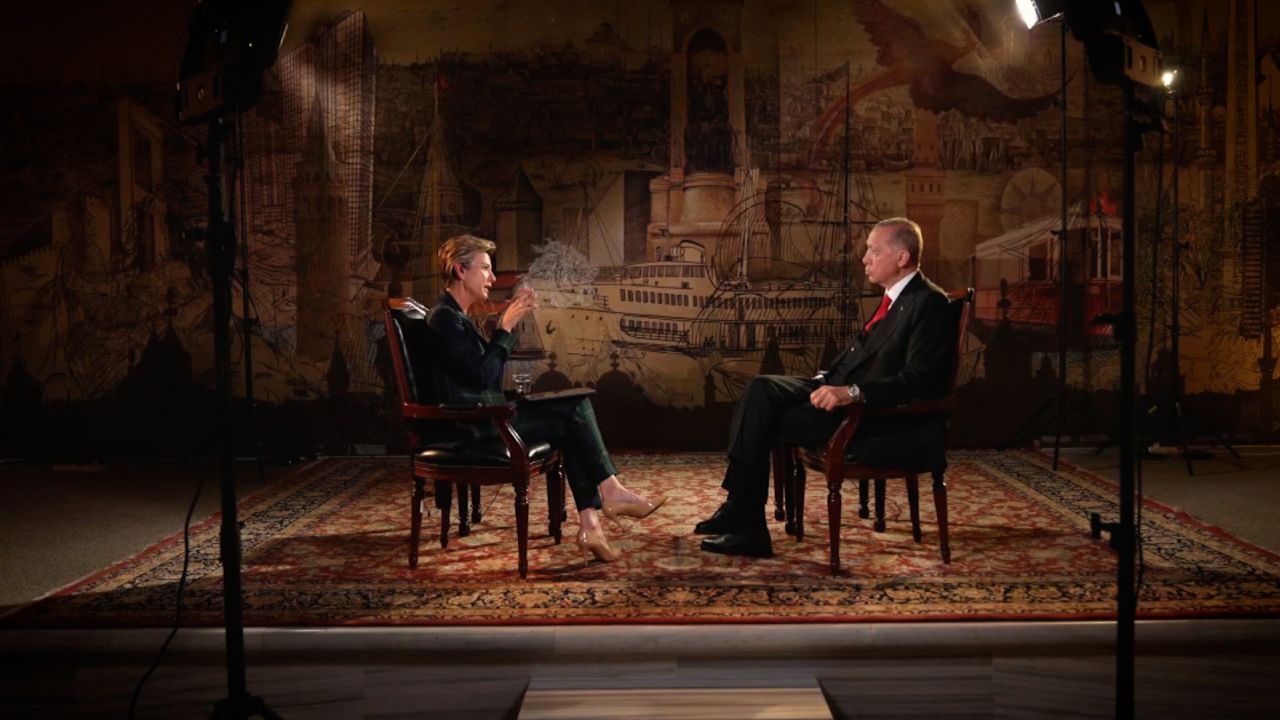 Erdogan struck an optimistic note about the ongoing presidential race. "This is a new experience for Turkish democracy. I believe my people will turn up for a strong democracy in next Sunday's elections," he said.
He secured a nearly five-point lead over Kilicdaroglu in the election's first round on May 14. His ruling Justice and Development (AK) party also won a comfortable parliamentary majority.
Erdogan told CNN that he expected his party's strong performance in the parliamentary contest to boost his chances in the presidential runoff, arguing that voters may be deterred by the prospect of voting for a hung parliament. "Stability and confidence are very important and people who look for stability will do what is necessary at the polls," he said.
Neither candidate surpassed the 50% threshold needed to clinch the presidential win in the first round.
The result defied opinion polls, which predicted a slight lead for Kilicdaroglu, the 74-year-old bureaucrat and leader of the left-leaning CHP.
Six opposition groups had formed an unprecedented unified front to try to wrest power from Erdogan, who also faced headwinds from a flailing economy and the aftermath of the devastating earthquake on February 6 which killed more than 50,000 people.
The opposition has described the election as a last stand for Turkish democracy, accusing Erdogan of hollowing out the country's democratic institutions during his 20-year rule, eroding the power of the judiciary and repressing dissent.
The president's detractors also blamed his unorthodox economic policies – namely his refusal to raise interest rates – for unfettered inflation and a plummeting lira.
In his interview with CNN, Erdogan denied cracking down on freedoms, claiming that "nobody is behind bars for their ideas in Turkey." According to Reporters Without Borders, more than 100 journalists, lawyers and local politicians were arrested in the weeks leading up to Sunday's elections.
He also defended his decision to suppress interest rates and claimed it has already yielded positive results. "I have a thesis that interest rates and inflation are positively correlated. The lower the interest rates, the lower inflation will be," said Erdogan. "We have seen results in terms of the steps we have taken."
The government's shambolic initial response to the massive earthquake – which officials have acknowledged and apologized for – was also expected to buoy the opposition. But on May 14, Erdogan won the majority of votes in Turkey's devastated southeast.
Turkey's nearly 4 million-strong Syrian refugee population is also a tinderbox issue in this election. Kilicdaroglu has promised to deport Syrian refugees. The race's third-place candidate, Sinan Ogan, is an ultra-nationalist who has said he would endorse the candidate with the more stringent refugee policy.
This appears to have prompted Kilicdaroglu to take on a hardened stance on refugees in his campaign videos. Meanwhile, Erdogan has told CNN that he won't bend to Ogan's wishes.
"I'm not a person who likes to negotiate in such a manner," he said, responding to speculation about Ogan emerging as a kingmaker in the runoff. "It will be the people who are the kingmakers."
Erdogan has dismissed opposition calls for a comprehensive deportation of refugees and has said that he will instead "encourage" around a million refugees to return to Syria. He said Turkey was building infrastructure and homes in Turkish-controlled parts of the war-torn country to facilitate their repatriation.
"Turkish NGOs are building residential units in northern Syria so that refugees here can go back to their homeland. This process has already started," he told CNN. "We are encouraging one million refugees to go back to their homeland."
Electoral campaigns around deporting Syrians in Turkey come as part of a regional drive to push displaced Syrians back to the crisis-ridden country. Jordan and Lebanon, which also host millions of Syrian refugees, have also called for mass repatriation.
It also comes as part of a wave of regional normalization with the regime of Syrian President Bashar al-Assad, despite numerous allegations of war crimes and crimes against humanity levelled against the dictator.
Erdogan, who backed armed Islamist opposition groups in Syria's civil war, said he is also keen to turn the page, through Assad's main backer, Putin.
"(Through) my friendship with President Putin, we thought we could open a door, specifically in our fight against terrorism in the northern part of Syria, which requires close cooperation and solidarity," he said, referring to Kurdish militants in northeast Syria.
"If we can do that, I said I see no obstacle that would remain in the way of our reconciliation," he said, while promising to maintain Turkey's presence in northern Syria despite Assad preconditioning talks on Ankara's withdrawal from the territory.
"We have more than 900 kilometres of border and there is a constant terror threat from those borders on our country," he said. "The only reason we have a military presence on the border is to fight against terrorism. That's the sole reason."