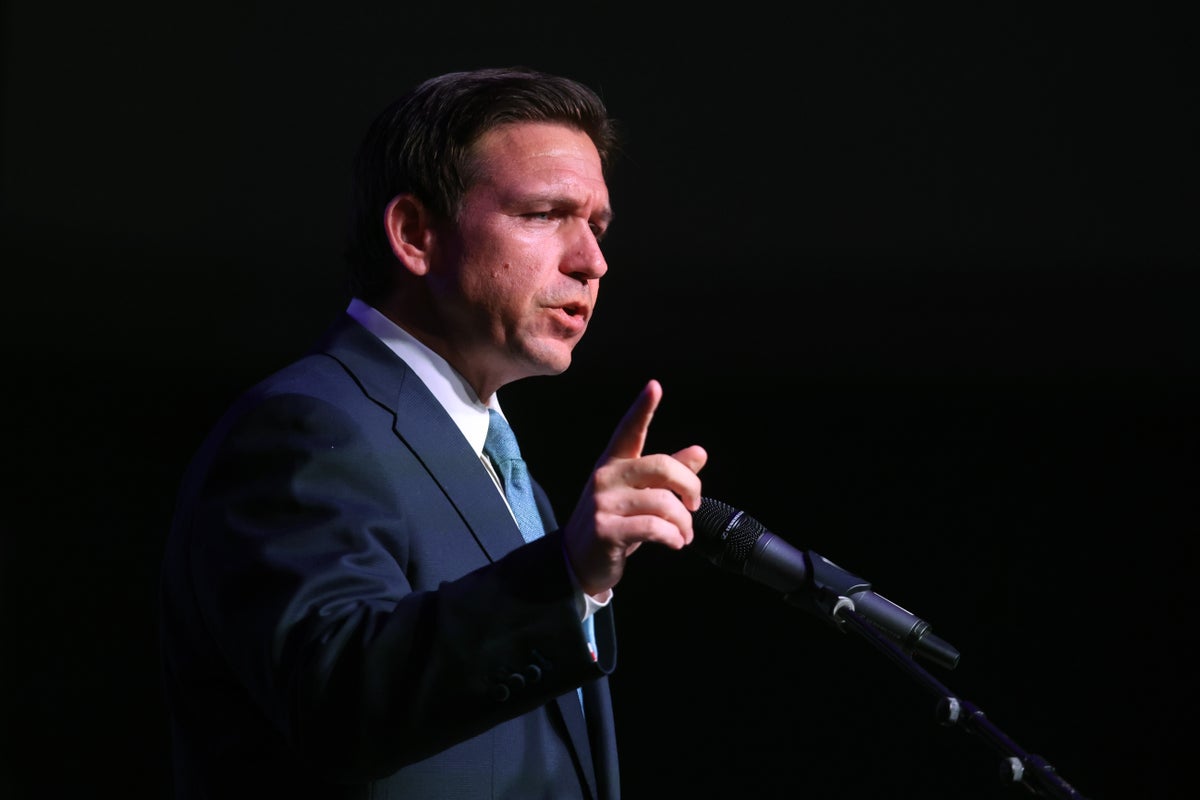 Florida Gov Ron DeSantis has filed paperwork declaring his candidacy for president. Later on Wednesday 24 May, Mr Desantis will formally launch his 2024 bid during a Twitter Spaces event with CEO Elon Musk, putting the Florida governor in direct conflict with former president Donald Trump.
Much of Mr DeSantis's case for being president has focused on electability, with his pitch being that he is the only Republican candidate who can beat President Joe Biden. Similarly, Mr DeSantis has sold himself as a conservative warrior who has passed legislation restricting abortion access and curtailing how sexual orientation and gender identity are taught in schools.
At the same time, his donors argue that his relative youth – at age 44, he is the youngest male governor in the country – as well as his focus on the environment could help him appeal to moderate voters.
This argument largely began to solidify after the 2022 midterm elections, when multiple Trump-endorsed candidates lost their races. Mr DeSantis, meanwhile, cruised to re-election in Florida by almost 20 points.
In the following months, Mr DeSantis began to take the lead in polling against Mr Trump. In December of last year, a Suffolk University/USA Today poll showed that 56 per cent of Republicans and Republican-leaning independents preferred Mr DeSantis to be the Republican nominee. Furthermore, the polling showed that he beat Mr Biden by three points in a head-to-head matchup.
A week after the midterm elections, Mr Trump announced his re-election campaign. And that's when things began to sour for Mr DeSantis.
In the days before the 2022 midterms, Mr Trump began testing out attacks against the Florida governor, calling him "Ron DeSanctimonious" at a rally in LaTrobe, Pennsylvania. Mr Trump continued ratcheting up his attacks in the intervening months.
But the governor almost never responded to the attacks from Mr Trump. Instead, Mr DeSantis launched a book tour, often a precursor to a campaign for the White House, where he visited some of the early contest states such as Iowa and New Hampshire. A host of former Trump allies also launched a Super PAC called Never Back Down.
Mr DeSantis's polling began to decline around this moment. In January, Mr DeSantis only trailed Mr Trump by 20 points in a Harvard CAPS/Harris Poll, but that number dropped by five points in February.
The decline coincided with a series of perceived missteps by Mr DeSantis, including taking a swipe at Mr Trump allegedly making hush money payments to adult film actress Stormy Daniels and calling Russia's invasion of Ukraine a "territorial dispute".
But Mr DeSantis's support among Republicans began to drop precipitously more recently. In the beginning of January, a Morning Consult survey showed only a 13-point gap between Mr Trump and Mr DeSantis. But Mr Trump's support has grown prodigiously, while Mr DeSantis's has dropped to the point at which Mr Trump leads Mr DeSantis by a whopping 38 points.
At the same time, Mr DeSantis fares slightly better than Mr Trump against Mr Biden in the Morning Consult survey. In a hypothetical rematch, Mr Biden and Mr Trump would be tied at 42 per cent each, while Mr DeSantis would beat Mr Biden 43 per cent to 40 per cent.
Election Day 2024 remains more than a year away, giving Mr Trump and Mr DeSantis plenty of time to sharpen their messages and appeal to voters. But if Mr DeSantis wants to increase his chances against Mr Trump, the governor may need to change tack.