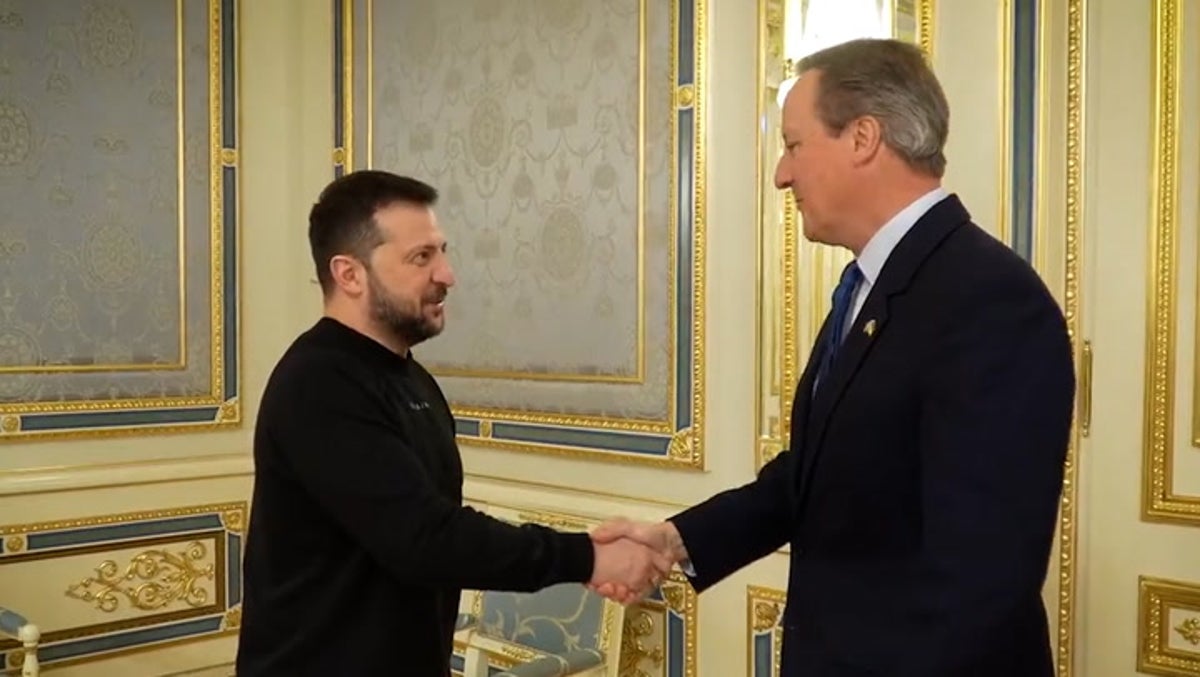 David Cameron has visited Volodymyr Zelensky in Ukraine in his first overseas trip as foreign secretary.
The former prime minister joked about his "disagreements" with Boris Johnson, but said support for the Ukrainian president was "the finest thing" his government did.
And Lord Cameron promised Britain would maintain "moral, diplomatic, economic and military support" to the war-torn country "for however long it takes".
In a video of the meeting posted on X by president Zelensky, Lord Cameron said: "I had some disagreements with my friend Boris Johnson, and we have known each other for 40 years, and his support for you was the finest thing that he and his government did."
The newly appointed foreign secretary added: "I wanted this to be my first visit. Personally, I admire the strength and determination of the Ukrainian people.
"And what I want to say by being here is we will continue to give you the moral support, the diplomatic support the economic support, but above all the  military support, not just this year and next year, but for however long it takes."
Ukraine's president said the pair discussed the supply of weapons for his forces fighting against the Russian invasion when they met in Kyiv.
Mr Zelensky said: "We had a good meeting focused on weapons for the frontline, strengthening air defence, and protecting our people and critical infrastructure.
"I am grateful to the UK for its support!"
Former prime minister Lord Cameron became Foreign Secretary on Monday and the early visit to Ukraine will be intended to demonstrate the UK's continued support for the country.
His predecessor James Cleverly had been scheduled to make the visit before being moved to the Home Office in Monday's reshuffle.
Lord Cameron's long-time rival and successor as PM Mr Johnson was a steadfast supporter of Ukraine, striking up a close relationship with president Zelensky after Russia's invasion.
It led a small town in southern Ukraine to rename one of its roads after him in recognition of the UK's efforts to help the country in its war against Russia.
Rishi Sunak has promised Britain will maintain its support for Ukraine, following in Mr Johnson's footsteps.