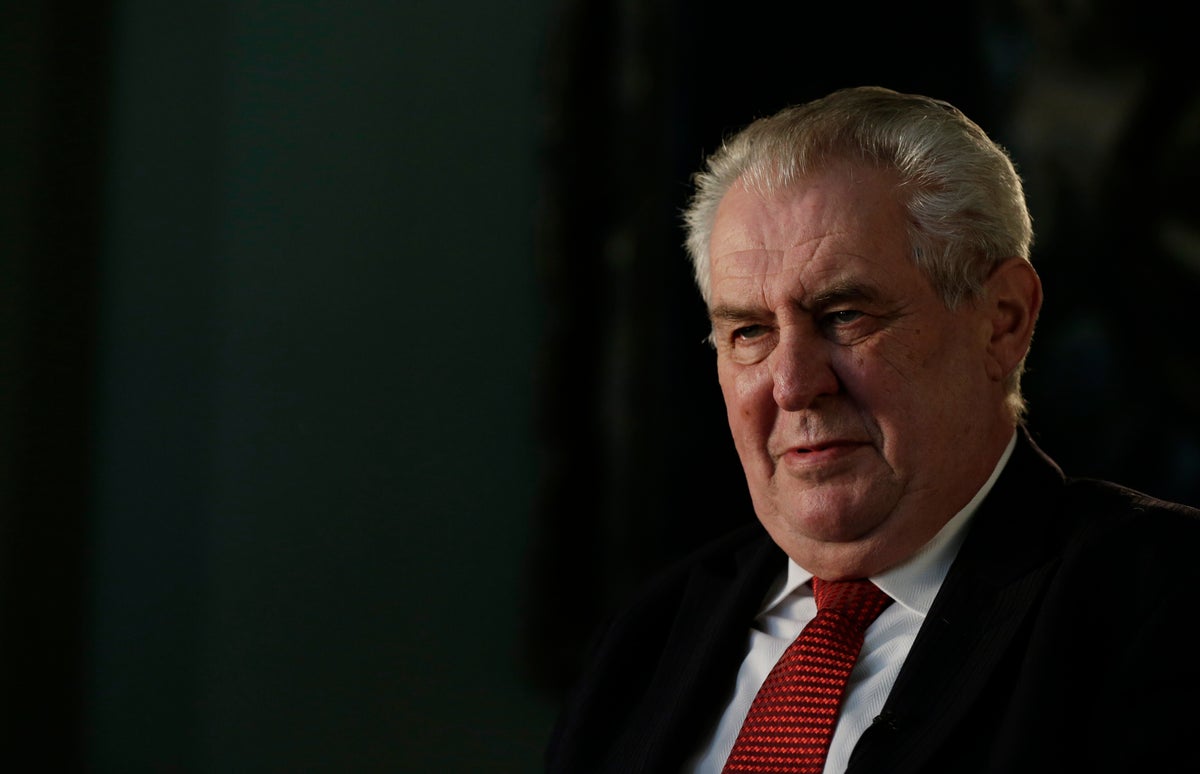 Over the past 10 years, Czech President Milos Zeman has courted controversy, seeking a referendum on whether his country should leave the European Union, targeting migrants and joking about killing journalists.
Many Czechs will cheer the departure of their outgoing head of state Wednesday — with one activist group planning to burn Zeman in effigy and cast the ashes into Prague's Vltava River.
Zeman will be replaced in the largely ceremonial post by retired army general Petr Pavel, who beat a populist billionaire in the second round of presidential elections on Jan 28. Pavel formally takes over Thursday.
In his two consecutive terms in office, Zeman, 78, has polarized public opinion. A divided nation to which he contributed will be the most visible legacy of his reign while much of his political agenda at home and abroad failed.
While his predecessors, Vaclav Havel and Vaclav Klaus, were elected by Parliament, when former prime minister Zeman took the office in 2013 it was in a direct vote by the Czech public. His ally Andrej Babis — who unsuccessfully ran against Pavel in January — became finance minister the same year before later assuming the post of prime minister.
"It turned out that a directly elected president can turn semi-dictator if he has the will and faces a weak opponent in the prime minister," said Vera Kovarova, a deputy speaker of Parliament's lower house from the STAN party.
Zeman was considered more pro-European than his euroskeptic predecessor Klaus, but gradually used every opportunity to attack the EU, including its plan to tackle climate change. After Britain decided to leave the EU, he proposed a referendum on the country's membership in the bloc — while saying he would vote to stay.
He also sought closer ties with China and became a leading pro-Russian voice in EU politics.
His critics called him "a servant of the Kremlin" after he sided with Russia and cast doubt on the findings of his country's own security and intelligence services on the alleged participation of Russian spies in a huge 2014 ammunition explosion.
After Russia invaded Ukraine last year, Zeman condemned the "unprovoked act of aggression," but he had opposed the initial EU sanctions against Russia after the 2014 annexation of Crimea.
Zeman declared he would focus on economic diplomacy but his promises of Chinese investments worth billions of dollars never materialized and his hopes to boost ties with Russia came to a complete end with the invasion of Ukraine.
On the 25th anniversary of the 1989 anti-communist Velvet Revolution that year, protesters pelted him with eggs, sandwiches and tomatoes, accusing him of betraying the commitment to human rights enshrined by Havel, the hero of the revolution.
Zeman was one of the few European leaders to endorse Donald Trump's bid for the White House and support his decision to move the U.S. Embassy in Israel to Jerusalem from Tel Aviv. His pro-Israeli views were perhaps the only part of his foreign policy that was positively welcomed in his country, which is one of the strongest allies of Israel in the EU.
Among other controversial acts, Zeman also linked Islamic extremist attacks in Europe to immigration, which he has described as an "organized invasion." And he made derogatory comments about the #MeToo movement and transgender people, and vowed to veto legislation allowing same-sex marriages should it be approved by Parliament.
The media presented another target. On his first day in office, Zeman said some journalists "brainwash" and "manipulate public opinion." He told Russian President Vladimir Putin during a meeting in China that there were too many journalists and some should be "liquidated."
At home, Zeman was accused of trying to adjust the Constitution to his own needs. In 2019, the upper house of Parliament, the Senate, voted to charge him with failing to act in line with the Constitution in eight cases, including a repeated failure to appoint proposed government ministers. But the lower house dominated by Babis' party didn't follow suit and the case was never sent to the Constitutional Court for a final verdict.
In 2013, following the collapse of a government, Zeman ignored a coalition that had a majority in Parliament and named a new government of technocrats led by his adviser as prime minister. Most constitutional lawyers and experts said he had no right to do it.
That Cabinet lost a confidence vote but remained in power for half a year until an early election, pushing some of Zeman's projects, including a artificial waterway that would link rivers in Austria, Poland and Czechia. Experts dismissed the project as unrealistic and it was recently completely abandoned by the current government.
Zeman is a chain smoker with a soft spot for alcohol but has said he changed his habits an his doctors' advice. He has diabetes, has trouble walking and has been using a wheelchair.
Zeman has said he will settle in his new home near the presidential chateau in Lany, west of Prague, and he is planning to open an office near Prague Castle, the seat of presidency.