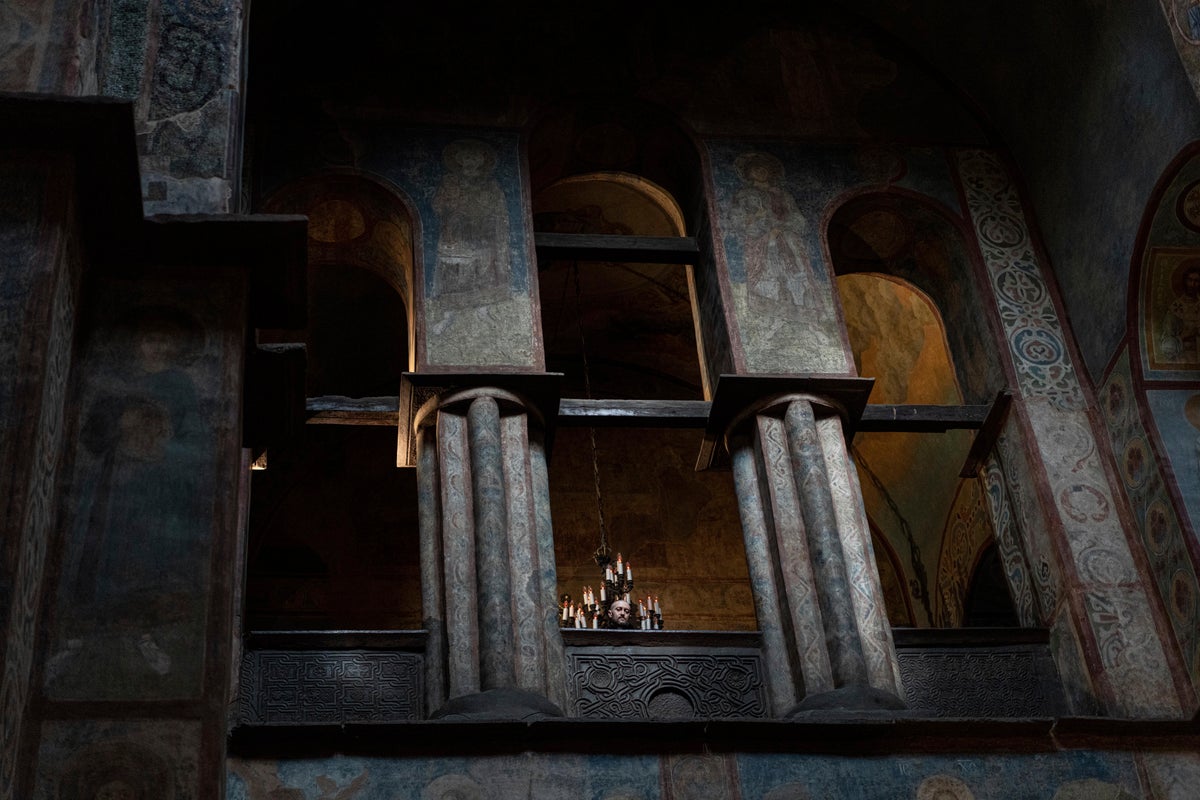 To the haunting chants of a church choir in Kyiv's 11th century Saint Sophia Cathedral, the first group of chaplains to join the Ukrainian military's command structure graduated in a ceremony Saturday.
Although chaplains have ministered to Ukraine's armed forces for years, they worked as embedded civilians rather than as officers. Now, they will sign contracts to serve in those armed forces, undergo a six-week training program and get inducted.
The first group of military chaplains to fall under this new system began training Feb. 20. In their new assignments, they won't use weapons but are expected to know general military concepts and tactical medicine, Ukrainian authorities said.
"We had intense psychological training, military training," Gennadiy Rohmanenko, who was among the graduates who received the rank of junior lieutenant, said. "It means that we can put together church duty and military duty. The motto of chaplains is 'Being there,' God's presence in the army. This is the mission of the chaplain."
Creating the Ukrainian Chaplaincy Service came in response to legislation passed at the end of 2021. With Ukraine entering its second year of war against Russia's invasion, the need for chaplains to support its soldiers is greater than ever.
The 30 chaplains who went through the first training came from five religious organizations: the Orthodox Church of Ukraine, the Ukrainian Greek-Catholic Church, the Ukrainian Evangelical Church, the All-Ukrainian Union of Evangelical Christian-Baptist Churches and the interdenominational Council of Christian Churches and Religious Organizations.
Rohmanenko has worked as an army chaplain since 2014, initially as a volunteer and then as an embedded civilian, so he knows what the mission requires.
The job entails "guardianship and spiritual shepherding or spiritual consoling," Rohmanenko said, noting the importance of showing a service member direction.
"In the rear of the battle, military operations, a person sometimes loses his bearings," he said. "Therefore, the most difficult thing for a soldier in battle is to remain human. So chaplains need to do everything to save a soldier's soul after their combat duties."
Another freshly minted junior lieutenant, Yevren Flysta of the 105th Brigade of the Territorial Defense Forces, said soldiers are, first and foremost, "a spiritual person, and he must have strength, he must have support."
Destructive forces, Flysta said, "affect (a soldier's) internal self-esteem, self-perception. Therefore, our task is to preserve a person as a person, a person of spiritual strength."
___
Follow AP's coverage of the war in Ukraine: https://apnews.com/hub/russia-ukraine