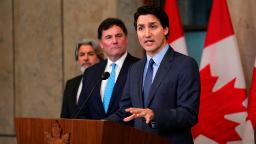 Ottawa
CNN
 — 

Amid recent allegations that China attempted to meddle in Canada's 2019 and 2021 elections, Canadian Prime Minister Justin Trudeau said he would appoint an independent investigator or rapporteur to help identify and combat foreign interference in Canada's elections and its democracy.
"We have long known, and an independent report confirmed it again last week, that the Chinese government and other regimes like Iran and Russia have attempted to interfere not just in our democracy but in our country in general, whether it's our institutions, our businesses, our research facilities or in the daily lives of our citizens," said Trudeau Monday during a press conference in Ottawa.
Trudeau added that he was taking new investigative steps to safeguard democracy saying foreign actors were looking to foster instability in Canada. But he underscored that multiple reports have so far determined that despite foreign influence attempts, the results of the 2019 federal election and the 2021 election were not impacted.
Trudeau, who is under fire from opposition parties to immediately call a wide-ranging public inquiry into the issue, said that decision would be up to the rapporteur.
"We will ask the independent special rapporteur as one of the first tasks of their mandate to provide the government with a recommendation as to what the appropriate next step should be whether it be an inquiry and investigation or a judicial review and what the scope of that work may be and we will abide by their recommendation," he said.
China has reacted angrily to allegations of interference in Canadian elections in recent days calling the accusations "total nonsense."
"It must be pointed out that only those well-versed in spying can fabricate the outrageous lies as reported in the media," read a statement, in part, from China's embassy spokesperson in Ottawa. "Only those accustomed to interfering in other countries' internal affairs are prone to suspicion and preoccupied with playing the trick of feigning innocence and calling others a thief."
Chinese Foreign Minister Qin Gang on Thursday also denied the allegations, saying during a meeting with Canadian Foreign Minister Mélanie Joly during a G20 meeting, "China never interferes with other countries' internal politics, and opposes any country interfering other countries' internal politics."
Canada's opposition leader, Pierre Poilievre, said only a full public inquiry will "get to the bottom" of what actually happened with regards to foreign interference.
"Justin Trudeau has known about this interference for a decade because it was ten years ago that the Trudeau foundation got its $200,000 (Canadian dollar) donation from a Beijing backed donor and ever since we know that the government in Beijing has been trying to influence and support Justin Trudeau," said Poilievre during a press conference Monday.
Poilievre was referring to a Globe and Mail newspaper report that a foundation named after Trudeau's father, Pierre, a former prime minister of Canada, had received a $200,000 (Canadian dollar) donation in 2016 from two wealthy Chinese businessmen to fund scholarships and leadership programs.
Poilievre claims those connections go back to 2013 when the younger Trudeau first entered politics.
A spokesperson for Trudeau's office said that the prime minister withdrew his involvement in any affairs of his father's namesake foundation when he entered federal politics nearly a decade ago.
In a statement last week, the Pierre Elliott Trudeau Foundation said it would refund the donation in light of recent media reports, and in keeping with its role as an independent, non-partisan charity. The foundation said it would not accept any donation that "may have been sponsored by a foreign government," according to the statement.
In a government report released last week, Morris Rosenberg, a former public servant charged with looking into attempts to influence Canada's 2021 election, concluded that foreign actors attempted to meddle but that they did not influence the outcome of the elections.
Rosenberg himself was the CEO of the Pierre Elliot Trudeau Foundation in 2016 when the Chinese businessmen made the donation.