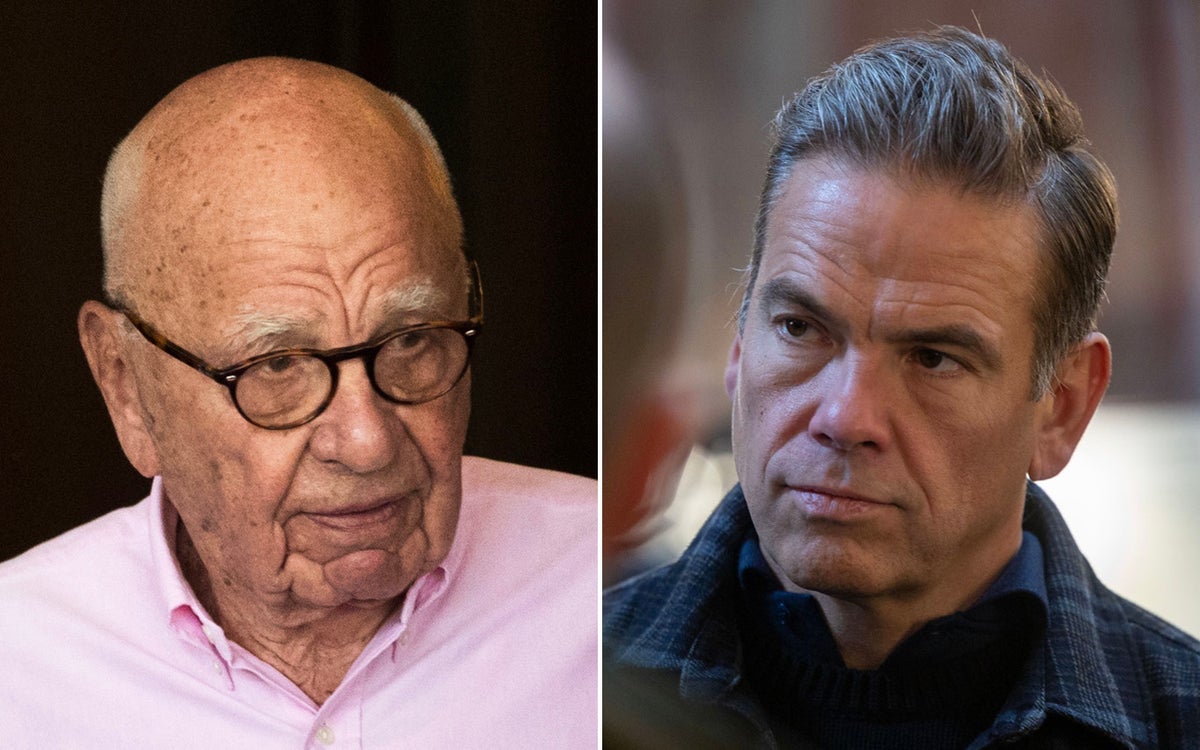 As anointed son Lachlan Murdoch took the stage at Fox Corporation's annual meeting in Los Angeles on Friday, he touted the potential windfall the company hoped to see from the 2024 US presidential election.
With national and local political races "heating up", he told the gathering of execs including father Rupert, board members and shareholders that he expected next year's pivotal election would drive "strong results across our news properties and local stations".
The meeting rubber stamped Lachlan's takeover as chair of Fox Corporation, days after he officially took charge of the Murdochs' publishing division News Corp as the chosen child.
Less than a year out from the 2024 presidential election, with the warning signs for democracy flashing red and Donald Trump declaring his authoritarian intentions if reelected, the 52-year-old arguably has the power to shape US politics more than any other executive in the country.
But Lachlan is less concerned with preserving democracy than he is with protecting the company's enormous profit machine Fox News, according to observers.
"He's focussed on the bottom line, and is more interested in ad spends than undemocratic conduct," Brian Stelter, the former CNN chief media correspondent and author of Network of Lies: The Epic Saga of Fox News, Donald Trump, and the Battle for American Democracy, told The Independent.
Lachlan claimed victory in the decades-long succession drama over his brother James, but according to biographer Michael Wolff, the brothers haven't spoken in five years and their relationship has completely broken down.
"They are beyond rivals, I would say they're enemies," the author of new book The Fall: The End of Fox News and the Murdoch Dynasty told The Independent.
Lachlan is also effectively auditioning for the approval of his eldest siblings. His sisters Prudence and Elisabethwill have equal voting rights along with Lachlan and James to determine the future of the business once the 92-year-old family patriarch dies. His much younger siblings, Grace and Chloe, daughters of Wendi Deng Murdoch, don't have voting rights under the terms of the family trust.
"My understanding is that Lachlan and his elder siblings are divided politically and strategically when it comes to the family business — and he and his brother James are poles apart," Paddy Manning, author of The Successor: The High-Stakes Life of Lachlan Murdoch, told The Independent.
"But they are united when it comes to protecting and looking after their father, with Liz in particular trying to make peace, preserve some normalcy and defend Rupert's legacy."
As the US approaches a volatile 2024 election season, Fox News is still dealing with the fallout from its coverage of the last one.
In April, Fox paid out $787.5m for defaming Dominion Voting Systems over lies its hosts told and amplified about the 2020 presidential election being stolen.
The lawsuit revealed how Rupert knew the claims that votes had been flipped from Mr Trump to Joe Biden were bogus.
The Murdochs have been privately critical of Trump's behaviour, but failed to rein in their on-air talent from spreading lies about the 2020 presidential election.
Fox Corp still faces a wave of litigation related to the Big Lie. Fox is being sued for $2.7bn (£2.2bn) by voting machine company Smartmatic, and faces lawsuits from its own shareholders, and former employees.
"There is a tug of war underway between people of good faith in all parties who want to preserve democracy versus people who want to move in a more authoritarian direction," said Mr Stelter.
"Fox could either help them do that, or they could help them push back. That is one of the tests of 2024."
Growing up Murdoch
Born in Wimbledon, London, to Rupert and his second wife Anna Murdoch Mann, Lachlan was educated at top private schools in New York and Aspen.
Rupert immersed Lachlan and his siblings in media and politics from a young age and would quiz them on headlines in the New York Times, and the Wall Street Journal before they went to school.
He graduated with a bachelor's degree in philosophy from Princeton University, writing a 57-word thesis titled "A Study of Freedom and Morality in Kant's Practical Philosophy", according to a 2019 profile by The Intercept.
Lachlan and his younger brother James were just 15 months apart, and developed an intense rivalry from a young age, when they would cheat at games of Monopoly.
The pair often swapped positions as "heir apparent and jilted son," according to a 2019 New York Times Magazine family profile.
In 2011, James' standing within the family firm appeared to be in freefall as he oversaw the closure of the 168-year-old tabloid the News of the World for hacking the phones of Royals, politicians and murder victims.
The same year Lachlan took control of the Network Ten broadcasting company in Australia, where one of his first orders of business was to hire New Zealand broadcaster Paul Henry for the network's revamped breakfast show.
"When I met him, he was slightly in the shadow of James. That was all beginning to change," Mr Henry told The Independent in an interview from his farm in New Zealand.
Mr Henry recalls Lachlan as someone who, despite his extraordinary wealth, embraced Australia's egalitarian ethos. He was an "extraordinarily personable" boss who would go for a drink with colleagues after work, Mr Henry said.
"He comes across as a great mate, which I think is quite disarming for some people," Mr Henry said.
At the time, Lachlan lived in a $23m mansion in Sydney's eastern suburbs with his supermodel wife Sarah Murdoch, and their three children. The lifelong sailor owned a single masted superyacht that was too tall to fit under the Sydney Harbour Bridge, Mr Henry recalls.
With most of the Murdoch clan living in America and Europe, Lachlan was the head of the Australian family, and was very close to his grandmother Dame Elisabeth Murdoch, a famous philanthropist for the arts and children's healthcare, who died in 2012 aged 102.
"He adored her, and was in many ways not dissimilar to her, that was the impression that I got. Just a little softer, a little more considered.
Mr Henry said he wouldn't wouldn't describe Lachlan as "even remotely cutthroat or machiavellian."
"The Lachlan Murdoch that I knew would be appalled by Donald Trump as a human being, as any reasonable person would be. I just imagine that Trump's whole personality would be anathema to Lachlan."
His politics have been described as more conservative than his father, but Lachlan appears to have no interest in becoming the next GOP powerbroker."
Lachlan eventually lost his investment in Ten Network after it was placed into bankruptcy.
Murdoch family drama
In 2014, Lachlan was appointed non-executive co-chairman of News Corp and 21st Century Fox.
The sibling succession drama ramped up in 2015, when James and Lachlan were appointed co-chairmen of 21st Century Fox.
When Murdoch senior decided to sell Fox's film and television assets to Disney in 2019 for $71bn (£57.9m), the siblings received $2bn in Disney stock as part of the deal.
James resigned suddenly from the family firm in 2020, citing "disagreements over certain editorial content", specifically the denial of climate change and support of Trump, leaving Lachlan's path to the top job clear.
He was named Fox Corps CEO, and divided his time between Sydney and Los Angeles, where he owns a $150m mansion that provided the backdrop for the 1960s sitcom The Beverly Hillbillies.
It's understood Lachlan will continue to split time between Australia, Los Angeles, Fox's headquarters in New York, and News' centre of operations in the United Kingdom.
"You'll hear how engaged he is, but I get the impression that he is an absentee landlord who relies on the property manager to keep tabs on things," Mr Stelter says, referring to Fox News CEO Suzanne Scott.
Mr Wolff told The Independent that you could "generously describe Lachlan as ambivalent" towards the family business.
"I don't think he knows what he is and I don't think he knows what he wants," Mr Wolff told The Independent.
"He's a guy with $2bn in his pocket who would rather be somewhere else."
Mr Manning takes a more charitable view, saying that Lachlan had remained "fully engaged" with the family business from afar but that the extra responsibilities may force him to move to the US full time.
"Undoubtedly the time difference when he is in Australia, and the commute imposes some strains and whether it can continue indefinitely is an open question, particularly now he is taking on the additional workload as executive chairman of News Corp," Mr Manning told The Independent.
The Murdochs rarely give interviews, or signal their plans in public. Lachlan's first order of business as chairman was to fly to Kyiv to meet with Ukrainian president Volodymyr Zelensky.
For observers, Lachlan's public coronation only adds to the intrigue of what the future battles for control of the Murdoch empire might look like.
"By making this move, Rupert Murdoch makes it harder for James or any of the other children to vote against Lachlan, or to mount a coup," Mr Stelter says.
"Stepping aside is the loudest way he can say that he wants Lachlan to remain in charge, even after he passes."
According to Mr Wolff, the cloak and dagger manoeuvrings will only ramp up as Lachlan tries to ensure his father's legacy.
"His primary consideration is to figure out a way to prevent his siblings from taking the company from him," he said. "Theoretically, he has more leverage to do this now than to do this after his father dies. He has his father's votes, and his father's votes control the company."
What Rupert wants
News Corp and Fox Corp, with a combined market capitalization of around $30bn (£24.2bn) control a network of news and sports channels, newspapers and real estate that touches every corner of the globe.
The publishing business alone includes the New York Post, the Wall Street Journal, a stable of UK newspapers including The Times and The Sun, The Australian and dozens of regional and local papers in his native Australia, and book publishers HarperCollins. News Corp's UK news titles are expanding aggressively into the US with digital-only news sites.
Its beating heart remains Fox News, the rightwing conspiracy-infused cable news channel that has consistently enjoyed number one ratings in the US for well over a decade.
However, the decline in cable and broadcast news is accelerating. In July, linear TV viewership made up less than 50 per cent of all television viewing for the first time, according to Nielsen.
Amid the unprecedented disruption, Lachlan has signalled the company's future lies in streaming and sports betting.
Lachlan spearheaded Fox's takeover of the ad-supported streaming platform Tubi for $440m in 2021.
He reportedly turned down unsolicited offers north of $2bn for the business earlier this year.
Less successful was Fox's move into sports betting with the 2019 acquisition of Fox Bet in partnership with Flutter Entertainment, which was shuttered in July. Fox still has an option to purchase part of Flutter's successful FanDuel betting app for $3.72bn.
In August, Lachlan told the Wall Street Journal that sports betting was "a huge opportunity" for Fox Sports, saying it would fuel viewer engagement.
Rupert floated the idea of reuniting the two companies in October 2022 to capitalise on sports betting, a move which Lachlan may try to reprise.
Mr Wolff believes Lachlan will further push the company's move into gambling, which is predicted to be worth more than $40bn in the US by 2030.
According to Mr Wolff, who has been chronicling the inner workings of Murdochworld for more than 15 years, Fox News has only been allowed to flourish like this because the Murdochs are impervious to criticism.
Another commercial owner of a business Fox's size would not have allowed it to become such a hot button political issue, he said.
He believes Lachlan will try to avert a showdown with his siblings by selling Fox Corps' assets, and effectively wash his hands of the family business.
"Whoever does own it will not be the Murdochs, therefore it will become something else," Mr Wolff told The Independent. "And on top of that cable news is in a death spiral, which means it will become a shadow of its former self."
"Lachlan is still the person trying to anticipate what his father wants," he said. "And nobody knows what Rupert wants, and Rupert doesn't know what Rupert wants, therefore we're in a situation of 'who's in charge here?' Nobody knows."
Just how much influence Rupert continues to hold at his companies will be keenly watched.
At Friday's shareholder meeting, a highlight reel of Rupert's 70-year career celebrated his biggest achievements. His acquisition of 20th Century Fox, the launch of the Fox broadcast network, signing a broadcast deal with the NFL, and the creation of Fox News.
"I'd like to be remembered, if I am at all, as someone who was a catalyst for change for the good," Rupert said in a pre-recorded interview.
Lachlan congratulated his father on his transition to Chairman Emeritus and the "unique and strong company he has built over so many years".
"Dad… we thank you for your vision, your insatiable curiosity and the enduring legacy you leave to the companies you founded and the countless lives you have impacted," he said. "I look forward to your continued counsel and contributions for years to come."
In a recent interview with CNBC, Rupert's friend and sometimes sparring partner Liberty Media Chair John Malone said that he "hasn't lost a step".
These days, Mr Murdoch is spending more time at his sprawling 340,000 acre cattle ranch in southwest Montana near Yellowstone National Park, which he bought for $200m in 2021.
"He's become a rancher in Montana. When I talk to him, that's what he wants to talk about, how many tonnes of hay does it take to carry cows through the winter," Mr Malone told CNBC.
How Lachlan handles Fox News
While rarely discussing his personal politics, Lachlan publicly backed Tucker Carlson as the former Fox News host veered increasingly into rightwing conspiracy theories and outright racism.
After the 2017 neo-Nazi demonstrations in Charlottesville, Carlson came out in support of the demonstrators who had chanted "Jews will not replace us". Donald Trump later blamed the violence on "both sides".
As James and his wife Kathryn Hufschmid issued a blistering denunciation to friends, Lachlan remained silent.
Lachlan expressed his full support for Carlson, even as advertisers fled the network.
Media observers point to the sudden move to fire Carlson in April as evidence that Fox was attempting to pull back from the far-right fringe.
"Cancelling Tucker Carlson's show was a way to tug Fox a little bit away from the extreme and a little bit towards the center right, but even the centre right has become radicalised," Mr Stelter says.
"Lachlan has strong political viewpoints, but he is not as interested in the polls or the policy arguments," says Mr Stelter.
Still, there's likely to be an uncomfortably reckoning at some point for Fox News, as it tries to hold onto views while continuing to fuel election denialism.
"Rupert and Lachlan have never acknowledged their role, or Fox's role, in the Big Lie, or the events leading up to January 6," Mr Stelter says.
"They have never expressed any contrition or regrets. There has not been a reckoning inside Fox about the network's role in pushing lies about the election."
Mr Wolff says that the Murdochs have never really had control over Fox News, and doesn't believe they know how to rein in its primetime talent.
He believes Lachlan will not be prepared for the potential for violence and misinformation during the 2024 presidential election.
"They don't have the vision, they don't have the control. They don't have any certainty of what they are, so therefore they will let Fox do whatever it does," Mr Wolff said.
"They want to continue to have great ratings and they want it to be a different product, and those situations are in conflict. In those situations, they usually choose the money," he said.
Lachlan approved the network's decision not to run the first live hearings of the January 6th House committee, and was reportedly on his $30m super yacht in Sydney when the hearings were held, according to Mr Manning's biography.
"They live charmed lives, and they don't allow any space for public conversation about the consequences of their programming," Mr Stelter says. "They push responsibility downwards."
Despite the hands-off approach, the Murdochs weigh in when they feel it's warranted.
In Network of Lies, Mr Stelter writes that Rupert and Lachlan personally edited the 7 November 2020 print edition of the New York Post where they effectively laid out a blueprint for Mr Trump to leave office gracefully with his legacy intact.
"When they want to be involved, they are," Mr Stelter told The Independent. "When they want to express their view, they do. When they want to assert control, they do. And yet they seem to sit back and relax and let the Big Lie fester on their networks."
Both Lachlan and Rupert have been critical of Trump in private. But there has yet to be a reckoning inside Fox about the network's role in pushing his lies about the election, which have succeeded in tearing apart American's shared reality.
"Media owners should not meddle in real news coverage, in real reporting." Mr Stelter said "But they must intervene when lies are being spread. And that's where we see a failing here."
"Fox calls its coverage Democracy 2024, but there are very real flashing lights with regards to the health of the American democracy and I don't see Lachlan Murdoch stepping up and trying to be on the right side of history."
Speaking to the News Corp annual shareholder meeting last week, Rupert invoked his father Sir Keith Murdoch, who founded the Murdoch media empire, in his final remarks to the board.
"Like my father, I believe that humanity has a 'high destiny,' and Lachlan certainly shares that belief," Rupert said. "That sense of destiny is not just a blessing, but a responsibility."
The next election will determine how Lachlan chooses to exercise that responsibility.