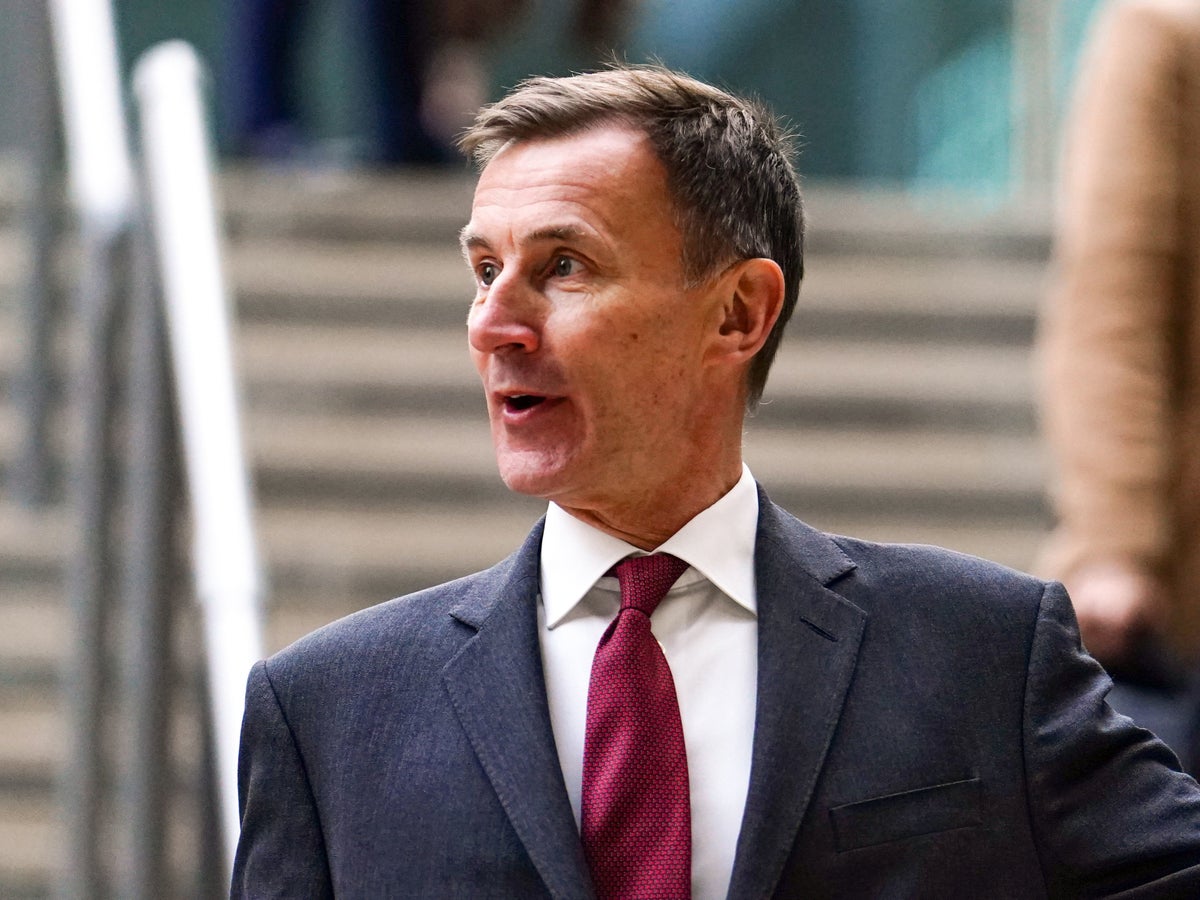 Pressure is mounting on Jeremy Hunt to provide targeted support for charities in his upcoming Budget, as new data revealed the extent to which falling donations are failing to keep up with soaring demand.
The chancellor was warned just days ago that half of charities fear they will not survive as the inflation crisis sees the cost of energy, rent and supplies skyrocket.
A group of more than 30 organisations wrote to the chancellor last week urging him to issue targeted funding for charities to support with energy costs and to increase payment for governmnet contracts in line with inflation.
Among the signatories was the Charities Aid Foundation (CAF), which on Tuesday published new online polling by YouGov suggesting that the average donation to food banks has halved from £20 in December to just £10 in February.
The proportion of people who said they had donated money to food banks also fell over the same period, from 24 to 14 per cent.
This comes after The Independent revealed in December that two thirds of the 550 food banks in the Independent Food Aid Network had seen a fall in food and cash donations compared to the previous winter, with nearly half worried about how they would support people over the coming year.
The new research found that 19 per cent of respondents now say they have friends and family facing food poverty – up from 12 per cent in July.
On the ground, this is translating to greater pressure on these lifeline services, with one Manchester-based poverty charity telling CAF that demand has risen by 37 per cent, and an east London food bank reporting that demand had doubled.
"The situation facing food banks exemplifies the challenges that charities across the country are experiencing because of soaring costs," said the group's chief executive Neil Heslop. "They have stepped up this winter, now the chancellor should help them out.
Describing this week's Budget as an opportunity "to recognise the vital contribution made by charities through the cost-of-living crisis", Mr Heslop said: "Instead of reducing the help they are getting with energy costs as planned, he should announce targeted support to give them some breathing space and help them get through this period of great uncertainty."
While costs for charities are rising, unlike businesses they cannot pass these costs on to consumers. Some have reported reducing their food offering from a week's worth to three days, or from two bags of food per week to just one, according to CAF.
Surveying of more than 1,300 organisations across the UK over the past four months found that half have had to use their financial reserves to cover day-to-day running costs, while 53 per cent are worried about their survival.
This rose to 71 per cent among charities who provide services for disabled people, children or the elderly, while charities in the north of England were significantly more likely to be experiencing greater demand and to have been forced to dip into their reserves than elsewhere in the country.
Mr Heslop added: "Imagine what this winter would have been like without charities helping people day in, day out with food, shelter and care. Even as the economic outlook might look brighter than feared, charities are saying loud and clear that they are still facing the squeeze."
Warning that "the risk here is real", the National Council for Voluntary Organisations' chief executive Sarah Vibert said: "For every charity that shuts down, a whole community of people have the rug pulled out from under them. Even scaling back services can have a detrimental effect on people's lives.
"We need the chancellor to act on these warnings and provide urgent help for the voluntary sector."
A government spokesperson said: "Putin's illegal war in Ukraine is pushing up prices around the globe and many charities are seeing increased demand for their services while contending with price increases themselves.
"We are doing all we can and took immediate and unprecedented action to support both households and non-domestic energy consumers including charities with their bills over the winter. And last week we also announced we have unlocked £76m tied up in dormant accounts to support vulnerable people with the cost of living."