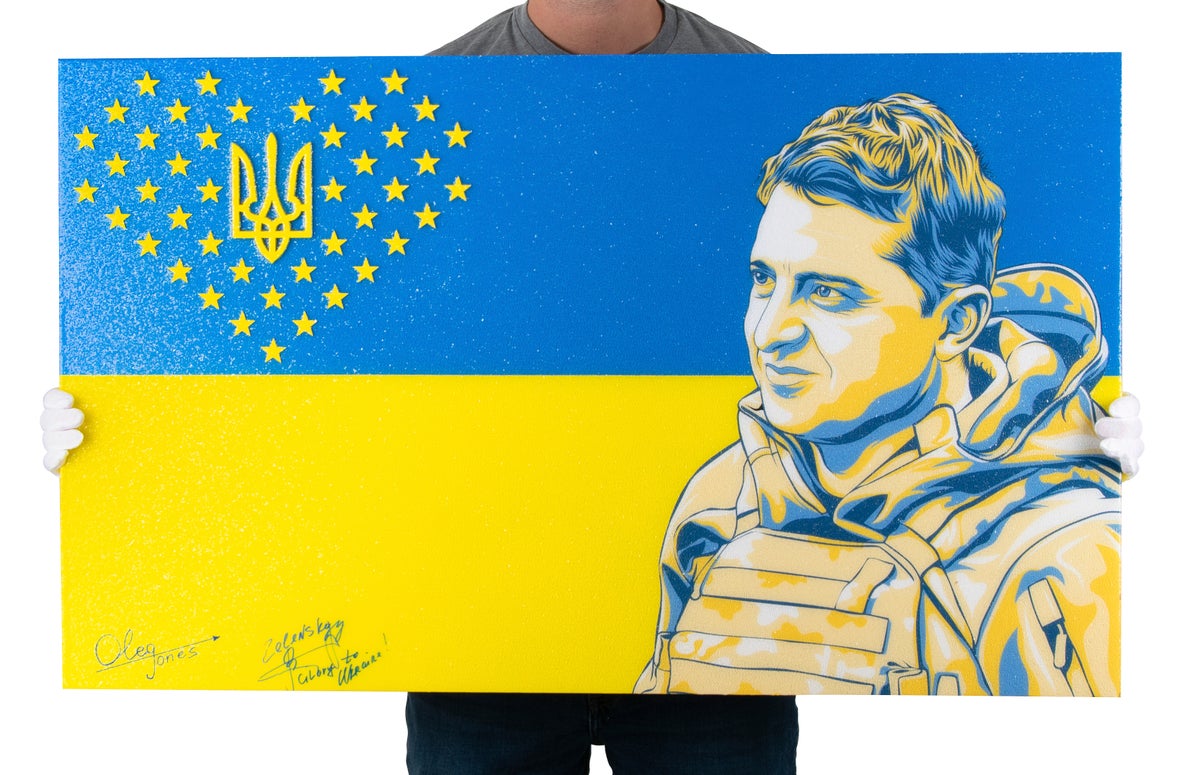 An original painting of Volodymyr Zelenskyy signed by the Ukrainian president is being sold at auction, and proceeds from the sale will be used to benefit the nation's people suffering during its war with Russia.
Bidding on the 40-by-24-inch (101.5-by-61-centimeter) painting by American artist Oleg Jones starts at $50,000, and the goal is to sell it for at least $100,000, Bobby Livingston, executive vice president of auctioneer RR Auction in Boston, said Thursday.
The painting features an image of Zelenskyy against the background of Ukraine's blue and yellow flag. Several raised stars in the upper left of the piece form a heart around the gold trident from the nation's coat of arms.
The acrylic paints are coated in resin sprinkled with glass dust, giving it a sparkling effect.
It is signed, in English, "Zelenskyy, Glory to Ukraine." It's also signed by the artist.
The auction, which concludes April 12, includes photos of the president signing it in his office.
The proceeds of the auction will benefit the Kyiv-based Dmytro Kasyanenko International Charitable Foundation via U.S.-based The Power of A Dream Foundation and will used for the purchase of medical equipment, tools and medicine for the Ukrainian people, RR Auction said.
"The need for funding these agencies is so great that Zelenskyy took the time to sign this painting amid the incredible stress his country is facing," Livingston said.
A baseball signed by Zelenskyy sold at auction in May for $50,000, much of which went to provide humanitarian aid for Ukraine.