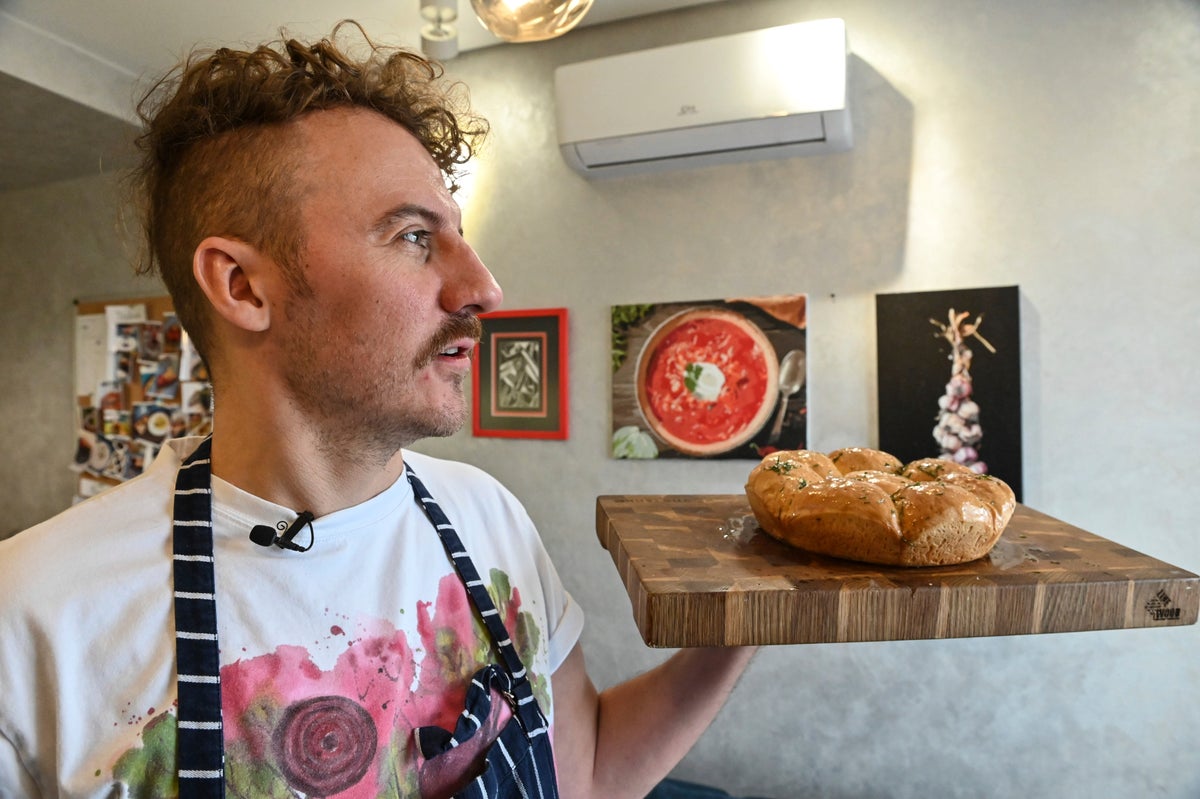 Don't tell Ievgen Klopotenko that borsch is just food. For him, that bowl of beet-and-meat soup is the embodiment of everything Ukraine is fighting for.
"Food is a powerful social instrument by which you can unite or divide a nation," said Klopotenko, Ukraine's most recognizable celebrity chef and the man who in the midst of a bloody war spearheaded what would become an unlikely cultural victory over Russia.
"It's our symbol," Klopotenko said. "Borsch is our leader."
If that seems hyperbolic, you underestimate how intrinsic borsch (the preferred Ukrainian spelling) is to this country's soul. More than a meal, it represents history, family and centuries of tradition. It is eaten always and everywhere, and its preparation is described almost reverentially.
And now, at the one-year mark of the war with Russia, Klopotenko uses the dish as a rallying call for preserving Ukrainian identity. It's an act of culinary defiance against one of Moscow's widely discredited justifications of the war — that Ukraine is culturally indistinct from Russia.
Thanks to a lobbying effort that Klopotenko helped lead, UNESCO issued a fast-track decision last July declaring Ukrainian borsch an asset of "intangible cultural heritage" in need of preservation. Although the declaration noted borsch is consumed elsewhere in the region, and that no exclusivity was implied, the move infuriated Russia.
A Russian foreign ministry spokesperson accused Ukraine of appropriating the dish and called the move an act of xenophobia and Nazism.
But in Ukraine, where until a year ago Russian was as widely spoken as Ukrainian, the declaration legitimized a notion that many had struggled to express.
"People started to understand that they are Ukrainians," Klopotenko said recently while preparing borsch at his Kyiv apartment. From his living room window, the husk of a high-rise gutted by Russian missiles dominated the view.
"A lot of people started to eat Ukrainian food. A lot of people began to discover Ukrainian traditions," he said.
Klopotenko, 36, is an unlikely figure to grab headlines during a war that has left hundreds of thousands from all sides dead or wounded. But the television chef and restaurateur — recognizable by an unruly head of curls, rapid-fire dialogue and lively fashion sense — began his mission to elevate Ukrainian food years before Russia's invasion in February 2022.
Though born in Kyiv, Klopotenko had by age 5 spent months at a time living with his grandmother, who had moved just outside Manchester, England. He'd been raised on bland Soviet-era cuisine, and this was a culinary awakening. He encountered waves of new flavors and ingredients, experiences that set him on a path to restaurant work.
His break came in 2015 when he won the television competition "MasterChef Ukraine." He parlayed that into study at Le Cordon Bleu in Paris and later a successful campaign to overhaul the Soviet-influenced cafeteria menus in Ukrainian schools.
Always in the background was his sense that Ukrainian food — ditto the country's culture writ large — wasn't being true to itself. Much of Ukraine's identity, he felt, from language and food to fashion and architecture, had been subjugated to Russian influences. Before the start of Soviet rule in 1917, Ukrainian cuisine was more diverse and robustly seasoned. That was quashed in favor of a more uniform palate with socialist sensibilities.
Even after the dissolution of the USSR in 1991, Ukraine's cuisine didn't quite bounce back. But Russia's invasion and annexation of Crimea from Ukraine in 2014 was a trigger. Trying to identify and hold onto Ukrainian heritage, Klopotenko and others began researching pre-Soviet Ukrainian cooking, hoping to return it to the mainstream and give people another toehold for reclaiming their culture.
In 2019, he opened his Kyiv restaurant, 100 Rokiv Tomu Vpered (100 Years Ago Ahead), a reference to what Ukrainian cuisine was before Soviet rule, and what it could be again. The menu draws heavily on flavors and ingredients many have forgotten.
Roasted parsnips with smoked sour cream. Buckwheat bread flavored with chamomile. Banosh, a sort of corn porridge topped with cottage cheese, mushrooms and apples.
And, of course, borsch seasoned with the traditional smoked pears. Written records tie the recipe to Ukraine over many centuries. The effort to have it declared a cultural asset began in 2018, when Klopotenko enlisted the help of Maryna Sobotiuk, an adviser to the Ukrainian Ministry of Information Policy and co-founder of the Institute of Culture of Ukraine.
They assembled a dossier that would become the country's application to UNESCO. Their work took on greater urgency after Russia's invasion a year ago and received the blessing of Ukraine's government.
Like Klopotenko, Sobotiuk said it's a cause much deeper than dinner.
"Our neighbors want to not just take our territory, but also our culture and our history," she said, calling culinary heritage a soft power with tremendous potential to motivate and inspire. "It is important to give people something they can align with Ukraine except war."
Darra Goldstein, a food historian and expert in Eastern European cuisines, agreed, noting that the difficulty of delineating culinary boundaries doesn't diminish the cultural import of the dishes.
"It's not simply a matter of claiming ownership of a dish, since the precise origins of any given dish are often difficult to trace. Instead, food goes to the heart of national belonging, how people define who they are," she said.
Borsch, of course, was just the start for Klopotenko. As more Ukrainians have rejected Russian culture since the war began, and consumption of traditional Ukrainian foods has spiked, he and others see an opening for codifying and celebrating more of their own.
Though UNESCO is unlikely to grant similar status to other Ukrainian dishes — chicken Kyiv, garlicky pampushky bread and latke-like deruny enjoy similar popularity — Klopotenko said the next step is to raise the profile of the country's cuisine as a whole, at home and abroad.
To that end, his cookbook, "The Authentic Ukrainian Kitchen," which offers modern takes on traditional Ukrainian cooking, will be released this fall in the U.S.
"The war accelerated the growth of Ukrainian culture," he said. "Russia wanted to kill the culture with the huge invasion, but it's worked the other way."
It's a sentiment shared widely on the streets of the nation's capital, where restaurants have revamped menus to replace Russian dishes with Ukrainian ones. They've been rewarded with packed dining rooms despite rolling blackouts and frequent air-raid warnings.
At Kyiv's bustling Volodymirsky market — a warren of stalls offering beets, smoked seafood, caviar and mounds of the local, crumbly cottage cheese — Tetyana Motorna has sold pickled fruit and vegetables for decades. She held back tears as she discussed the war and why Klopotenko's work to secure borsch as a national treasure for her country matters.
"Borsch is everything for Ukrainians," she said. "The war has made borsch even more important. … With borsch, we prove that we are a separate nation. It confirms us as a nation."
—-
J.M. Hirsch is the editorial director of Christopher Kimball's Milk Street and the former food editor of The Associated Press. This reporting was a collaborative effort between AP and Milk Street. Hirsch can be followed @jm_hirsch.
—-
For more AP stories about Ukraine, go to https://apnews.com/hub/ukraine.