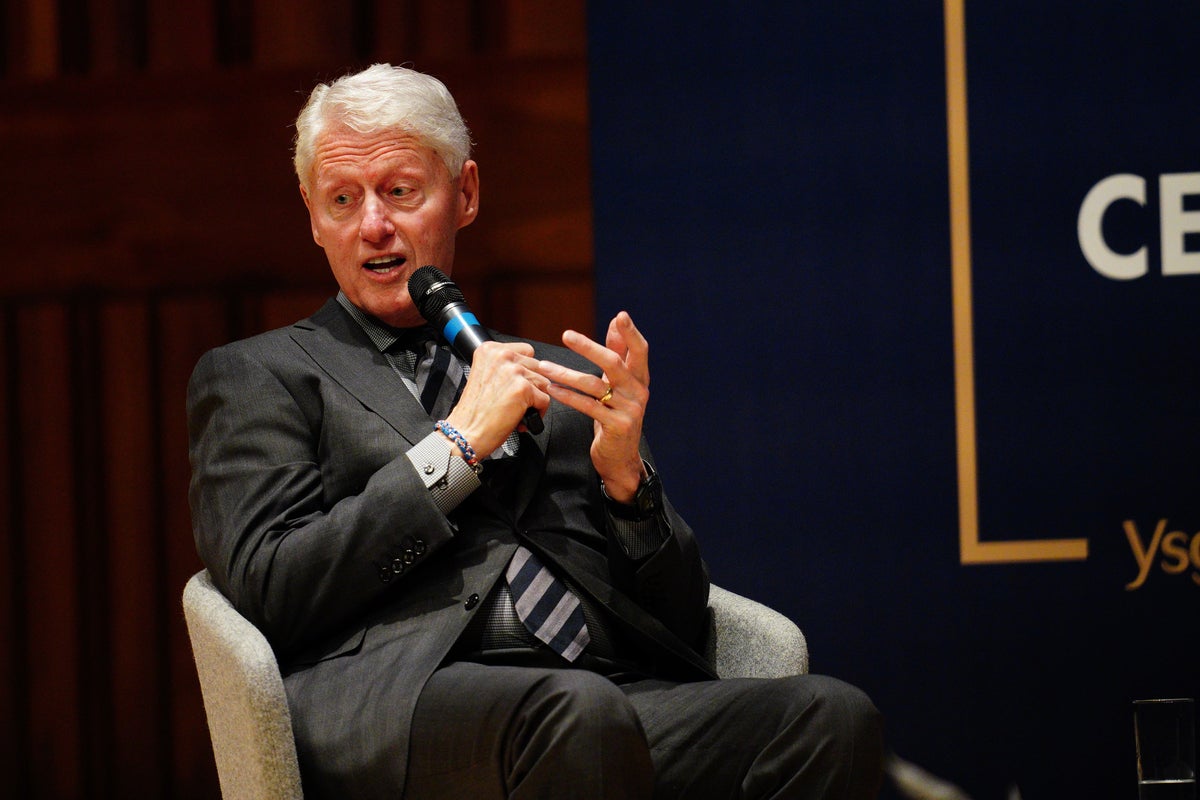 Former US president Bill Clinton has described the conflict in the Gaza Strip as "heartbreaking" as he urged people to find "common ground".
Mr Clinton was in the Oval Office at the time of the Oslo Accords in 1993 and used his presidency to build peace and stability between Israel and Palestinians.
The current conflict was triggered by a wide-ranging Hamas attack in southern Israel on October 7 in which the militants killed more than 1,200 people, mostly civilians, and captured some 240 men, women and children.
Israel responded with a weeks-long air campaign and a ground invasion of northern Gaza, vowing to remove Hamas from power and crush its military capabilities.
More than 11,200 Palestinians have been killed, two-thirds of them women and minors, according to Palestinian health authorities.
Speaking at an event at Swansea University, Mr Clinton said: "It's terrible, heartbreaking for someone like me who worked for eight years for peace in the Middle East.
"I know Gaza, I know the old city of Jerusalem and the West Bank. It's heartbreaking.
"You have every day to make a choice – all of you.
"Do you believe that you can do better together or keep telling each other that it is our differences that all that matter or keep struggling for common ground."
Mr Clinton, who had joined his wife – former secretary of state Hillary Clinton – at an event discussing leadership for future generations, said the current global unrest was a reaction to the building of democracy and cooperation at the end of the Cold War.
"It was only a matter of time before people who didn't believe in democracy, and didn't believe in the rule of law, and believed that their differences with their neighbours were more important than what they had in common," he said.
"We are living through a series of reactions, and it will either derail what could be a moment of greatest peace and cooperation and advances in science and technology, human understanding and history or another one of those disappointing phases that throws us back into something that we would all not want to live through.
"My gut is that we will get through this, and we will resume allowing systematic cooperation overcome conflict.
"It won't happen unless people stand up for cooperation over conflict, for peace over war and for what we have in common is more important than our interested differences and make it possible for those differences to help us all."
Mr Clinton also urged continuing international support for Ukraine and said Vladimir Putin's invasion was "truly terrible".
"They are not asking anyone to die for them, all they are asking for is we give them the means to defend themselves," he said.
"If you think that its bad now, you have no idea what the European future will look like if Putin follows through on Ukraine."
Ms Clinton warned people to be wary of those promoting disinformation saying there were nation states, terrorists and "other actors" who were trying to tell a "version of reality that is not true".
"It is important that especially today that we try see through the many smokescreens that are being thrown up, that try and create these divisions," she said.
"We have to make the effort to stay well informed about what is really happening – what the facts are versus the fiction – but have to equip ourselves and others to withstand those forces of divisiveness that are very prevalent on so many platforms on the internet that keep people unsettled about what is happening in the world.
"I am ultimately optimistic. As one of my predecessors as secretary of state, Madeleine Albright, would always say when asked if she was an optimist, she would say, 'Yes, I am an optimist who worries a lot'."
Ms Clinton, whose great grandparents were from Wales, has close ties with the university as the law school is named after her and she also launched a global challenges programme for master's degree students.
Wales' First Minister Mark Drakeford and the university's vice-chancellor Paul Boyle also took part in the discussion.