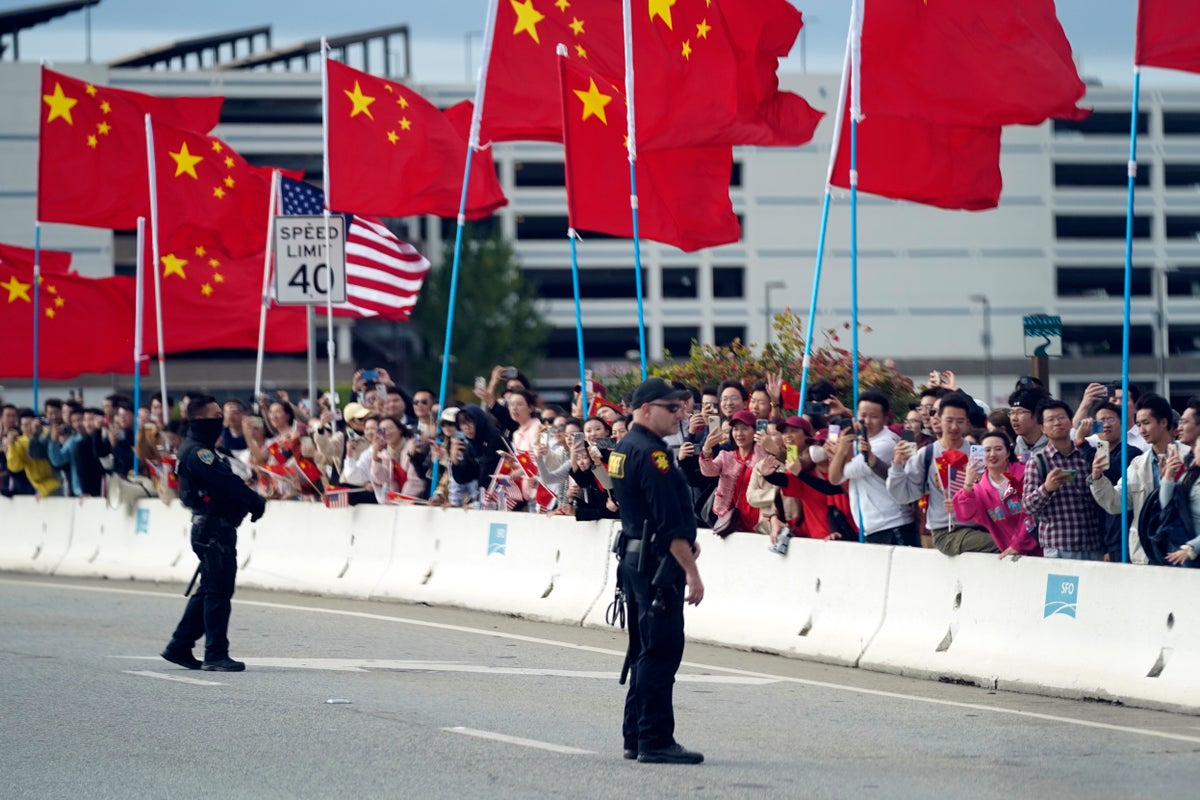 President Joe Biden and Chinese leader Xi Jinping are expected to agree to at least a limited resumption of direct military-to-military communications when the two world leaders meet in San Francisco.
The meeting, on the sidelines of the Asia-Pacific Economic Cooperation leaders' summit, will cap months of careful diplomatic efforts by a range of top administration officials to lay the groundwork for restoration of head-of-state level talks after a breakdown in relations brought on by the February shootdown of a Chinese-owned espionage airship off the East Coast of the US.
The last time Mr Biden and Mr Xi met in person was November 2022, during the Group of 20 summit in Indonesia.
But the two leaders, who have met roughly a dozen times during their tenures in high office, haven't so much as exchanged a word since then.
Roughly three months later, the Sino-American relationship hit the shoals on account of the balloon incident, which derailed a planned visit to Beijing by Secretary of State Antony Blinken.
At the time, a senior State Department official said the department had "concluded that the conditions are not right at this moment for Secretary Blinken to travel to China", following what the official described as "consultations" with Congress and "interagency partners".
Four months went by with little high-level contact between Washington and Beijing, save for a meeting between Wang Yi, the Chinese Minister of Foreign Affairs, on the sidelines of the Munich Security Conference a few weeks later.
But the Biden administration's efforts to lower the temperature began to bear some fruit in early May after US Ambassador to China Nicholas Burns said the US was "ready to talk" during a public event at which he said he hoped that Beijing would "meet us halfway" because the US was now ready for what he described as "a more broad-based engagement at the cabinet level".
That engagement appeared to begin a few weeks later, when White House National Security Adviser Jake Sullivan travelled to Vienna for what the administration described as "candid" and "constructive" talks with Mr Wang.
A White House readout of the two days of meetings said the discussions were "part of ongoing efforts to maintain open lines of communication and responsibly manage competition" and said both sides "had candid, substantive, and constructive discussions on key issues in the U.S.-China bilateral relationship, global and regional security issues, Russia's war against Ukraine, and cross-Strait issues, among other topics",
Mr Blinken made his previously-delayed visit to Beijing in June, meeting with Mr Xi and Mr Wang, among other top Chinese officials.
His trip there was followed the next month a pair of visits to China by top US officials.
The first was Treasury Secretary Janet Yellen, who met with her Chinese counterpart, Vice Premier He Lifeng, and declared that the US seeks "healthy economic relationship with China that benefits both countries over time".
Later that month, former Secretary of State John Kerry — now Mr Biden's presidential climate envoy — trekked to Beijing for three days of talks with Chinese officials that he described as "productive".
Two months later, another Biden cabinet official — Commerce Secretary Gina Raimondo — made the trek to China for more economic talks.
But even as it was expected that any sit-down between Mr Biden and Mr Xi would take place at APEC, US and Chinese officials remained coy about that possibility, even as Mr Wang, the Chinese foreign minister, capped off a multi-day reciprocal visit to the US by sitting down with Mr Biden at the White House on 27 October.
At the time, a senior administration official who briefed reporters on the meeting said the discussions included plans for "additional high-level engagements" between the US and China — including meetings between senior officials, but did not explicitly state that a head-of-state level meeting was in the works.
Mr Biden's meeting with Mr Xi follows a provocative move by then-House Speaker Nancy Pelosi last year.
On 4 August last year, more than 700,000 people around the world tracked a US Air Force plane carrying Ms Pelosi from Kuala Lumpur in Malaysia to Taipei, the capital of Taiwan.
It was the first visit by a US House speaker to the self-governing island, which the People's Republic of China claims as its own territory, since then-Speaker Newt Gingrich went there in the mid-1990s.
In response, Beijing conducted a series of military exercises nearby, including live-fire drills in Taiwan's territorial waters and air-defence identification zone.
The Chinese government also lashed out at the US with a decision to suspend bilateral talks on fighting climate change, and by cutting off all dialogues between the US Department of Defence and the People's Liberation Army, including bilateral talks between area commanders and between top US and Chinese defence officials, as well as regular communications on military and maritime safety, returning illegal immigrants, criminal investigations, transnational crime and illegal drugs.
The lack of communication between the US and PRC defence establishments has continued up to the face-to-face meeting between the presidents.