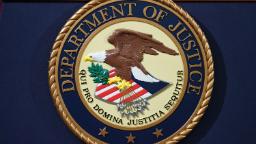 CNN
 — 

The Justice Department said Friday that neither it nor the Biden White House would assert certain privileges in depositions of former President Donald Trump and FBI Director Christopher Wray that have been ordered in a lawsuit brought by an ex-FBI official whose termination Trump pushed for when he was president.
The new filing from the Justice Department in the lawsuit brought by former FBI official Peter Strzok is the latest example of the Biden administration having to weigh the protections of the presidency against the extraordinary legal cases related to President Joe Biden's predecessor.
Strzok's lawsuit alleges that Trump's political agenda prompted his firing and that the Justice Department broke the law in publicly releasing texts he had exchanged with former FBI lawyer Lisa Page. The texts revealed that Page and Strzok – who both worked on the Trump-Russia probe when it was in its early stages – had expressed anti-Trump sentiments and that they were engaged in a romantic, extramarital affair. Trump repeatedly called for Strzok's ouster before he was terminated in 2018. Page has also brought her own lawsuit over the release of texts.
The Justice Department had sought to quash the subpoenas of Trump and Wray, but was unsuccessful, with DC District Judge Amy Berman Jackson ruling that both men had to sit for depositions. Jackson's ruling, which she issued after a sealed hearing in February, also said the depositions must be limited to less than two hours and that they must focus on a narrow set of issues in the case.
When the Justice Department was seeking to quash the subpoenas, it had indicated that the presidential communications privilege could limit what questions Wray could answer about his communications with Trump concerning the matters in dispute in the lawsuit. Jackson ordered the DOJ to indicate by late March whether Biden would assert privilege in the depositions and Friday's filing indicated the administration would not engage in a privilege fight.
"The Executive Office of the President will not assert the Presidential Communications Privilege, and Defendants will not assert the Deliberative Process Privilege, with respect to the authorized topics," the filing said. It added that a representative of Trump was made aware of the ruling ordering the depositions and said that "Former President Trump has not requested an assertion of privilege over any of the information within the scope of the authorized deposition."
The department, however, signaled in the filing that it still might appeal Jackson's order, with a footnote stating that "Defendants expressly reserve their rights to seek further review of this Court's February 23, 2023 decision."