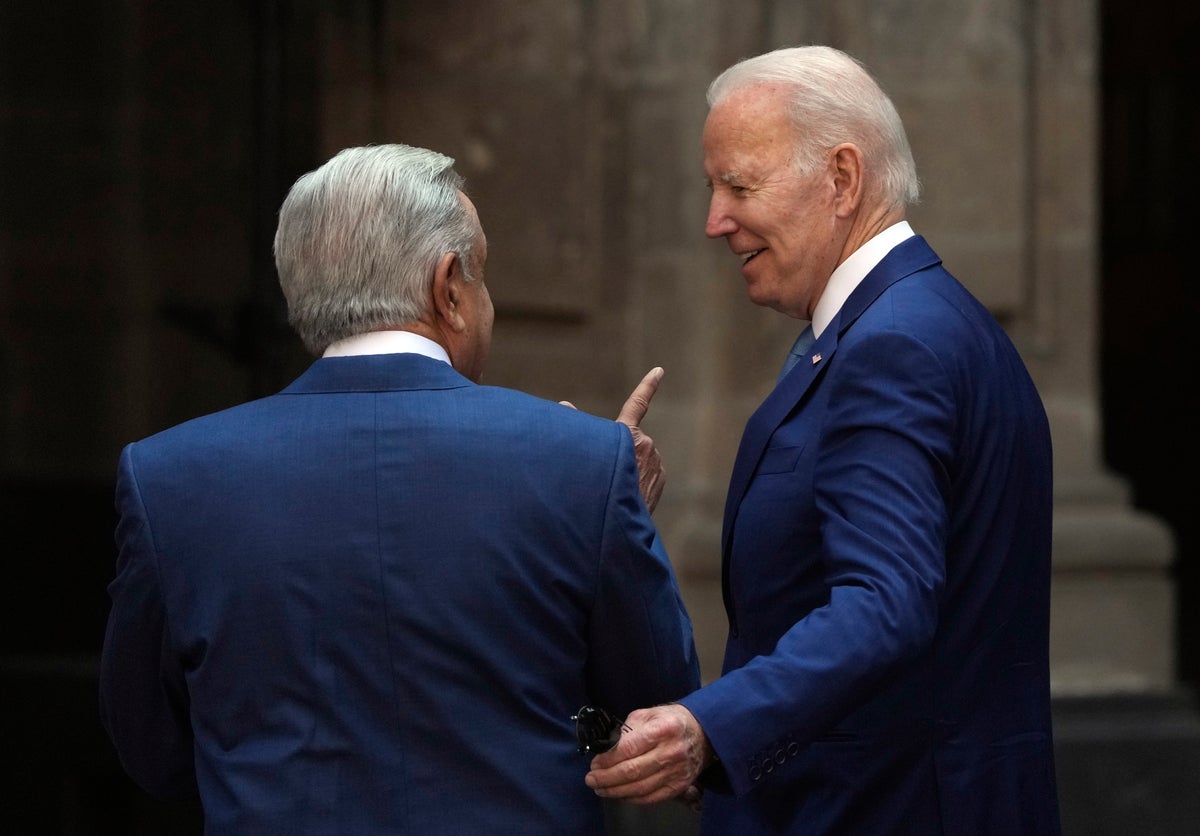 President Joe Biden and Mexican President Andrés Manuel López Obrador, two strong allies who don't always get along personally, will talk migration, fentanyl trafficking and Cuba relations on Friday.
The two leaders are in San Francisco for the annual Asia-Pacific Economic Cooperation conference, where Biden has held a series of face-to-face meetings with other leaders, including China's President Xi Jinping and the leaders of Japan and South Korea, as he seeks to reassure the region that the U.S. and China are competitors, not zero-sum rivals.
Biden's relationship with López Obrador is at times tense, in part because of Biden's willingness to criticize Mexico on topics such as fentanyl production and the killing of journalists. And López Obrador isn't afraid to snub the U.S. leader. He skipped a Los Angeles summit last year where leaders tackled the issue of migration because the U.S. didn't invite Cuba, Nicaragua or Venezuela. He also initially said he would skip this year's APEC conference, but changed his mind.
López Obrador said he would use Friday's meeting with Biden to take up the case for Cuba and would urge his U.S. counterpart to resume a dialogue with the island nation and end U.S. sanctions.
Biden, meanwhile, was expected to bring up migration as the U.S. continues to manage a growing number of southern border crossings. The leaders also are expected to discuss deadly fentanyl trafficking, particularly after Biden secured an agreement with Xi to curb the illicit opioid.
The issues are related. Human smuggling over the border is a part of cartel operations that also include drug trafficking into the U.S.
Mexico and China are the primary sources for synthetic fentanyl trafficked into the U.S. Nearly all the chemicals needed to make it come from China, and the drugs are then mass-produced in Mexico and trafficked via cartels into the U.S.
The powerful opioid is the deadliest drug in the U.S. today. More than 100,000 deaths a year have been linked to drug overdoses since 2020 and about two-thirds of those are related to fentanyl. The death toll is more than 10 times as in 1988, at the height of the crack epidemic.
And migration challenges facing the U.S. are growing increasingly intractable. Democratic leaders at the state and local level are begging for federal assistance to help care for migrant families living in squalid shelters and sleeping in police stations. Republicans are loudly critical of Biden's border policies as too lax. And Congress has not passed an immigration overhaul in decades.
Biden asked for $14 billion border security funding from Congress to help manage the issue, but the temporary spending bill passed this week included no funding for the border, Ukraine aid or Israel.
There are rising numbers of migrants at the border. Arrests for illegal crossings along the U.S.-Mexico line were up 21% to 218,763 in September, and Biden has repeatedly said Congress should act to fix outdated immigration laws. But in the meantime, his administration has developed policies that aim to deter migrants from making a dangerous and often deadly journey while also opening up new legal immigration pathways.
Mexico's support is critical to any push by the U.S. to clamp down at the southern border, particularly as migrants from nations as far away as Haiti are making the trek on foot up through Mexico and are not easily sent back to their home countries.
Earlier this year, Mexico agreed to continue to accept migrants from Venezuela, Haiti, Cuba and Nicaragua who are turned away at the border, and up to 100,000 people from Honduras, Guatemala and El Salvador who have family in the U.S. will be eligible to live and work there.
According to data on asylum-seekers in Mexico, people from Haiti remained at the top with 18,860 so far this year, higher than the total for the whole of 2022.
Meanwhile, the U.S. is accepting 30,000 people per month from the four nations for two years and offering them the ability to work legally, as long as they come legally, have eligible sponsors and pass vetting and background checks.
Guatemala and Colombia will open regional hubs where people can go to make asylum claims in the hope of stopping them from traveling on foot. But Mexico has so far refused to allow the U.S. to set one up.
__
Associated Press writer Christopher Sherman in Mexico City contributed to this report.