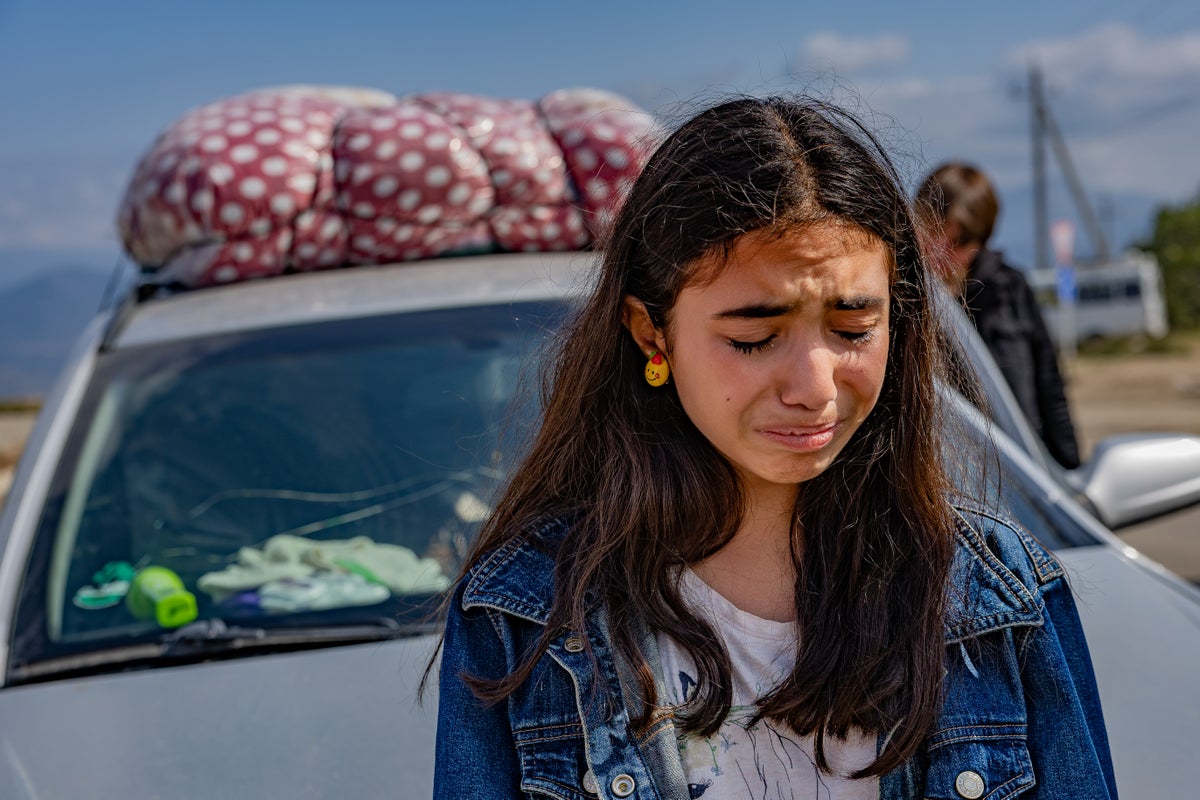 It is over and everything is lost. This is the refrain repeated by Armenian families as they take that final step across the border out of their home of Nagorno Karabakh.
In just a handful of days more than 100,000 people, almost the entire Armenian population of the breakaway enclave, has fled fearing ethnic persecution at the hands of Azerbaijani forces. The world barely registered it. But this astonishing exodus has vanished a self-declared state that thousands have died fighting for and ended a decades-old chapter of history.
Today, along that dusty mountain road to neighbouring Armenia, a few remaining people limp to safety after enduring days in transit.
Among them is the Tsovinar family who appear bundled in a hatchback littered with bullet holes, with seven relatives crushed in the back. Hasratyan, 48, the mother, crumbles into tears as she tries to make sense of her last 48 hours. The thought she cannot banish is that from this moment forward, she will never again be able to visit the grave of her brother killed in a previous bout of fighting.
"He is buried in our village which is now controlled by Azerbaijan. We can never go back," the mother-of-three says, as her teenage girls sob quietly beside her.
"We have lost our home, and our homeland."
"It is an erasing of a people. The world kept silent and handed us over".
She is interrupted by several ambulances racing in the opposite direction towards Nagorno Karabakh's main city of Stepanakert, or Khankendi, as it is known by the Azerbaijani forces that now control the streets. Their job is to fetch the few remaining Karabakh Armenians who want to leave and have yet to make it out.
"Those left are the poorest who have no cars, the disabled and elderly who can't move easily," a first responder calls at us through the window.
"Then we're told that's it."
As the world focused on the United Nations General Assembly, the war in Ukraine and, in the UK, the felling of an iconic Sycamore tree, a decades old war has reignited here unnoticed.
It ultimately heralded the end of Nagorno Karabakh, a breakaway Armenian region, that is internationally recognised as being part of Azerbaijan but for several decades has enjoyed de facto independence. It has triggered the largest movement of people in the South Caucasus since the collapse of the Soviet Union.
Azerbaijan has vehemently denied instigating ethnic cleansing and has promised to protect Armenians as it works to re-integrate the enclave.
Nagorno-Karabakh: Tearful 16-year-old describes 'bombing' while she was in school
But in the border town of Goris, surrounded by the chaotic arrival of hundreds of refugees, Armenia's infrastructure minister says Yerevan was now struggling to work out what to do with tens of thousands of displaced and desperate people.
"Simply put this is a modern ethnic cleansing that has been permitted through the guilty silence of the world," minister Gnel Sanosyan tells the Independent, as four new busses of fleeing families arrive behind him.
"This is a global shame, a shame for the world. We need the international community to step up and step up now."
The divisions in this part of the world have their roots in centuries-old conflict but the latest iterations of bitter bloodshed erupted during the collapse of the Soviet Union. The Karabakh Armenians, who are in the majority in the enclave, demanded the right to autonomy over the 4,400 square kilometre rolling mountainous region that has its own history and dialect. In the early 1990s they won a bloody war that uprooted Azerbaijanis, building a de facto state that wasn't internationally unrecognised.
That is until in 2020. Azerbaijan, backed by Turkey, launched a military offensive and took back swathes of territory in a six-week conflict that killed thousands of soldiers and civilians. Russia, which originally supported Armenia but in recent years has grown into a colder ally, brokered a fragile truce and deployed peacekeepers.
But Moscow failed to stop Baku in December, enforcing a 10-month blockade on Nagorno-Karabakh, strangling food, fuel, electricity and water supplies. Then, the international community stood by as Azerbaijan launched a 24-hour military blitz that proved too much for Armenian separatist forces. Outgunned, outnumbered and weakened by the blockade, they agreed to lay down their weapons.
For thirty years the Karabakh authorities had survived pressure from international powerhouses to give up statehood or at least downgrade their aspirations for Nagorno-Karabakh. For thirty years peace plans brokered by countries across the world were tabled and shelved.
And then in a week all hope vanished and the self-declared government agreed to dissolve.
Fearing further shelling and then violent reprisals, as news broke several Karabakh officials including former ministers and separatist commanders, had been arrested by Azerbaijani Security forces, people flooded over the border.
At the political level there are discussions about "reintegration" and "peace" but with so few left in Narargno-Karabakh any process would now be futile.
And so now, sleeping in tents on the floors of hotels, restaurants and sometimes the streets of border towns, shellshocked families, with a handful of belongings, are trying to piece their lives together.
Among them is Vardan Tadevosyan, Nagorno Karabakh's minister of health until the government was effectively dissolved on Thursday. He spent the night camping on the floor of a hotel, and carries only the clothes he is wearing. Exhausted he says he had "no idea what the future brings".
"For 25 years I have built a rehabilitation centre for people with physical disabilities I had to leave it all behind. You don't know how many people are calling me for support," he says as his phone ringed incessantly in the background throughout the interview.
"We all left everything behind. I am very depressed," he repeats, swallowing the sentence with a sigh.
Next to him Artemis, 58 a kindergarten coordinator who has spent 30 years in Steparankert, says the real problems were going to start in the coming weeks when the refugees outstay their temporary accommodation.
"The Azerbaijanis said they want to integrate Nagorno Karabakh but how do you blockade a people for 10 months and then launch a military operation and then ask them to integrate?" She asks, as she prepares for a new leg of the journey to the Armenian capital where she hopes to find shelter.
"The blockade was part of the ethnic cleansing. This is the only way to get people to flee the land they love."
"There is no humanity left in the world."
Back in the central square of Goris, where families pick through piles of donated clothes and blankets and aid organisations hand out food, the loudest question is: what next?
Armenian officials are busy registering families and sending them to shelters in different corners of the country. But there are unanswered queries about long-term accommodation, work and schooling.
"I can't really think about it, it hurts too much," says Hasratyan's eldest daughter Lilet, 16, trembling in the sunlight as the family starts the registration process.
"All I can say to the world is please speak about this and think about us.
"We are humans, people made of blood, like you and we need your help. "