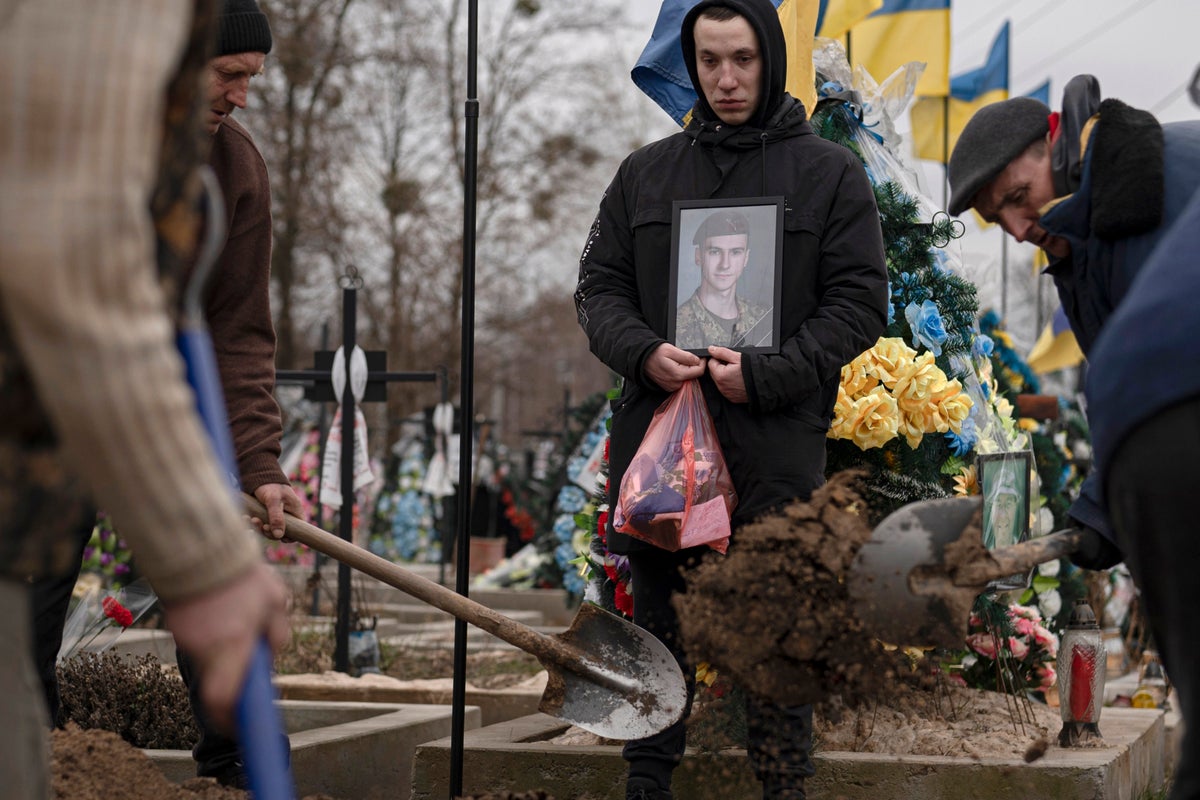 Here are the AP's latest coverage plans, top stories and promotable content. All times EDT. For up-to-the minute information on AP's coverage, visit Coverage Plan.
——————————-
TOP STORIES
——————————-
RUSSIA-UKRAINE WAR — Russian news agencies say Russian President Vladimir Putin has visited the occupied port city of Mariupol, his first trip to Ukrainian territory that Moscow illegally annexed in September. Mariupol became a worldwide symbol of defiance after outgunned and outmanned Ukrainian forces held out in a steel mill there for nearly three months before Moscow finally took control of it in May. SENT: 670 words, video, photos. Developing.
BANK COLLAPSE-STARTUPS OF COLOR — While Wall Street works to contain the biggest American bank failure since the 2008 financial meltdown, founders of startups who are people of color worry it could become even harder to secure financial support. They say the bank's swift demise also reflects the perilous journey they face while navigating industries that have been rife with racism and discrimination. SENT: 1,190 words, photos.
FRANCE-PENSIONS-MACRON — President Emmanuel Macron hoped his push to raise the retirement age from 62 to 64 would cement his legacy as the president who transformed France's economy for the 21st century. Instead, he finds his leadership contested, both in parliament and on the streets of major cities. By Sylvie Corbet. SENT: 930 words, photos.
XGR—CASH-BAIL — Republican lawmakers across the country are pushing to increase the use of cash bail and pretrial detention. Their efforts are a counter to Democratic measures that have sought to eliminate cash bail and ensure most defendants are released before trial in states such as Illinois and New York. GOP lawmakers in at least 14 states have introduced 20 bills to bolster cash bail since legislative sessions began anew in 2023. By Harm Venhuizen. UPCOMING: 1,000 words, photos by 9 a.m.
ECUADOR-EARTHQUAKE — A strong earthquake that shook southern Ecuador and northern Peru has killed at least 15 people and left others trapped under rubble. Saturday's earthquake with about 6.8 magnitude has also brought down homes and buildings in vastly different communities, from coastal areas to the highlands. By Gonzalo Solano and Regina Garcia Cano. SENT: 730 words, video, photos, audio.
KOREAS-TENSIONS — North Korea has launched a short-range ballistic missile toward the sea as it ramps up testing activities in response to ongoing U.S.-South Korean military drills. The launch was the North's third round of weapons tests since the U.S. and South Korean militaries began joint military drills last week. By Hyung-jin Kim. SENT: 800 words, photos.
—————————————————————————-
MORE ON RUSSIA-UKRAINE WAR
——————————————————————————-
——————————
MORE NEWS
——————————
AUSTRALIA-DEAD FISH — Millions of fish have washed up dead in southeastern Australia in a die-off that authorities and scientists say is caused by depleted oxygen levels in the river after recent floods and hot weather. SENT: 340 words, photos.
CALIFORNIA-LIGHT-STREAKS — Mysterious streaks of light were seen in the sky in the Sacramento area Friday night, shocking St. Patrick's Day revelers who then posted videos on social media of the surprising sight. SENT: 280 words, photos.
HAVASUPAI TRIBE-FLOODING — Tourists hoping to see world-famous waterfalls on the Havasupai Tribe Reservation in northern Arizona instead went through harrowing flood evacuations. The official Havasupai Tribe Tourism Facebook page reported Friday that flooding had washed away a bridge to the campground. SENT: 620 words, photos.
MUSIC-TAYLOR SWIFT — Taylor Swift opened her U.S. concert series with a three-hour tour of her career. SENT: 250 words, photos.
——————————————————
WASHINGTON/POLITICS
——————————————————-
ELECTION 2023-CHICAGO MAYOR — In heavily Democratic Chicago, the April 4 election to be the city's next mayor is between a progressive union member and a more moderate former public schools CEO. The increasingly bitter contest is another example of broader tension among Democrats. UPCOMING: 1,200 words by 10 a.m., photos.
————————————
INTERNATIONAL
————————————-
ZIMBABWE-MUSHROOM SEASON — Zimbabwe's rainy season brings a bonanza of wild mushrooms, which many rural families feast upon and sell to boost their incomes. But the bounty also comes with danger as each year there are reports of people dying after eating poisonous fungi. SENT: 780 words, photos.
MONTENEGRO-ELECTION — Voters in Montenegro are casting ballots in a presidential election marked by a deep political crisis and uncertainty over whether the small NATO member state in the Balkans will unblock its bid to join the European Union or seek to improve ties with Serbia and Russia. SENT: 510 words, photos. UPCOMING: Polls closes at 3 p.m.; initial results expected a few hours later.
ISRAEL-PALESTINIANS — Israeli and Palestinian officials are meeting in the Egyptian resort town of Sharm el-Sheikh in a bid to ease tensions between the sides and rein in a spiral of violence ahead of a sensitive holiday period beginning this week. SENT: 740 words, photo.
ISRAEL-POLITICS — Israeli Prime Minister Benjamin Netanyahu has urged the military's chief of staff to contain a wave of protest from within the ranks over a contentious government plan to overhaul the judiciary. SENT: 460 words, photo.
UNITED NATIONS-GENDER-TECHNOLOGY GAP — The U.N.'s premiere global body fighting for gender equality is calling for wide-ranging efforts to close the gap between men and women in today's technology-driven world. SENT: 560 words, photo.
MEXICO-PRESIDENT'S RALLY — Mexican President Andrés Manuel López Obrador held a massive rally in Mexico City's main plaza attended by tens of thousands. Though it was called to commemorate Mexico's 1938 expropriation of the oil industry, many attending agreed that it was the de-facto opening salvo to the 2024 elections that will choose the president's successor. SENT: 590 words, photos.
KUWAIT — A Kuwaiti court has annulled the results of a parliamentary election held last year, saying it would reinstate the previous slate of lawmakers elected in 2020, throwing more chaos into the politics of this small, oil-rich nation on the Persian Gulf. SENT: 250 words, photo.
SYRIA-ISRAEL-ISLAMIC JIHAD — The Palestinian militant group Islamic Jihad says one of its commanders has been killed in Syria in what it described as an assassination by Israeli agents. SENT: 230 words.
BOSNIA-LGBT RIGHTS-ASSAULT — Rights activists in the Serb-run part of Bosnia have been assaulted, hours after police banned an LGBT event planned there over the weekend, citing security concerns. SENT: 390 words.
—————————-
SPORTS
—————————-
BKC-NCAA-KANSAS UPSET — Kansas' best two players were neutralized for long stretches, its point guard played on a sprained ankle in the second half, and the Jayhawks once again were without their Hall of Fame coach, Bill Self. It was all too much to overcome for a No. 1 seed desperately trying to keep alive its bid for a second straight national championship. The Jayhawks' 72-71 loss to No. 8 seed Arkansas marked the third time in four NCAA Tournaments they have failed to make it out of the first weekend. SENT: 530 words, photos.
BKC-NCAA-PRINCETON-MISSOURI — Blake Peters made five 3-pointers in the second half and Princeton shocked another power conference team to reach the regional semifinals for the first time in 56 years by beating Missouri 78-63. SENT: 750 words, photos.
BBI-WBC-UNITED STATES-VENEZUELA — Trea Turner hit a go-ahead grand slam in the eighth inning that lifted the United States over Venezuela 9-7 and into the World Baseball Classic semifinals. The defending champion Team USA will face Cuba on Sunday night for a spot in the WBC championship. SENT: 660 words, photos.
————————
HOW TO REACH US
————————
At the Nerve Center, Rob Jagodzinski can be reached at 800-845-8450 (ext. 1600). For photos, Donald E. King (ext. 1900). For graphics and interactives, ext. 7636. Expanded AP content can be obtained from AP Newsroom. For access to AP Newsroom and other technical issues, contact [email protected] or call 844-777-2006.