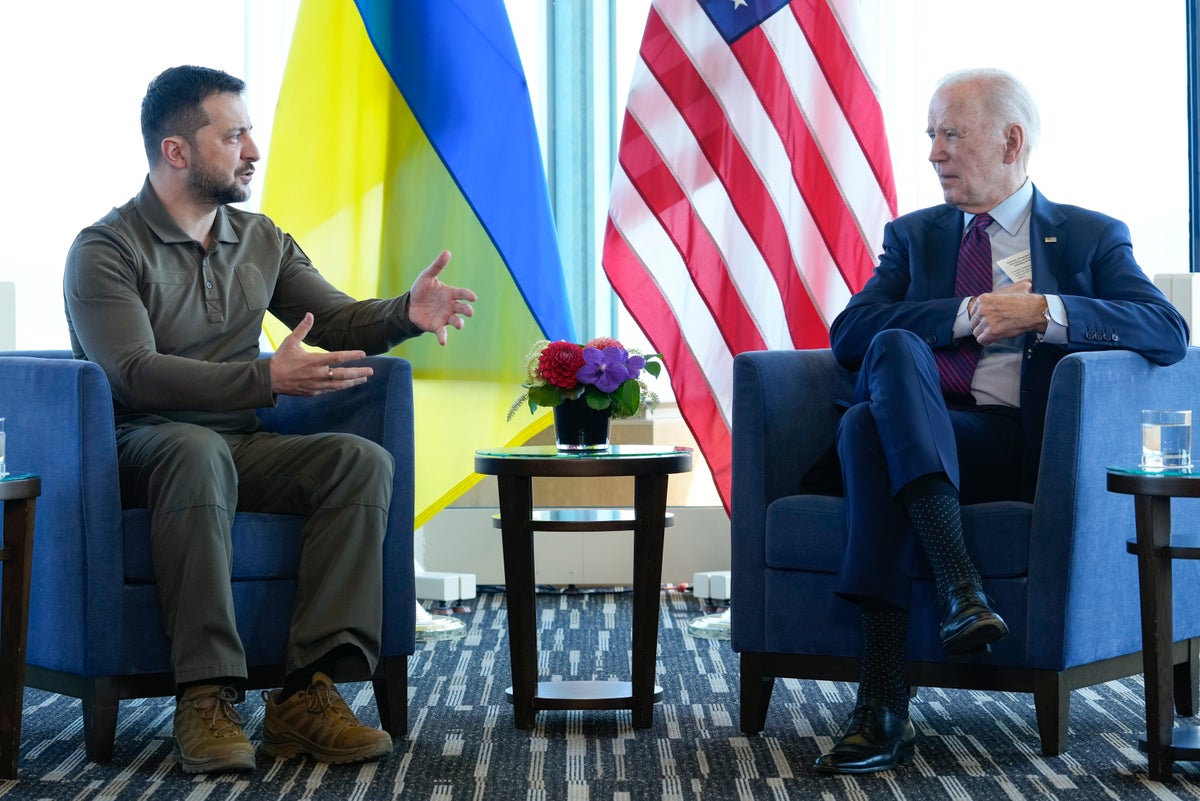 Here are the AP's latest coverage plans, top stories and promotable content. All times EDT. For up-to-the minute information on AP's coverage, visit Coverage Plan.
——————————
TOP STORIES
——————————-
RUSSIA-UKRAINE-WAR — Ukrainian President Volodymyr Zelenskyy says, "Bakhmut is not occupied by the Russian Federation as of today," contesting Moscow's claims that it controls the city. It's impossible to confirm the situation on the ground in the invasion's longest battle. By Zeke Miller, Elise Morton and Susie Blann. SENT: 1,250 words, video, photos, audio.
G7 SUMMIT — Ukrainian President Volodymyr Zelenskyy huddled with some of his biggest backers as the Group of Seven summit closed in Hiroshima. Zelenskyy's in-person appearance in his trademark olive drab underscored the centrality of the war for the G7 bloc of rich democracies. It also stole much of the limelight from other priorities, including security challenges in Asia and outreach to the developing world, that the leaders focused on at the three-day gathering. By Adam Schreck, Foster Klug and Zeke Miller. SENT: 1,160 words, photos.
MASS KILLING-ANNIVERSARIES — As the number of people who die in mass killings in the U.S. continues to rise, thousands more are left to handle the trauma of losing someone they love. One of the hardest days they confront each year is the anniversary of the killing. They grapple with the same question, sometimes after many years have passed: What do I do with myself on the date that changed everything? Some people throw a party to get through the pain. Others prefer to be completely alone. By Trisha Ahmed. SENT: 1,420 words, photos. This is the Monday Spotlight.
DEBT-LIMIT — President Joe Biden says Republicans in the U.S. House must move off their "extreme positions" on the now-stalled talks over raising America's debt limit and that there will be no agreement to avert a catastrophic default only on their terms. By Zeke Miller and Josh Boak. SENT: 680 words, photos.
SENATE-FEDERMAN — Before Pennsylvania Sen. John Fetterman checked himself in to a hospital for clinical depression in February, he used to walk the halls of the Senate stone-faced and dressed in formal suits. These days, he's back to wearing the hoodies and gym shorts he was known for before he became a senator. People close to Fetterman say his more relaxed style is a reflection of the progress he's made after six weeks of inpatient treatment for clinical depression. By Mary Clare Jalonick and Marc Levy. SENT: 1,200 words, photos.
HOMELESS ENCAMPMENTS — Democratic leaders in major U.S. cities are finding themselves politically squeezed when it comes to addressing homelessness. A unanimous New York City Council has passed a "Homeless Bill of Rights." It not only codifies a long-standing right to shelter but would establish the right to sleep outside. New York would be the first big U.S. city to establish the right if Mayor Eric Adams allows the measure to become law. By Bobby Caina Calvan and Christopher Weber. SENT: 1,040 words, photos.
———————————————————
MORE ON G7
———————————————————-
G7-JAPAN-ECLIPSED BY ZELENSKYY — Ukrainian President Volodymyr Zelenskyy's participation in the Group of Seven summit is making some atomic bomb survivors feel the visit is overshadowing their pursuit of nuclear abolishment. They say Zelenskyy's inclusion at the summit, where discussion is expected to focus on more provisions of weapons, doesn't fit Hiroshima's pacifist identity and sends the wrong message. SENT: 620 words, photos. With G7-JAPAN-SOUTH KOREA — Japanese Prime Minister Fumio Kishida and South Korean President Yoon Suk Yeol have prayed together at a memorial for Korean victims of the 1945 atomic bombing in Hiroshima on the sidelines of the Group of Seven summit. SENT: 550 words, photos.
———————-
MORE NEWS
———————-
GENDER PRONOUNS-FIRINGS — The firing of two employees at a religious school in western New York is fanning the culture wars roiling parts of the United States. Shua Wilmot and Raegan Zelaya were dismissed as dorm directors at Houghton University because they refused to remove gender pronouns from their work email signatures. SENT: 710 words.
MEXICO-RAPE SENTENCE — Mexican prosecutors say they are dropping a case against a woman who was sentenced to six years in prison for killing a man as he raped and attacked her. SENT: 680 words, photos.
XGR-INDIANA UNIVERSITY-KINSEY INSTITUTE — Unfounded claims about Indiana University's sex research institute, its founder and child sex abuse have persisted over the years. The legislature has now prohibited the institute from using state dollars, and funding from the university remains unclear, but the largely symbolic move does not halt the Kinsey Institute's work, which ranges from studies on sexual assault prevention to contraception use among women. SENT: 870 words, photos.
AIR QUALITY-SMOKE-CANADA FIRES — Officials in Colorado and Montana have issued air quality alerts due to smoke from dozens of wildfires in Canada that has drifted south into the United States. SENT: 310 words, photos.
———————————————————
WASHINGTON/POLITICS
———————————————————-
ELECTIONS-LOCAL TURMOIL — Far-right conservatives who won majorities on local boards and commissions across the U.S. last year are now pressing agendas that include election distrust, skepticism of government and a desire to have religion play a greater role in public decisions. The consequences are becoming apparent in places like Sumner County, Tennessee, with potential implications for how elections play out in 2024. UPCOMING: 2,100 words, video, photos, 980-word abridged version.
TRUMP-CLASSIFIED DOCUMENTS — A lawyer who quit Donald Trump's legal team this past week is attributing his decision to strategy disagreements with a close adviser to the former president. SENT: 400 words, photo.
———————-
NATIONAL
———————-
FATAL SHOOTING-KANSAS CITY — Police say two people were killed at the scene and a third victim died at a hospital following a shooting at a Kansas City, Missouri, bar early Sunday. SENT: 120 words.
—————————————
INTERNATIONAL
—————————————-
GREECE-ELECTIONS — Greeks are voting in the first parliamentary election since their country's economy ceased to be subject to strict supervision and control by international lenders who had provided bailout funds during its nearly decade-long financial crisis. The two main contenders in Sunday's vote are conservative Prime Minister Kyriakos Mitsotakis, a Harvard-educated former banker, and Alexis Tsipras, who heads the left-wing Syriza party and served as prime minister during some of the financial crisis' most turbulent years. SENT: 900 words, photos. Developing.
ISRAEL-PALESTINIANS — An extremist Israeli Cabinet minister has visited a sensitive Jerusalem holy site at a time of heightened tensions with the Palestinians. The visit by National Security Minister Itamar Ben-Gvir on Sunday, his second known visit since becoming a member of Israel's most right-leaning government ever, drew condemnations from the Palestinians and neighboring Jordan and Egypt. SENT: 660 words, photo.
SUDAN — Sudan's warring factions have agreed to a new short-term ceasefire after several previous attempts to broker a truce that holds have failed. SENT: 230 words, photos.
EL SALVADOR-SOCCER STAMPEDE — At least nine people have been killed and dozens more injured when stampeding soccer fans pushed through one of the access gates at a quarterfinal match in El Salvador. SENT: 360 words, photos.
NORTHERN IRELAND-LOCAL ELECTIONS — Irish nationalist party Sinn Fein has made sweeping gains in Northern Ireland's local elections. SENT: 400 words.
AFGHANISTAN — The Ministry of Defense says an Afghan military helicopter crashed in the country's north after hitting a power line base, killing at least two crewmembers. SENT: 190 words, map.
IRAN-BORDER CLASH — Iranian state TV says five Iranian border guards were killed in a clash with an unknown armed group trying to enter the country near the Pakistani border. SENT: 220 words, map.
————————
SPORTS
————————
RAC-PREAKNESS — Bob Baffert's National Treasure has won the Preakness Stakes, hours after another of the Hall of Famer's horses was euthanized on the track with a racing injury. Derby winner Mage finished third. SENT: 820 words, photos.
BKN-NUGGETS-LAKERS — Jamal Murray scored 37 points, Nikola Jokic added 24 points and eight assists, and the Denver Nuggets rolled to a 3-0 lead in the Western Conference finals with a 119-108 victory over the Los Angeles Lakers. SENT: 950 words, photos.
HKN-PANTHERS-HURRICANES — Matthew Tkachuk finished a feed from Sam Reinhart at the 1:51 mark of overtime to help the Florida Panthers beat the Carolina Hurricanes 2-1 for a 2-0 series lead in the Eastern Conference final. SENT: 880 words, photos.
———————-
HOW TO REACH US
———————-
The Nerve Center can be reached at 800-845-8450 (ext. 1600). For photos, ext. 1900. For graphics and interactives, ext. 7636. Expanded AP content can be obtained from AP Newsroom. For access to AP Newsroom and other technical issues, contact [email protected] or call 844-777-2006.