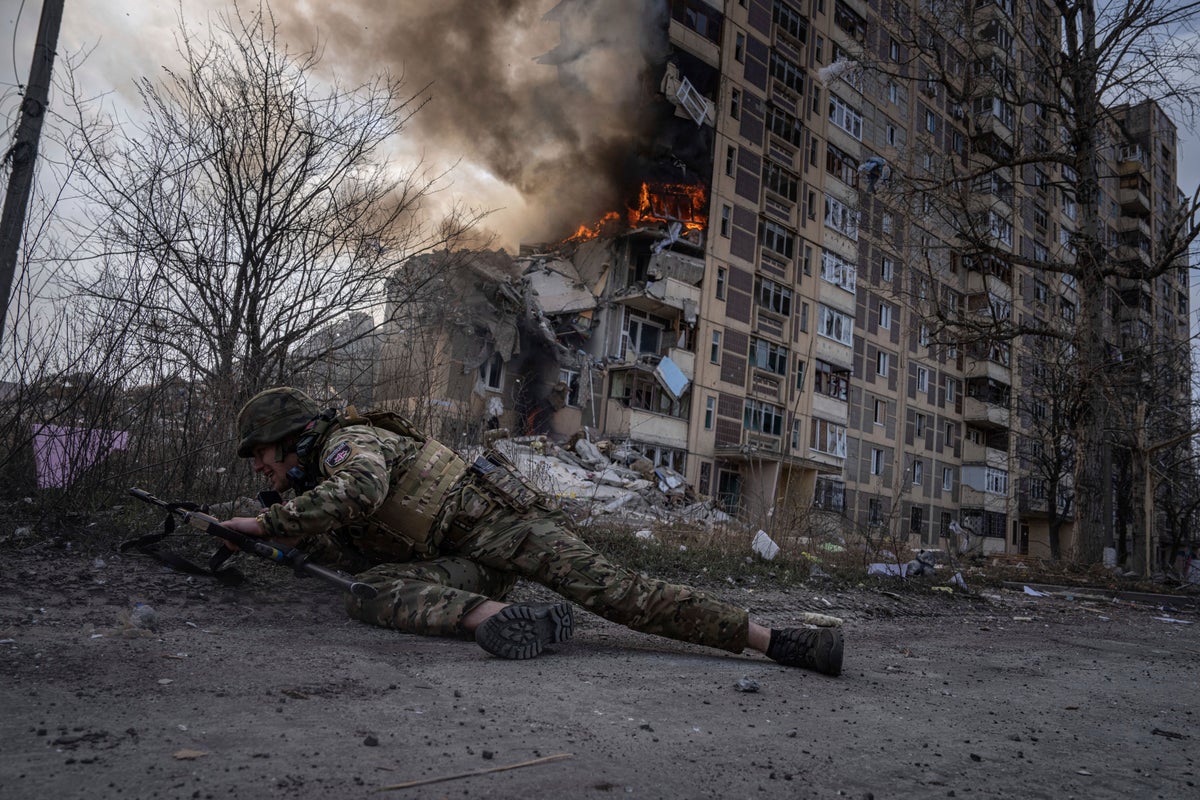 Here are the AP's latest coverage plans, top stories and promotable content. All times EDT. For up-to-the minute information on AP's coverage, visit Coverage Plan.
——————————-
TOP STORIES
——————————-
RUSSIA-UKRAINE WAR — Widespread Russian attacks have continued in Ukraine following the International Criminal Court's decision to issue an arrest warrant for Russian President Vladimir Putin and Russia's commissioner for children's rights. Drone attacks targeted, among other places, the capital, Kyiv and the western Lviv province. SENT: 530 words, photos.
MEXICO-MIGRANT BOAT DEATHS — Yecenia Lazcano Soriano left behind a 4-year-old daughter in her home town of Tehuacan, Mexico, when she set out almost in secret to reach the United States. The last message she sent to relatives was a heart emoji. Days later, the small boat carrying her and seven other migrants capsized in rough surf off a beach in San Diego, California. The 22-year-old's body was recovered shortly afterward the accident last week. By Gisela Salomon and Fabiola Sánchez. SENT: 530 words, photos.
ELECTION CONSPIRACIES — A rout of election conspiracists in last year's midterm elections has done nothing to slow down the wider movement peddling false claims about voting and the 2020 presidential election. Across the U.S., allies of former President Donald Trump are meeting with community groups and holding forums to peddle various conspiracy theories about voting technology and election administration. Trump's third run for the White House has only emboldened those who spread – and willingly believe — the claims, which continue to have real consequences for local election offices. By Christina A. Cassidy. UPCOMING: 900 words, photos. This is the Sunday Spotlight.
TRUMP INVESTIGATIONS-JUDGE — A judge has ruled in a sealed order that federal prosecutors investigating the potential mishandling of classified documents at former President Donald Trump's Florida estate will be able to again question a Trump lawyer before a grand jury. The order will require M. Evan Corcoran to answer additional questions as prosecutors pursue their investigation into classified documents found at Mar-a-Lago as well as potential efforts to obstruct that probe. SENT: 530 words, photo.
ABORTION-WYOMING — Wyoming Gov. Mark Gordon has signed a bill prohibiting medication abortions in the state and also allowed a separate measure restricting abortion to become law without his signature. The pills are already banned in 13 states with blanket bans on all forms of abortion, and 15 states already have limited access to abortion pills. SENT: 560 words, photo.
——————————
MORE NEWS
——————————
OBIT-LANCE REDDICK — Lance Reddick, a character actor who specialized in intense, icy and possibly sinister authority figures on TV and film, including "The Wire," "Fringe" and the "John Wick" franchise, has died. He was 60. SENT: 710 words, photos.
ALASKA-TRANSGENDER ATHLETES — The Alaska board of education has unanimously approved a resolution that urges the state to limit the participation of transgender girls in girls school sports. SENT: 560 words.
ELECTION 2024-TRUMP-FACEBOOK — Donald Trump returns to Facebook after a more than two-year ban. SENT: 310 words, photo.
NOT-REAL-NEWS — A look at what didn't happen this week. SENT: 1,560 words, photos.
——————————————————
WASHINGTON/POLITICS
——————————————————-
UNITED NATIONS-NORTH KOREA — The United States, its Western allies and experts shone a spotlight on the dire human rights situation and increasing repression in North Korea at a U.N. meeting. China and Russia denounced Friday's meeting as a politicized move likely to further escalate tensions on the Korean peninsula. SENT: 710 words, photo.
TRUMP-LEGAL TROUBLES — Law enforcement officials in New York are making security preparations for the possibility that Donald Trump could be indicted in the coming weeks by a Manhattan grand jury and appear in a courtroom in an investigation examining hush money paid to women who alleged sexual encounters with the former president. That's according to four law enforcement officials who spoke Friday to The Associated Press. SENT: 500 words, photos. With TRUMP-GIFTS — A report from a House committee's Democrats says Donald Trump's White House has failed to report more than 100 gifts from foreign nations. SENT: 470 words, photo.
ELECTION 2024-TRUMP RALLY — Former President Donald Trump will be holding the first rally of his 2024 campaign later this month in Waco, Texas. SENT: 410 words, photo.
LEGISLATURE-NEW MEXICO — New Mexico legislators raced against the clock to advance hard-fought proposals aimed at safeguarding abortion access, delivering tax relief and reducing gun violence in the final hours of a 60-day legislative session. SENT: 780 words, photos. With SPENT NUCLEAR FUEL-NEW MEXICO — New Mexico's governor has signed legislation that calls for banning the storage of spent nuclear fuel in New Mexico, unless the state provides its consent first. SENT: 710 words, photo.
————————
NATIONAL
————————
GREAT SALT LAKE-MORMON CHURCH — Amid rising panic about the future of Utah's Great Salt Lake, The Church of Jesus Christ of Latter-day Saints is donating roughly the size of a small reservoir of water to help maintain the lake's elevation. SENT: 910 words, photos.
XCEL ENERGY-NUCLEAR LEAK — Minnesota regulators knew four months ago that radioactive waste had leaked from a nuclear power plant in Monticello — but they didn't announce anything about the leak until this week. The delay in notifying the public about the November leak of tritium raised questions about public safety and transparency. But industry experts say there was never a public health threat. SENT: 800 words, photo.
CORONADO BASE LOCKDOWN — A California military base was put in lockdown Friday night after a vehicle went through the facility's main gate without stopping. The driver was taken into custody. SENT: 210 words.
————————————
INTERNATIONAL
————————————-
PAKISTAN-POLITICS — Police in Pakistan have stormed former Prime Minister Imran Khan's residence in the eastern city of Lahore and arrested 30 people. Khan is expected to appear in an Islamabad court on Saturday to face charges in a graft case. SENT: 400 words, photos.
FRANCE-PENSION-TENSION — An eerie calm returned to Paris Saturday after two nights of thousands-strong protests across the French capital saw police disperse crowds with tear gas and water cannons, and hundreds of people were arrested. Protesters are trying to pressure lawmakers to bring down French President Emmanuel Macron's government and doom the unpopular retirement age increase he's trying to impose without a vote in the National Assembly. SENT: 400 words, photos.
NORTH MACEDONIA-KOSOVO-SERBIA — Western officials are hoping for progress this weekend in EU-mediated talks between Serbian and Kosovo leaders. These represent another attempt to defuse decades of tensions between the Balkan neighbors and wartime foes. SENT: 610 words, photos.
JAPAN-GERMANY — German Chancellor Olaf Scholz and Japanese Prime Minister Fumio Kishida are holding the first round of government consultations in Tokyo as they seek to strengthen economic and defense ties. SENT: 530 words, photos.
KAZAKHSTAN-ELECTION — Voters in Kazakhstan will cast ballots Sunday after a short but active campaign for seats in the lower house of parliament that is being reconfigured in the wake of deadly unrest that gripped the resource-rich Central Asian nation a year ago. SENT: 440 words, photos.
BRITAIN-STRIKES — Security guards at London's Heathrow Airport will walk out of their jobs for 10 days over the Easter break, the latest in a wave of strike action to affect the U.K. SENT: 300 words.
—————————-
SPORTS
—————————-
BKC–NCAA-FAIRLEIGH DICKINSON-PURDUE — Fairleigh Dickinson became the second No. 16 seed in history to win an NCAA Tournament game, stunning top-seeded Purdue 63-58 behind 19 points from Sean Moore and a relentless, hustling defense. SENT: 1,170 words, photos.
BKC–NCAA-KENNESAW STATE-XAVIER — Jack Nunge blocked Terrell Burden's driving attempt at a go-ahead layup in the final seconds, and Xavier dug out of a 13-point hole against surprising Kennesaw State to escape with a 72-67 victory in the first round of the NCAA Tournament. SENT: 800 words, photos.
————————
HOW TO REACH US
————————
At the Nerve Center, Richard A. Somma can be reached at 800-845-8450 (ext. 1600). For photos, (ext. 1900). For graphics and interactives, ext. 7636. Expanded AP content can be obtained from AP Newsroom. For access to AP Newsroom and other technical issues, contact [email protected] or call 844-777-2006.