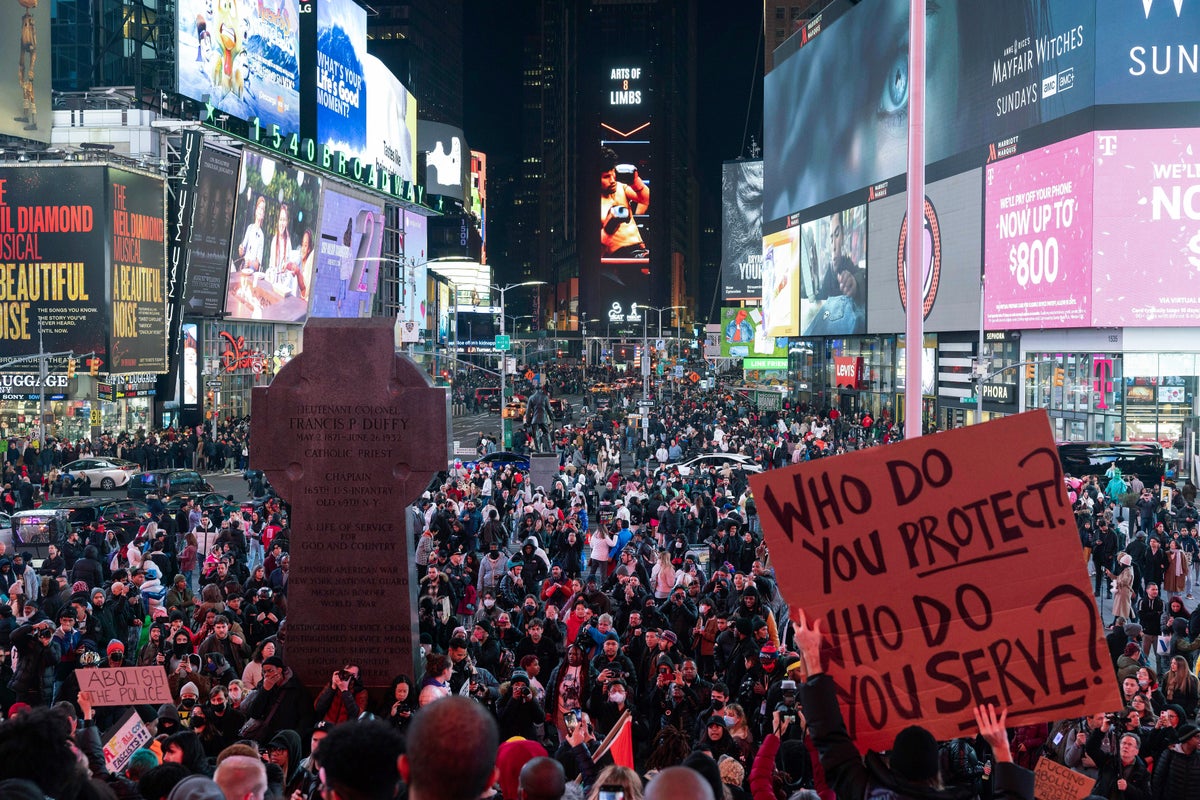 Here are the AP's latest coverage plans, top stories and promotable content. All times EST. For up-to-the minute information on AP's coverage, visit Coverage Plan.
—————————
TOP STORIES
—————————
MEMPHIS-POLICE-FORCE-INVESTIGATION — The Memphis police chief disbanded the city's so-called Scorpion unit, citing a "cloud of dishonor" from newly released video that showed some of its officers beating Tyre Nichols to death after stopping the Black motorist. By Adrian Sanz. SENT: 1,400 words, photos, video; developing. Find the latest coverage here. With MEMPHIS POLICE STATEMENTS — Memphis beating video puts spotlight on first police account; MEMPHIS-POLICE-FORCE-VIDEO — In 67 minutes of video, brutality followed by nonchalance; MEMPHIS-POLICE-FORCE-INVESTIGATION-THE-TALK — Distrust of police: Black parents, children have 'the talk' (all sent).
RUSSIA-UKRAINE-WAR — It has been over 11 weeks since Ukrainian forces wrested back part of Kherson province from Russian occupation. But liberation hasn't diminished the hardship for residents, both those returning home and the ones who never left. In the peak of winter, the rural village not far from an active front line has no power or water. The sounds of war are never far. By Samya Kullab. SENT: 1,080 words, photos.
ISRAEL-PALESTINIANS — Israeli police have sealed up the east Jerusalem home of a Palestinian attacker who killed seven people and wounded three outside a synagogue, one of several punitive measures approved by Benjamin Netanyahu's Cabinet overnight. SENT: 500 words, photos.
NFL-PLAYOFF GUIDE — If Vegas oddsmakers are correct — and there's a reason those casinos are huge and luxurious — then football fans are in for a treat this weekend. The NFL's conference championship weekend is here: The Philadelphia Eagles will host the San Francisco 49ers for the NFC title while the Kansas City Chiefs host the Cincinnati Bengals in the AFC. By David Brandt. SENT: 920 words, photos.
—————————
TRENDING
—————————
WCUP-WOMEN'S SLALOM — American skier Mikaela Shiffrin had what she called a "perfect run" to lead a women's World Cup slalom after the opening leg Sunday as she approached the all-time record for the most career wins with 86. SENT: 340 words, photos.
TEN-AUSTRALIAN OPEN — Novak Djokovic is one set away from his 10th Australian Open singles championship and his 22nd Grand Slam title. Djokovic won the first set 6-3 and the second 7-6 (4) against Stefanos Tsitsipas in the Australian Open men's singles final SENT: 150 words, photos.
BILLS-HAMLIN'S-MESSAGE — Damar Hamlin has released a video in which he says he's thankful for the outpouring of support and vows to pay it back, marking the first time the Buffalo Bills safety has spoken publicly since he went into cardiac arrest and needed to be resuscitated on the field in Cincinnati on Jan. 2.
OBIT-TOM VERLAINE — Tom Verlaine, guitarist and co-founder of the seminal proto-punk band Television who influenced many bands while playing at ultra-cool downtown New York music venue CBGB alongside the Ramones, Patti Smith and Talking Heads, has died. He was 73. SENT: 450 words.
———————————————————
WASHINGTON/POLITICS
————————————————————
ELECTION 2024-TRUMP — Former President Donald Trump kicked off his 2024 White House bid with stops in New Hampshire and South Carolina, events in early-voting states marking the first campaign appearances since announcing his latest run more than two months ago. By Meg Kinnard, Jill Colvin and Holly Ramer. SENT: 1,130 words, photos. SENT: 1,130 words, photos.
ELECTION-2024-SENATE-ARIZONA — Democrat Ruben Gallego held the first public events of his U.S. Senate campaign Saturday, taking aim at independent incumbent Kyrsten Sinema and casting his candidacy in a patriotic appeal to the American dream. SENT: 410 words, photos.
—————————
NATIONAL
—————————
CALIFORNIA-FARM-SHOOTING — A farmworker charged with killing seven people at two Half Moon Bay mushroom farms reportedly told investigators he was spurred to carry out the shootings after his supervisor demanded he pay $100 to repair a forklift damaged at work. SENT: 310 words, photos.
TRAIN DERAILMENT — About 130 people in north Louisiana were ordered to evacuate Saturday after a train derailed and at least two cars began leaking hazardous products, state police say. SENT: 240 words.
FATAL-ACCIDENT-NEW-YORK — Six people died in upstate New York when a freight truck and an express bus carrying more than a dozen people collided near the U.S.-Canada border, state police say. SENT: 200 words.
————————————
INTERNATIONAL
————————————
IRAN — Bomb-carrying drones targeted an Iranian defense factory in the central city of Isfahan overnight, authorities say, causing some damage at the plant amid heightened regional and international tensions engulfing the Islamic Republic. By Jon Gambrell. SENT: 900 words, photo.
BRITAIN-POLITICS — British Prime Minister Rishi Sunak fired the chairman of his ruling Conservative Party over a "serious breach" of the ministerial code. SENT: 370 words, photos.
TUNISIA-ELECTIONS — Tunisia's president and its shaky, decade-long experiment with democracy are facing an important test Sunday as voters cast ballots in the second round of parliamentary elections. SENT: 430 words, photos.
TURKEY-EUROPE — Turkey issued a travel warning for its citizens living in or planning on going to European countries, citing Islamophobia and anti-Turkish demonstrations. SENT: 230 words
——————
SCIENCE
——————
VIRUS-OUTBREAK-JAPAN-CHINA — China announced it was resuming issuing visas for Japanese travelers, ending its nearly three-week suspension in an apparent protest of Tokyo's tougher COVID-19 entry requirements for tourists from China. SENT: 280 words, photo.
———————
SPORTS
———————
OLY-IOC-RUSSIA-UKRAINE — The question of if and how Russia competes at the Olympics hangs over the 2024 Paris Summer Games. Just as it has now for five straight Olympics during Thomas Bach's leadership of the IOC, whose support this week for some Russians to compete in Paris was publicly challenged Friday by Ukrainian President Volodymyr Zelenskyy. SENT: 930 words, photos
GEORGIA-PLAYER-KILLED — Georgia athletic department officials say the vehicle involved in a crash that killed a football player and employee on Jan. 15 was to be used only for recruiting activities, not personal use. The University of Georgia athletic association provided that information in a statement to The Associated Press on Saturday, saying personal use of the SUV was "strictly prohibited." SENT: 325 words.
——————————————
HOW TO REACH US
——————————————
At the Nerve Center, Rob Jagodzinski can be reached at 800-845-8450 (ext. 1600). For photos, (ext. 1900). For graphics and interactives, ext. 7636. Expanded AP content can be obtained from http://newsroom.ap.org. For access to AP Newsroom and other technical issues, contact [email protected] or call 844-777-2006.