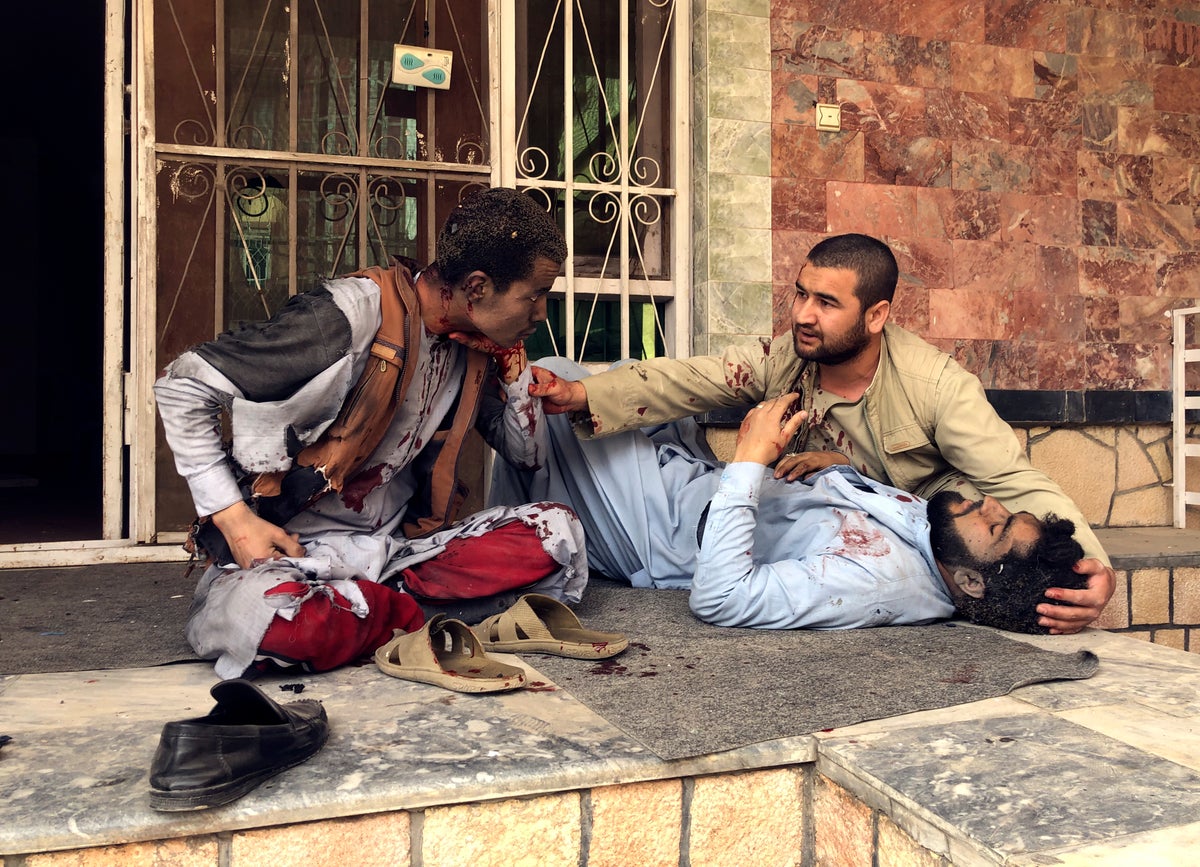 Here are the AP's latest coverage plans, top stories and promotable content. All times EST. For up-to-the minute information on AP's coverage, visit Coverage Plan.
——————————
TOP STORIES
——————————
EARNS-ARAMCO — Oil giant Saudi Aramco has said it earned a $161 billion profit last year, attributing its earnings to higher crude oil prices. The firm, known formally as the Saudi Arabian Oil Co., said in its annual report that the profit represented "its highest annual profits as a listed company." By Jon Gambrell. SENT: 740 words, photos.
PENCE-TRUMP — Former Vice President Mike Pence on Saturday harshly criticized former President Donald Trump for his role in the Jan. 6 riot at the U.S. Capitol, widening the rift between the two men as they prepare to battle over the Republican nomination in next year's election. By Zeke Miller and Chris Megerian. SENT: 480 words, photo.
SILICON-VALLEY-BANK — It was called Silicon Valley Bank, but its collapse is causing shockwaves around the world. From winemakers in California to startups across the Atlantic Ocean, companies are scrambling to figure out how to manage their finances after their bank suddenly shut down Friday. The meltdown means distress not only for businesses but also for all their workers whose paychecks may get tied up in the chaos. By Stan Choe and Bobby Caina Calvan. SENT: 970 words, photos, video. With SILICON-VALLEY-BANK-EXPLAINER — A major bank failed. Here's why it's not 2008 again (sent).
ARGENTINA-POPE-FRANCIS — When Jorge Bergoglio of Argentina became Pope Francis, much of his home country celebrated as if it had just won a soccer World Cup championship. A decade later, the first Latin American leader of the Catholic Church generates divided opinions and much less fervor. Francis, who still likes to listen to tango, left Argentina in February 2013 to attend the conclave that elected him as the successor to Benedict XVI on March 13. He never returned. Argentine journalist Sergio Rubin, who recently co-wrote a book about Francis, agrees with other observers who say that the pope is keeping his home country at arm's length to avoid being drawn into Argentina's political polarization of the past two decades. By Alumudena Calatrava and Debora Rey. SENT: 980 words, photos.
RUSSIA-UKRAINE-WAR — Russian forces have made progress in their campaign to capture the city of Bakhmut in eastern Ukraine, the focus of the war's longest ground battle, but their assault will be difficult to sustain without more significant personnel losses, British military officials said. By Karl Ritter. SENT: 710 words, photos.
OSCARS — It's almost time to give the Academy Awards a big hand. OK, maybe we should rephrase that. A year after Will Smith strode on stage at the Dolby Theatre and slapped Chris Rock in the face, the Oscars will reconvene for a ceremony that will try to move past one of the most infamous moments in Academy Awards history. By Film Writer Jake Coyle. SENT: 810 words, photos. With OSCARS-REHEARSALS — Glimpse into Oscars rehearsals shows stars at Dolby Theatre; OSCARS-LIVE-UPDATES — Latest news from carpet, show; OSCARS-CHANEL-DINNER — Hollywood stars spend Oscars eve at annual Chanel dinner (all sent).
————————————————————————-
MORE ON RUSSIA-UKRAINE WAR
————————————————————————
RUSSIA-UKRAINE-WAR-FIREFIGHTERS — The firefighters find thick grey smoke pouring from the roof of a brick house that is one of several homes hit by Russian shelling in a residential neighborhood of Kostiantinivka. The city in eastern Ukraine's Donetsk province has come under intense bombardment in recent days while Russia's forces continue their monthslong push to capture nearby Bakhmut. SENT: 330 words, photos.
——————————
MORE NEWS
——————————
SPACEX-CREW RETURN — Four space station astronauts has returned to Earth after a quick SpaceX flight home. Their capsule splashed down in the Gulf of Mexico just off the Florida coast near Tampa. SENT: 310 words, photos, video.
US-IDITAROD — Brent Sass, the defending Iditarod Trail Sled Dog Race champion, withdrew from this year's race, citing concerns for his health. SENT: 360 words, photo.
——————————————————
WASHINGTON/ POLITICS
———————————————————
STATE REPUBLICAN PARTIES-COLORADO — The Colorado Republican Party has selected a combative former state representative who promised to be a "wartime" leader as its new chairman, joining several other state GOPs this year that have elected far-right figures and election conspiracy theorists to their top posts. SENT: 540 words, photos.
————————-
NATIONAL
—————————
FORMER-NAVOJO-LEADER-FUNERAL — Remembered as an inspirational, humble leader with a passion for education and commitment to his people, former Navajo Nation President Peterson Zah has been honored with a funeral procession that stretched for 100 miles from western New Mexico into eastern Arizona. SENT: 650 words, photos.
CHILD-MARRIAGE-WEST-VIRGINIA — A child marriage bill is heading to the West Virginia governor's desk after lawmakers agreed to let 16- and 17-year-olds get married with restrictions. SENT: 360 words, photos.
————————————-
INTERNATIONAL
—————————————
CHINA-CONGRESS-CENTRAL-BANK-GOVERNOR — China has reappointed Yi Gang as head of the central bank in an effort to reassure entrepreneurs and financial markets by showing continuity at the top while other economic officials change during a period of uncertainty in the world's second-largest economy. SENT: 640 words, photo.
ISRAEL-PALESTINIANS — Israeli forces shot and killed three Palestinian gunmen who opened fire on troops in the occupied West Bank, the military said, the latest bloodshed in a year-long wave of violence in the region. SENT: 380 words, photos.
GERMANY-SHOOTING — The Jehovah's Witnesses expressed shock over the deadly shooting at one of the group's halls in Hamburg, Germany, but thanked German authorities for preventing more bloodshed through their swift intervention during the attack. SENT: 440 words, photos.
SYRIA-ISRAEL — Israeli missiles targeted a western Syria, wounding three Syrian soldiers, Syrian state media reports. SENT: 170 words, photo.
———————————————
HEALTH & SCIENCE
———————————————
CLIMATE-CYCLONE-FREDDY — Record-breaking Cyclone Freddy made its second landfall in Mozambique, pounding the southern African nation with heavy rains and disrupting transport and telecommunications services. SENT: 620 words, photos.
HAWAII-VOLCANO — Hawaii's second-largest volcano is not erupting, scientists said in an update to a previous warning. The U.S. Geological Survey has said in a statement that seismic activity beneath the summit of Kilauea "has returned to background levels, ground deformation has stabilized, and no lava has been observed at the surface." SENT: 200 words, photo.
PROSTATE-CANCER-TREATMENT — Researchers have found long-term evidence that actively monitoring localized prostate cancer is a safe alternative to immediate surgery or radiation. SENT: 440 words, photos.
———————
SPORTS
———————
BKN-BUCKS-WARRIORS — Stephen Curry scored 36 points with 22 of those in the fourth quarter and overtime, shining in his first home game back from a long injury absence and leading the Golden State Warriors past the NBA-best Milwaukee Bucks 125-116. SENT: 610 words, photos.
——————————————
HOW TO REACH US
——————————————
At the Nerve Center, Vincent K. Willis can be reached at 800-845-8450 (ext. 1600). For photos, (ext. 1900). For graphics and interactives, ext. 7636. Expanded AP content can be obtained from AP Newsroom. For access to AP Newsroom and other technical issues, contact [email protected] or call 844-777-2006.