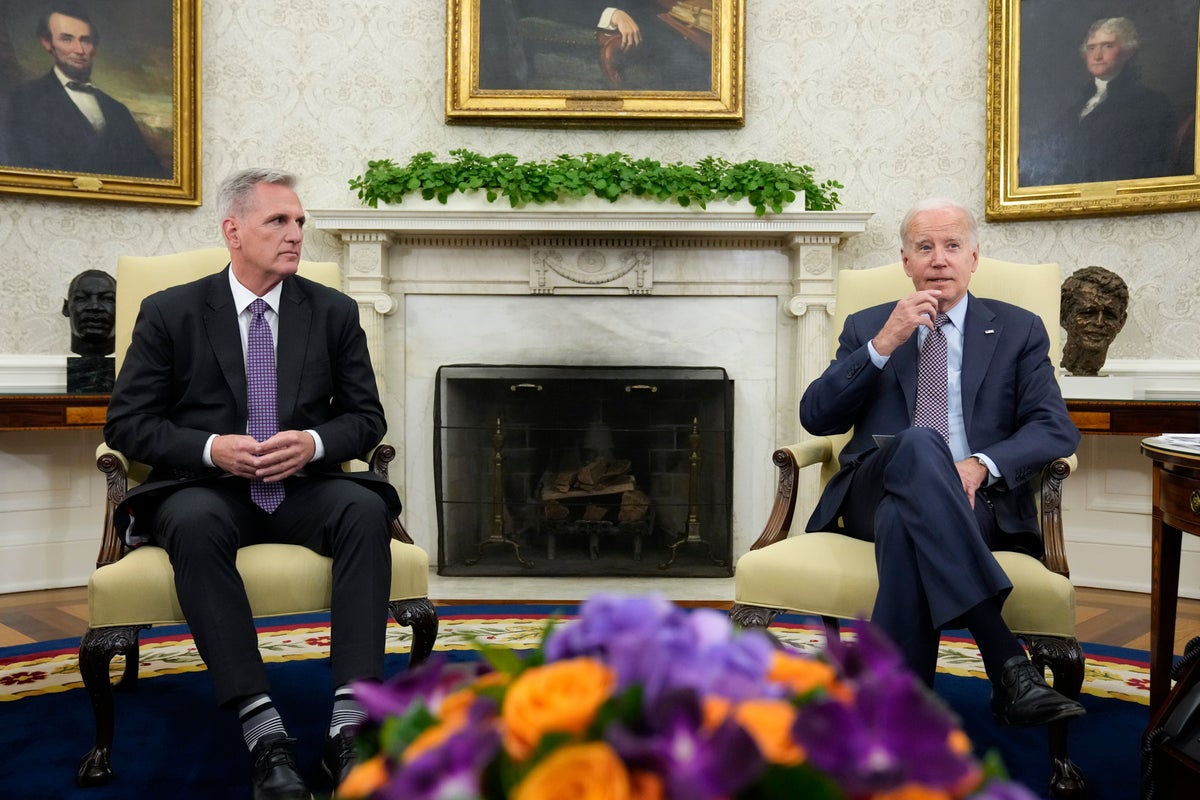 Here are the AP's latest coverage plans, top stories and promotable content. All times EDT. For up-to-the minute information on AP's coverage, visit Coverage Plan.
————————
ONLY ON AP
————————
BIRTH TO DEATH-BIRTH-PREGNANCY — Black women in the U.S. are nearly three times more likely to die during pregnancy or delivery than any other race. Some doctors don't take their concerns seriously. Black babies are more likely to die and far more likely to be born prematurely. That can set the stage for health issues that can follow people through their lives. Historians trace the problems to racist medical practices amid and after slavery. Health care segregation also played a major role. By Kat Stafford. SENT: 3,300 words, photos, video, graphics. With BIRTH TO DEATH-CHILDHOOD-ASTHMA; BIRTH TO DEATH-TEEN YEARS-MENTAL HEALTH; BIRTH TO DEATH-ADULTHOOD-HIGH BLOOD PRESSURE; BIRTH TO DEATH-ELDERS-ALZHEIMER'S; BIRTH-TO-DEATH-HISTORY; BIRTH TO DEATH-TAKEAWAYS; BIRTH TO DEATH-INDEX; BIRTH TO DEATH-LOCALIZE IT. See Birth To Death-Advisory for more details.
————————
TOP STORIES
————————
RUSSIA-CYBER-GULAG — For Russians, it's increasingly difficult to escape government scrutiny. Authorities monitor social media accounts, prosecuting critics of President Vladimir Putin or the war in Ukraine. Surveillance cameras with facial recognition systems allow police to swiftly detain activists and draft dodgers. Even a once-praised online government service platform is seen as a tool of control, with plans to serve military summonses through it. By Dasha Litvinova. SENT: 1,590 words, photos.
RUSSIA-UKRAINE-WAR — The Russian military and security forces were continuing to fend off an alleged incursion by Ukrainian saboteurs first reported the day before in a Russian border region, according to a Russian official. SENT: 520 words, photos.
BIDEN-UKRAINE-F16 — President Joe Biden's decision to allow allies to train Ukrainian forces on how to operate F-16 fighter jets — and eventually to provide the aircraft themselves — seemed like an abrupt change in position but was in fact one that came after months of internal debate and quiet talks with allies. By Aamer Madhani and Lolita C. Baldor. SENT: 1,160 words, photos.
DEBT LIMIT — Biden and House Speaker Kevin McCarthy both say they had a productive debt ceiling discussion at the White House, but there was no agreement as negotiators strained to raise the nation's borrowing limit in time to avert a potentially chaotic federal default. By Lisa Mascaro, Stephen Groves and Zeke Miller. SENT: 1,070 words, photos, video. With DEBT LIMIT-EXPLAINER.
POLICE SHOOTING-MENTAL HEALTH — The parents of a 22-year-old Colorado man killed by a sheriff's deputy while suffering a mental health crisis will get $19 million from government state and local agencies and changes to how officers are trained. By Jesse Bedayn and Colleen Slevin. SENT: 900 words, photo.
COMMUNITY COLLEGE-SUCCESS COACHES — Supporting community college students — particularly those who come from nontraditional paths — is key to helping them reach graduation, experts say. Dallas College in Texas has introduced success coaches, a more hands-on approach to advising. SENT: 980 words, photos, video.
—————————
SPOTLIGHTING VOICES
—————————
ZIMBABWE-STORES VS STREET TRADE — Shoppers in Zimbabwe are increasingly turning to street traders to buy what they need as the local currency plunges in value against the U.S. dollar. SENT: 820 words, photos.
—————————
MORE ON RUSSIA-UKRAINE WAR
—————————
SAUDI ARABIA-RUSSIA — A top Russian official who faces sanctions in the West over Moscow's war on Ukraine visited Saudi Arabia and held talks with his counterpart in the kingdom, state media reported. SENT: 390 words.
——————
MORE NEWS
——————
TRUMP-COLUMNIST LAWSUIT — E. Jean Carroll adds Trump's post-verdict remarks to defamation case. SENT: 590 words, photo.
PORTUGAL-GERMANY-MADELEINE MCCANN — New search for Madeleine McCann, U.K. toddler missing since 2007. SENT: 280 words, photos.
WALES-DISORDER — Cars set on fire in Welsh capital as police face unrest. SENT: 290 words, photos.
NEPAL-EVEREST RECORD — Sherpa guide Kami Rita scales Everest for record 28th time. SENT: 310 words, photos.
NEVADA-FILM PRODUCTION — Jeremy Renner seeks tax credits for film projects in northern Nevada. SENT: 850 words, photos.
DODGERS-SISTERS OF PERPETUAL INDULGENCE — Dodgers reinstate gay "nun" group for Pride Night award. SENT: 340 words.
ATHLETICS-BROADCASTER — A's broadcaster Glen Kuiper let go after racial slur on air. SENT: 430 words, photo.
HONG KONG-ORGAN DONATION — Hong Kong sees uptick in organ donation registration withdrawals. SENT: 340 words, photo.
————————
WASHINGTON/POLITICS
————————
KARI LAKE-ELECTION CHALLENGE — A judge dismissed the only remaining legal claim in Republican Kari Lake's challenge of her loss in last year's race for Arizona governor, affirming the election of Democrat Katie Hobbs. SENT: 530 words, photos.
SENATE-FEINSTEIN-NEWSOM — U.S. Sen. Dianne Feinstein's ongoing medical struggles have raised a sensitive political question with no easy answer: Who would California Democratic Gov. Gavin Newsom pick to replace her if the seat became vacant? By Political Writer Michael R. Blood. SENT: 1,020 words, photos.
————————
NATIONAL
————————
TRUMP-INDICTMENT — The judge in Donald Trump's criminal case is holding a hybrid hearing to make doubly sure the former president is aware of new rules barring him from using evidence to attack witnesses. SENT: 340 words, photos.
TROPICAL WEATHER — Residents of Guam braced for what could be a direct hit from Typhoon Mawar as the storm strengthened on its path toward the U.S. territory in the Pacific. SENT: 580 words, photos, video.
ALASKA-MUD FLATS DROWNING — An Illinois man who was walking on tidal mud flats with friends in an Alaska estuary got stuck up to his waist in the quicksand-like silt and drowned as the tide came in before frantic rescuers could extract him, authorities said. SENT: 660 words, photo.
BORDER PATROL-FATAL SHOOTING — U.S. Border Patrol agents answering reports of gunfire shot and killed a man on a tribal reservation in southern Arizona after he abruptly threw something and raised his arm, the agency said. SENT: 390 words.
COLORADO RIVER-DROUGHT — Arizona, Nevada and California said they're willing to cut back on their use of the dwindling Colorado River in exchange for money from the federal government — and to avoid forced cuts as drought threatens the key water supply for the U.S. West. SENT: 1,050 words, photos, video.
SCHOOL SHOOTING-SOUTH CAROLINA — A school shooter serving a life sentence without parole for killing a first grader on a South Carolina playground when he was 14 is asking a judge to lessen his sentence so he can eventually get out of prison. SENT: 770 words, photos.
————————
INTERNATIONAL
————————
BOLIVIA-PRIEST-ABUSE — Pope Francis has sent one of his top sex crimes investigators to Bolivia at a time when the Andean nation is being shaken by an escalating pedophilia scandal involving priests. SENT: 630 words, photos.
TURKEY-ELECTION-ERDOGAN — Turkish President Recep Tayyip Erdogan — a populist with increasingly authoritarian instincts — enters a runoff election Sunday as the strong favorite against opposition leader Kemal Kilicdaroglu after falling just shy of victory in the first round of voting. SENT: 1,260 words, photos.
AUSTRALIA-INDIA — Narendra Modi has arrived in Sydney for his second Australian visit as India's prime minister and told local media he wants closer bilateral defense and security ties as China's influence in the Indo-Pacific region grows. SENT: 710 words, photos.
INDONESIA-IRAN-RAISI VISIT — Iranian President Ebrahim Raisi will meet his Indonesian counterpart Joko Widodo during a two-day trip aiming to strengthen economic ties between the Muslim-majority nations amid heightened global geopolitical tensions. SENT: 400 words, photos.
————————
HEALTH/SCIENCE
————————
ALASKA CARBON — Alaska's push to become a bigger player in the clean energy market will be in the spotlight this week at a conference convened by Republican Gov. Mike Dunleavy, even as the state continues to embrace new fossil fuel production: SENT: 720 words, photos.
—————————-
BUSINESS/ECONOMY
——————————
FINANCIAL MARKETS — Asian stock markets were mixed after more talks in Washington on government debt ended with no deal to avoid a potentially jarring default. By Business Writer Joe McDonald. SENT: 620 words, photos.
——————
SPORTS
——————
NUGGETS-LAKERS — Nikola Jokic and the Denver Nuggets completed a four-game sweep of the Los Angeles Lakers and are going to the NBA Finals for the first time in their 47-year history. By Sports Writer Greg Beacham. SENT: 1,030 words, photos.
————————————
ARTS/ENTERTAINMENT
————————————
OBIT-RAY STEVENSON — Ray Stevenson, who played the villainous British governor in "RRR," an Asgardian warrior in the "Thor" films, and a member of the 13th Legion in HBO's "Rome," has died. He was 58. By Film Writer Lindsey Bahr. SENT: 430 words, photos.
————————
HOW TO REACH US
————————
At the Nerve Center, Jerome Minerva can be reached at 800-845-8450 (ext. 1600). For photos, Masayo Yoshida (ext. 1900). For graphics and interactives, ext. 7636. Expanded AP content can be obtained from AP Newsroom. For access to AP Newsroom and other technical issues, contact [email protected] or call 844-777-2006.