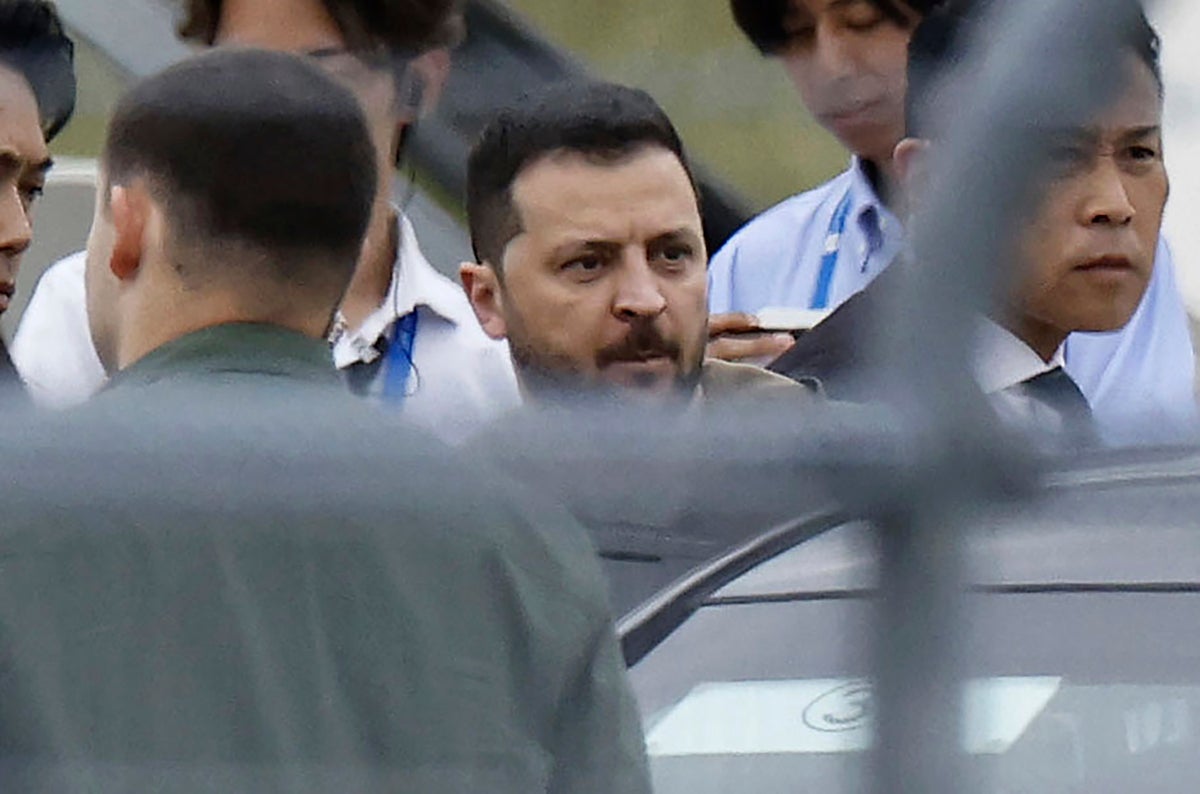 Here are the AP's latest coverage plans, top stories and promotable content. All times EDT. For up-to-the minute information on AP's coverage, visit Coverage Plan.
——————————
TOP STORIES
——————————-
G7 SUMMIT — Ukrainian President Volodymyr Zelenskyy has landed in Hiroshima for diplomatic talks with the leaders of the world's most powerful democracies who have tightened sanctions meant to punish Moscow and change the course of its 15-month invasion of Ukraine. By Foster Klug, Adam Schreck and Zeke Miller. SENT: 1,120 words, photos, video, audio. With G7 SUMMIT-BIDEN — President Joe Biden meets with Australian Prime Minister Anthony Albanese; RUSSIA-UKRAINE WAR-F-16-EXPLAINER — A look at the fighters, why the U.S. has been reluctant for Ukraine to have them and why there appears to be a turnaround now (both sent).
G7-JAPAN-RUSSIA-SANCTIONS — The Group of Seven advanced economies are expected to announce a new set of sanctions against Russia to try to further hinder its war effort in Ukraine during their summit in Hiroshima, Japan. By Elaine Kurtenbach. SENT: 930 words, photos.
DEBT-LIMIT — Debt limit talks between the White House and House Republicans stopped, started and stopped again at the U.S. Capitol, a dizzying series of events in high-stakes negotiations to avoid a potentially catastrophic federal default. By Lisa Mascaro, Farnoush Amiri and Zeke Miller. SENT: 1,060 words, photos, video, audio.
ELECTION 2024-SUBWAY CHOKEHOLD DEATH — Republican presidential hopefuls rush to support Daniel Penny, a white U.S. Marine veteran who was caught on video pinning an agitated Black subway passenger to the floor in a fatal chokehold. Ron DeSantis urged the nation to show Penny that "America's got his back." Nikki Haley called for New York's governor to pardon Penny, and Vivek Ramaswamy donated $10,000 to his legal defense fund. By Will Weissert. SENT: 1,200 words, photos.
TRANSGENDER-HEALTH-MODEL-LEGISLATION-BILLS — Many of this year's statehouse proposals to restrict gender-affirming care for youths, as introduced or enacted, are identical or very similar to some model legislation, or ready-made bills suggested to lawmakers by interest groups, an Associated Press analysis has found. SENT: 690 words, photos. With TRANSGENDER-HEALTH-MODEL-LEGISLATION — A look inside the playbook on transgender health bills; TRANSGENDER-HEALTH-MODEL-LOBBYING — Meet the influential new player on transgender health bills (all sent). This story moved as the Sunday Spotlight.
OREGON-THE-GROWING-DIVIDE — The political divide affecting the United States is hitting Oregon hard. The Legislature is in gridlock and Republican senators are in a prolonged walkout. Oregonians are wistfully recalling "The Oregon Way," when politicians of different stripes forged agreements for the common good. By Andrew Selsky. SENT: 950 words, photos.
—————————————-
SPOTLIGHTING VOICES
—————————————-
VENICE-BIENNALE-ARCHITECTURE — Scottish-Ghanaian architect Lesley Lokko is giving voices that have long been silenced a platform at this year's Venice Architecture Biennale. It's the first biennale architectural exhibition ever curated by an African and features a preponderance of work by Africans and the African diaspora. The 18th architectural Biennale is titled "The Laboratory of the Future" and explores decolonization and decarbonization. SENT: 980 words, photos.
———————————————————
MORE ON RUSSIA-UKRAINE WAR
———————————————————-
RUSSIA-UKRAINE-WAR — Ukrainian President Volodymyr Zelenskyy addressed a summit of Arab leaders in Saudi Arabia before what a senior official said would be a trip to Japan for a meeting with the leaders of the world's most powerful democracies. SENT: 650 words, photos.
———————-
MORE NEWS
———————-
BKL-MERCURY-GRINER — Brittney Griner had 18 points, six rebounds and four blocked shots in her first WNBA regular-season game since being jailed in Russia. Her Phoenix Mercury lost to the Los Angeles Sparks 94-71 in the teams' opener. SENT: 800 words, photos.
SILLICON-VALLEY-COUNCILMAN-49ERS — The former chief lobbyist for the San Francisco 49ers has testified that a Silicon Valley city councilman illegally leaked a confidential report criticizing the team's political influence, it was reported. SENT: 360 words, photos.
COP ON CAR-VIDEO — Harrowing video of a driver fleeing Iowa police with an officer on his hood and roof has emerged as the motorist was sentenced this month to up to five years in prison. SENT: 280 words, photos, video.
———————————————————
WASHINGTON/POLITICS
———————————————————-
NEVADA-FENTANYL-PENALTIES — A bill that would enhance fentanyl penalties in Nevada did not pass after a hearing in an Assembly committee, while a companion bill was significantly amended in a last-minute shift for Nevada Democratic leadership's plans to send fentanyl legislation to the governor's desk. SENT: 520 words.
ELECTION-2024-NORTH-CAROLINA-GOVERNOR — Former U.S. Rep. Mark Walker is expected to formally join next year's race for North Carolina governor this weekend, entering a Republican primary already filled with the standing lieutenant governor and state treasurer. SENT: 200 words, photos.
MASSACHUSETTS US ATTORNEY — Massachusetts U.S. Attorney Rachael Rollins has formally resigned after wide-ranging investigations by two federal watchdog agencies found she sought to use her position to influence a local election and lied to investigators. SENT: 870 words, photo.
UNITED NATIONS-RUSSIA-UKRAINE-CHILDREN — The U.N. envoy charged with trying to protect children caught in conflicts is in Moscow. She is reported to be meeting Russia's children's rights commissioner, who is being sought by the International Criminal Court for war crimes for deporting children from Ukraine. SENT: 490 words, photo.
CAPITOL RIOT-SENTENCING — A Texas militia member is sentenced to nearly five years in prison for attacking police officers at the U.S. Capitol, seriously injuring one of them during a mob's attack on Jan. 6, 2021. SENT: 510 words, photo.
———————-
NATIONAL
———————-
HOUSING-RAZING-MOBILE-HOME-PARKS — Mobile home parks are among the few affordable options that remain for extremely low-income people. But many older, dilapidated parks are disappearing as the land is razed for more modern uses. The move worries housing advocates who say the working poor and their children evicted from the more decrepit parks may have to double up with relatives or wind up homeless in the current housing crunch. SENT: 1,090 words, photos, video.
UVALDE-SCHOOL-SHOOTING-WHO-PAYS — Families in Uvalde, Texas, are digging in for a new test of legal protections for the gun industry as they mark one year since the Robb Elementary School shooting. Both the U.S. government and gun manufacturers in recent years have reached large settlements following some of the nation's worst mass shootings. SENT: 770 words, photos.
BORDER-CONTROL-CUSTODY-DEATH — The mother of an 8-year-old girl who died in Border Patrol custody say that agents repeatedly ignored pleas to hospitalize her medically fragile daughter as she felt pain in her bones, struggled to breathe and was unable to walk. SENT: 730 words, photos.
—————————————
INTERNATIONAL
—————————————-
MEXICO-IMMIGRATION — Mexico is flying migrants south away from the U.S. border and busing new arrivals away from its boundary with Guatemala to relieve pressure on its border cities. SENT: 1,O90 words, photos.
———————————————
HEALTH & SCIENCE
———————————————-
SCI-BLUE ORIGIN-LUNAR LANDER — Jeff Bezos' rocket company has won a NASA contract to land astronauts on the moon, two years after losing out to SpaceX. Blue Origin received a $3.4 billion contract Friday to develop a lunar lander. SENT: 420 words, photo.
——————————————
ENTERTAINMENT
——————————————
FRANCE-CANNES-PEDRO-ALMODOVAR — "Pedro! Pedro!" shouted the Cannes crowd before Pedro Almodóvar unveiled his latest film, "Strange Way of Life," a 31-minute Western starring Pedro Pascal and Ethan Hawke as cowboys and former lovers. SENT: 840 words, photos.
————————
SPORTS
————————
FBN—JIM BROWN-APPRECIATION — Jim Brown was both extraordinary and extraordinarily complicated. One man. Many versions. His greatness on the football field is beyond reproach. But there is so much more than broken tackles and shattered records to Brown, who walked away from the game at his physical peak to pursue a film career, helping break barriers in Hollywood for Black actors. SENT: 850 words, photos.
FBN—JIM BROWN-ACTIVIST LEGACY — Jim Brown's legs helped power him to fame on the football field. His voice — every bit as penetrating. In many ways, Brown, who died Thursday night at 87, used his platform as one of the greatest football players of all time to fight for people very much like him: unsatisfied with the status quo, tired of the withering degradation brought about by centuries of racial inequality and, ultimately, never easy to shoehorn into a tidy, single category. UPCOMING: 700 words, photos by 8 a.m.
BKN–HEAT-CELTICS — Jimmy Butler went forehead-to-forehead with the Boston Celtics, and the Heat are heading back to Miami with an opportunity to advance to the NBA Finals. Butler scored 27 points, hitting back-to-back buckets to tie the game and give Miami the lead, and the eighth-seeded Heat left Boston with a 111-105 victory Friday night and a 2-0 lead in the Eastern Conference finals. SENT: 800 words, photos.
HKN–STARS-GOLDEN KNIGHTS — After the Dallas Stars forced overtime Friday night with 1:59 left, Brett Howden flashed back to the previous night when Florida beat Carolina in four overtimes. Howden made sure he and his Vegas teammates took care of business quickly. Operating from behind the net, Howden shot the puck off the back of Stars goalie Jake Oettinger 1:35 into overtime to give the Knights a 4-3 victory in Game 1 of their Western Conference final. SENT: 740 words, photos.
———————-
HOW TO REACH US
———————-
At the Nerve Center, Vincent K. Willis can be reached at 800-845-8450 (ext. 1600). For photos, (ext. 1900). For graphics and interactives, ext. 7636. Expanded AP content can be obtained from AP Newsroom. For access to AP Newsroom and other technical issues, contact [email protected] or call 844-777-2006.