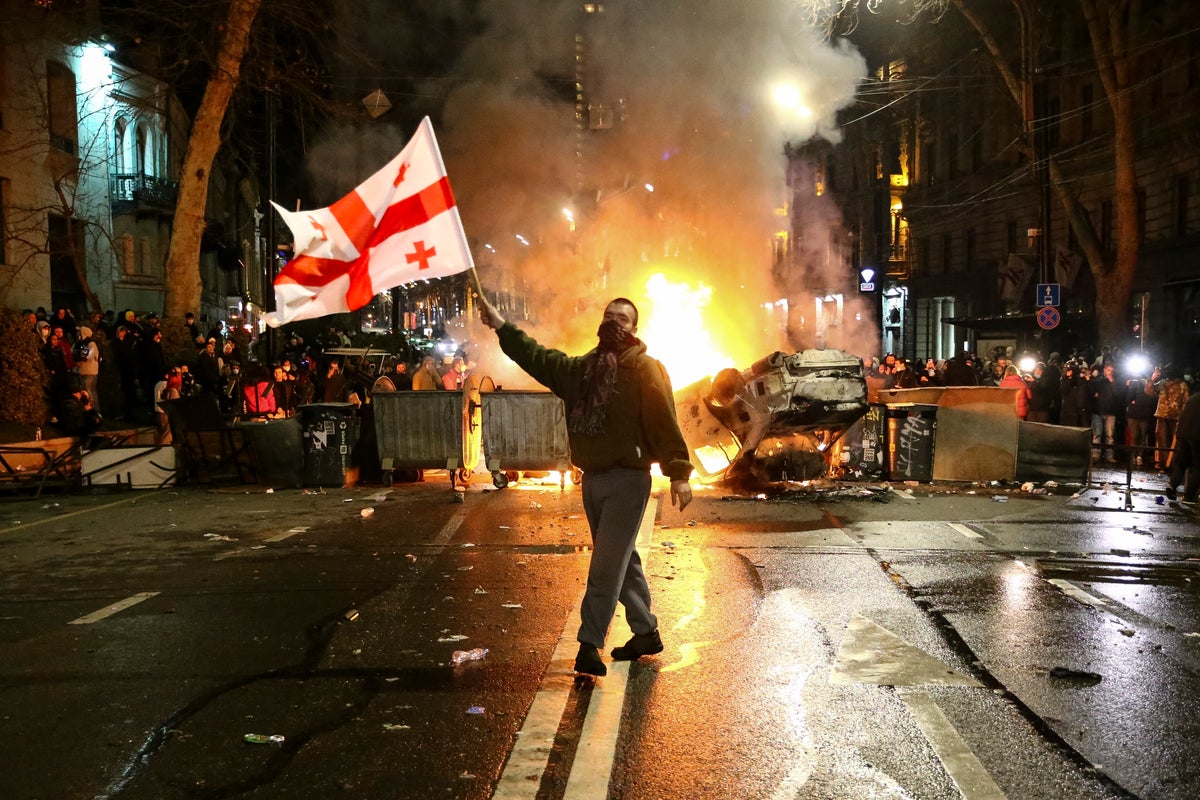 Here are the AP's latest coverage plans, top stories and promotable content. All times EST. For up-to-the minute information on AP's coverage, visit Coverage Plan.
——————————
TOP STORIES
——————————
RUSSIA-UKRAINE-WAR — Russia unleashed a missile barrage targeting energy infrastructure across Ukraine, hitting residential buildings and killing at least six people in the largest such attack in three weeks, officials said. By Hanna Arhirova and Elena Becatoros. SENT: 780 words, photos, videos.
BIDEN-BUDGET — With the government at risk of defaulting, President Joe Biden will make his opening offer in a high-stakes debate over federal finances as he proposes a federal budget that would cut deficits by nearly $3 trillion over the next decade. By Josh Boak. SENT: 1,060 words, photos. UPCOMING: 1,100 words after 2:30 p.m. speech.
VOTING MACHINES-DEFAMATION LAWSUIT — Thousands of pages of documents in a recent lawsuit show that Fox News' top executives sometimes were actively involved in politics rather than simply reporting or opining on it. Fox's founder, Rupert Murdoch, suggested his staff intervene in Republican party primaries and even assisted President Donald Trump's reelection campaign. By Nicholas Riccardi and David Bauder. SENT: 1,250 words, photos. With VOTING MACHINES-DEFAMATION CASE-WHAT TO KNOW.
MISSING COLLEGE STUDENTS — Hundreds of thousands of Americans who came of age during the pandemic have opted not to go to college. Many have shunned traditional college paths, turning instead to hourly jobs or careers that don't require a degree. Still others feel locked out, deterred by high tuition and the prospect of student debt. What first looked like a pandemic blip has turned into a crisis. Economists say the impact could be dire. By Education Writer Collin Binkley. SENT: 1,850 words, photos, video. With MISSING COLLEGE STUDENTS-LOCALIZE IT.
GEORGIA PROTEST — Georgia's ruling party said it is withdrawing a draft law from the parliament criticized as potentially stifling media freedom and civil society, after several days of massive protests against it in the capital. By Sophiko Megrelidze. SENT: 430 words, photos, video.
MCCONNELL-HOSPITALIZED — Senate Republican leader Mitch McConnell has been hospitalized after tripping at a local hotel, a spokesman for the senator said. The Kentucky senator, 81, was attending a private dinner in Washington when he tripped. He was admitted to a hospital for treatment, spokesman Doug Andres said. By Mary Clare Jalonick and Lisa Mascaro. SENT: 330 words, photos.
——————————
MORE NEWS
——————————
WOODS-GIRLFRIEND — Tiger Woods' girlfriend seeks to nullify NDA with pro golfer. SENT: 290 words, photo.
JPMORGAN-EPSTEIN — JPMorgan sues former exec over ties to Epstein sex abuse. SENT: 370 words, photo.
SUNS-DURANT — Suns' Kevin Durant out after injuring ankle in pregame slip. SENT: 350 words, photos.
NAUGHTY LICENSE PLATES — Maine motorists appeal to keep naughty vanity license plates. SENT: 610 words, photos.
BRITAIN-ROYALS — Harry & Meghan's daughter christened, will use royal title. SENT: 370 words, photo.
LOS ANGELES OFFICERS SHOT — Three Los Angeles K-9 officers wounded; suspect dead in standoff. SENT: 340 words, photos.
——————————
WASHINGTON
——————————
TRAIN DERAILMENT-OHIO-CONGRESS — The chief executive of one of the nation's largest railroads is coming to a Senate hearing with an apology and a commitment to send millions of dollars to the village on the Ohio-Pennsylvania border disrupted by a fiery derailment as senators investigate railway safety and the Biden administration's response to the disaster. SENT: 1,150 words, photos. UPCOMING: 1,200 words after 10 a.m. hearing.
——————-
NATIONAL
——————-
MEXICO-MISSING AMERICANS-CAROLINAS — The frantic effort to rescue four Americans taken captive in Mexico in a kidnapping that left two dead came after a woman traveling with the group contacted police when they did not return to the U.S. side as expected. SENT: 780 words, photos.
SCHOOL SHOOTING-NEWPORT NEWS — Authorities in the Virginia city where a 6-year-old shot and wounded his teacher will not seek criminal charges against the child, the local prosecutor told NBC News, in a decision that was anticipated by legal experts. SENT: 910 words, photo.
TEXAS-EXECUTION — A Texas inmate faces execution for the drug-related killings of four people more than 30 years ago. SENT: 640 words, photos.
——————————
INTERNATIONAL
——————————
CHINA-NEW PREMIER — The pro-business track record of Li Qiang, who is expected to be chosen China's premier on Saturday, will make his term a test of whether he might moderate President Xi Jinping's tendency to intervene. SENT: 1,080 words, photos. With CHINA-LEADERSHIP — China's other top leaders bring loyalty to Xi, experience.
ISRAEL-POLITICS — Israeli protesters were intensifying their opposition to a contentious government plan to overhaul the judiciary, with plans to block Prime Minister Benjamin Netanyahu's route to the airport ahead of an official trip overseas and as the U.S. defense secretary was visiting. SENT: 450 words. With ISRAEL-PALESTINIANS — At least three Palestinians killed in Israeli military raid.
INDONESIA-NEW CAPITAL — Ground has been broken in the jungle of East Borneo, where the Indonesian government has begun construction of its new capital city. But the project has been plagued by criticism from environmentalists and Indigenous communities. SENT: 1,000 words, photos. With INDONESIA-NEW CAPITAL-EXPLAINER — Why is Indonesia moving its capital from Jakarta to Borneo?
CHINA-MILITARY — China's leader Xi Jinping has called for "more quickly elevating the armed forces to world-class standards," in a speech just days after a top diplomat warned of the growing possibility of conflict with the U.S. unless Washington changes course. SENT: 830 words, photos.
MALAYSIA-CORRUPTION — Former Malaysian Prime Minister Muhyiddin Yassin was grilled by anti-graft agency officials for a second time in a matter of weeks and reportedly will be charged over alleged corruption connected with awarding of government contracts while he was in office. SENT: 470 words, photos.
INDONESIA-LANDSLIDE — Rescuers recovered more bodies buried under tons of mud from a landslide that crashed onto a hilly village on Indonesia's remote Natuna islands, bringing the death toll to 21, officials said. SENT: 350 words, photo.
NEPAL-PRESIDENT — Nepal's parliament held elections for a new president, as the Himalayan nation faces increasing political instability with a fragile coalition government that has been in power for only a few months. SENT: 480 words, photos.
——————————
BUSINESS/ECONOMY
——————————
FINANCIAL MARKETS — Asian stock markets were mixed after Wall Street steadied following a plunge on worries about more U.S. interest rate hikes. By Business Writer Joe McDonald. SENT: 540 words, photos.
——————————
ARTS/ENTERTAINMENT
——————————
ISRAEL-OBIT-TOPOL — Chaim Topol, a leading Israeli actor who charmed generations of theatergoers and movie-watchers with his portrayal of Tevye, the long-suffering and charismatic milkman in "Fiddler on the Roof," has died, Israeli leaders said. He was 87. SENT: 830 words, photos.
——————————
HOW TO REACH US
——————————
At the Nerve Center, Jerome Minerva can be reached at 800-845-8450 (ext. 1600). For photos, Hiro Komae (ext. 1900). For graphics and interactives, ext. 7636. Expanded AP content can be obtained from AP Newsroom. For access to AP Newsroom and other technical issues, contact [email protected] or call 844-777-2006.