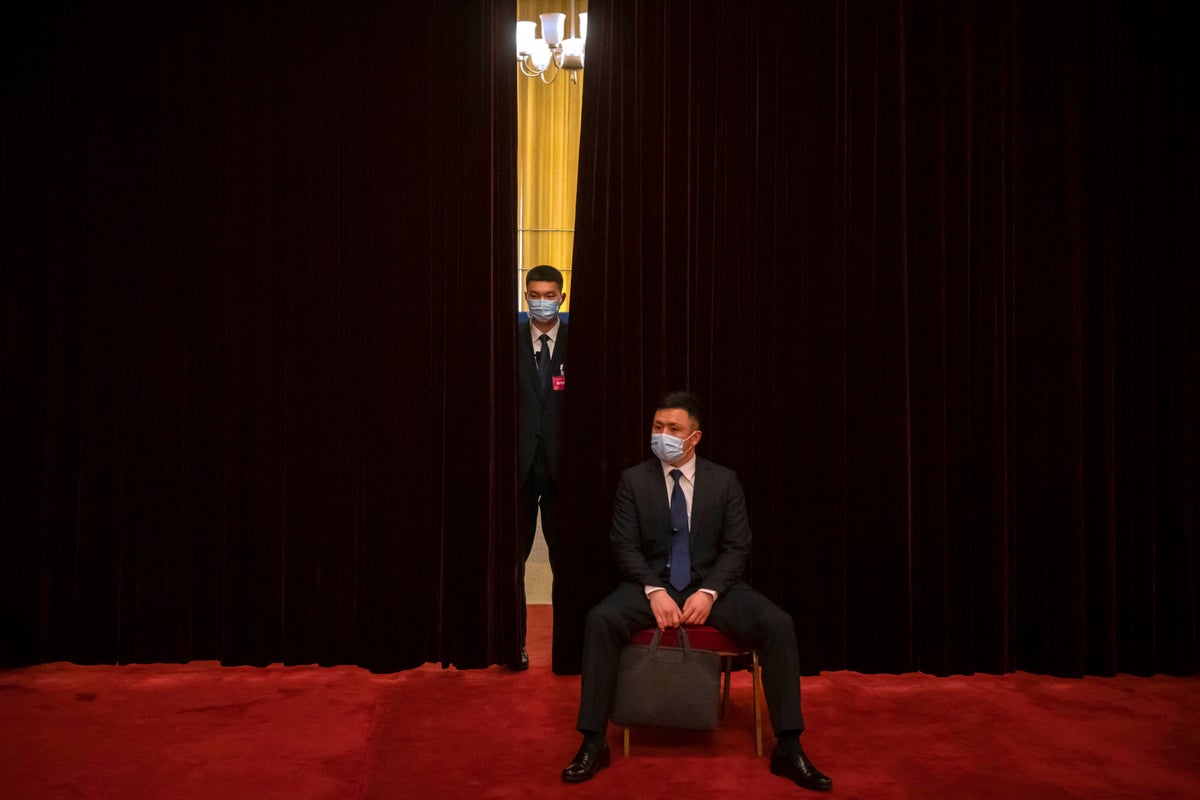 Here are the AP's latest coverage plans, top stories and promotable content. All times EST. For up-to-the minute information on AP's coverage, visit Coverage Plan.
——————————
TOP STORIES
——————————
VOTING MACHINES-DEFAMATION LAWSUIT — Documents in a defamation lawsuit illustrate pressures faced by Fox News journalists in the weeks after the 2020 presidential election. The network was on a collision course between giving its conservative audience what it wanted and reporting uncomfortable truths about Donald Trump and his false fraud claims. By David Bauder. SENT: 1,280 words, photos.
TRUMP-LEGAL-TROUBLES — In the final weeks of the 2016 presidential election, Donald Trump's lawyer tried to buy the silence of a porn actress who said she had a sexual encounter with the Republican during his days as a reality TV star. More than six years later, New York prosecutors appear to be close to deciding whether Trump should face charges in connection with that payoff, in what could become the first criminal case ever brought against a former president. By Michael R. Sisak. SENT: 1,210 words, photos. With TRUMP-LEGAL-TROUBLES-COHEN — Michael Cohen to testify Monday in Trump hush-money probe (sent).
VATICAN'S-POPE 10 YEARS — So much for a short pontificate. Pope Francis celebrates the 10th anniversary of his election Monday, far outpacing the "two or three" years he once envisioned for his papacy and showing no signs of slowing down. By Nicole Winfield. SENT: 1,080 words, photos.
RUSSIA-UKRAINE-WAR — Ukraine's capital had most of its power supply restored, officials said, as the country again responded swiftly and defiantly to the latest Russian missile and drone barrage targeting critical infrastructure. By Karl Ritter and Mstyslav Chernov. SENT: 760 words, photos.
————————————————————————-
MORE ON RUSSIA-UKRAINE WAR
————————————————————————
RUSSIA-UKRAINE-WAR-MISSILE BARRAGE-EXPLAINER — Russia's barrage Thursday included a larger number of hypersonic Kinzhal missiles that are the most advanced weapons in the Russian arsenal. SENT: 900 words, photos.
——————————
MORE NEWS
——————————
BIDEN-AIR-FORCE-ONE — President Joe Biden is sticking with a blue-and-white color scheme for the exterior of the replacement Air Force One aircraft, the first of which is expected to be delivered in four years. SENT: 310 words, photos, audio.
SPRING-FORWARD — Standard time comes to an end in most parts of the United States this weekend. You'll lose an hour of sleep for one night but gain more daylight in the evening in the months ahead. SENT: 230 words, photo.
JUUL-SETTLEMENT-CHICAGO — Vaping company Juul Labs will pay Chicago $23.8 million to settle a lawsuit alleging the company marketed products to underage users, the city has announced. SENT: 330 words, photo.
——————————————————
WASHINGTON/ POLITICS
———————————————————
BIDEN-INTERIOR NOMINEE — In a sign of a deepening rift among Democrats on energy issues, conservative Democratic Sen. Joe Manchin says he will not move forward on President Joe Biden's nominee to oversee oil and gas leasing at the Interior Department. SENT: 780 words, photo.
CONGRESS-CHINA — The Republican chairman of a special House committee targeting China calls Beijing's government "bloodthirsty" and "power hungry" at a rally outside the Chinese embassy in Washington. SENT: 590 words, video.
BIDEN-CHINA-COVID — A requirement that travelers to the U.S. from China present a negative COVID-19 test before boarding their flights has expired. SENT: 330 words, photo.
————————-
NATIONAL
—————————
TRANSGENDER-HEALTH-WEST-VIRGINIA — West Virginia's Republican supermajority Senate followed a growing national trend of GOP opposition to health care for transgender youth by passing a bill that would ban certain treatments and therapies, while approving a significant change to add exceptions for mental health. SENT: 1,010 words, photos.
CHILD-MARRIAGE-WEST-VIRGINIA — A child marriage bill has been passed by the West Virginia Senate after it was changed to prohibit anyone younger than 16 from getting married and to ban age gaps of more than four years for 16- and 17-year-olds. SENT: 550 words, photos.
————————————-
INTERNATIONAL
—————————————
CHINA-CONGRESS-PREMIER — China has named Li Qiang, a close confidant of top leader Xi Jinping, as the country's next premier nominally in charge of the world's second-largest economy now facing some of its worst prospects in years. SENT: 520 words, photos.
HONG-KONG-ACTIVIST-SENTENCING — Three former organizers of Hong Kong's annual vigil in remembrance of victims of China's 1989 crackdown on pro-democracy protests were jailed Saturday for four and a half months for failing to provide authorities with information on the group in accordance with a national security law. SENT: 680 words, photos.
——————————————-
HEALTH & SCIENCE
——————————————
OREGON-PSILOCYBIN — Oregon is taking a major step in its pioneering of legalized psilocybin therapy with the graduation of the first students trained in accompanying patients tripping on psychedelic mushrooms, although a company's bankruptcy has left another group on the same path adrift. SENT: 760 words, photos.
———————
SPORTS
———————
FBN–PANTHERS-BEARS TRADE — The Carolina Panthers are on the clock. Two people familiar with the deal say the Panthers have traded up to acquire the No. 1 pick in the draft from the Chicago Bears. In exchange, the Bears will receive Carolina's No. 9 and No. 61 overall picks in this year's draft, a first-round pick in 2024, a second-round pick in 2025 and wide receiver D.J. Moore. The people spoke to The Associated Press on condition of anonymity because the deal has not been announced. The move allows the Panthers to acquire a potential franchise quarterback, although it's not clear which player the team prefers. SENT: 770 words, photos.
——————————
HOW TO REACH US
——————————
At the Nerve Center, Vincent K. Willis can be reached at 800-845-8450 (ext. 1600). For photos, (ext. 1900). For graphics and interactives, ext. 7636. Expanded AP content can be obtained from AP Newsroom. For access to AP Newsroom and other technical issues, contact [email protected] or call 844-777-2006.