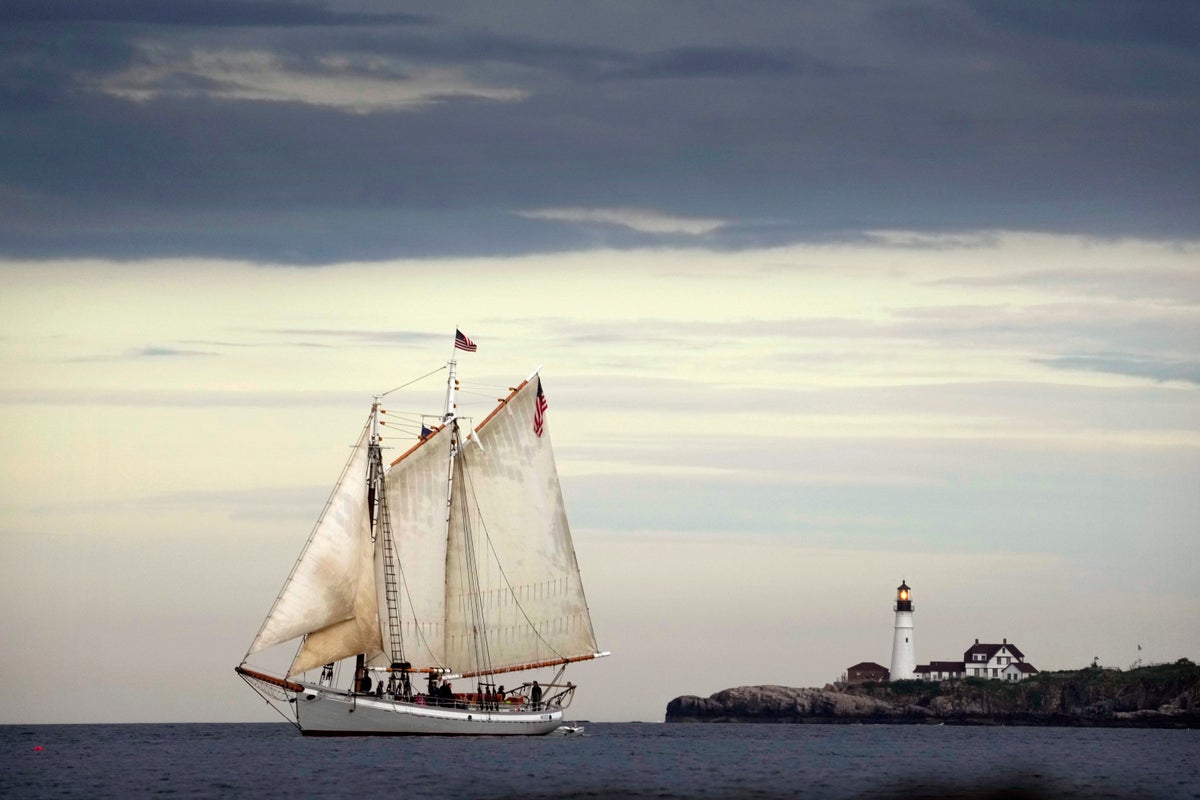 Here are the AP's latest coverage plans, top stories and promotable content. All times EDT. For up-to-the minute information on AP's coverage, visit Coverage Plan.
———————-
ONLY ON AP
———————-
CHURCH ABUSE-STATUTE OF LIMITATIONS — Advocates for survivors of child sexual abuse say momentum is growing for completely removing the statute of limitations for such crimes. Maryland followed Maine and Vermont to become the only three states to have eliminated all time limits on lawsuits. Maryland's governor signed the law after a report detailed more than 600 children were abused by priests over decades. By David Sharpe. SENT: 1,010 words, photos, video.
———————————
TOP STORIES
———————————-
TRUMP-CLASSIFIED DOCUMENTS — A federal grand jury investigating Donald Trump in Florida heard from at least one additional witness amid signs that the Justice Department was moving toward a possible indictment over the former president's mishandling of classified documents. By Eric Tucker, Jill Colvin and Michael Balsamo. SENT: 760 words, photos, video. With TRUMP-CLASSIFED DOCUMENTS-EXPLAINER — Trump indicted: What to know about the documents case and what's next; TRUMP-CLASSIFIED DOCUMENTS-TAKEAWAYS — Reactions to the federal indictment of Donald Trump, and what's next; TRUMP INVESTIGATIONS-GLANCE — A look at the investigations of Trump underway in various states and venues; TRUMP-CLASSIFIED DOCUMENTS-LIVE-UPDATES (all sent).
SUPREME COURT-VOTING RIGHTS — The Supreme Court decision ordering Alabama to redraw its congressional maps was a surprise victory for Black and Latino voters and voting rights activists across the country who say legislatures in a number of Republican-controlled states have drawn districts in a way that dilutes their political strength. By Gary Fields. SENT: 990 words, photos.
RUSSIA-UKRAINE-WAR — Thousands of people are believed to be trapped by floodwaters spread across a swathe of Ukraine after a catastrophic dam collapse. Help has been slow in coming to Oleshky, a Russian-occupied city along the Dnieper River, according to desperate Ukrainian rescuers and the exiled mayor. Officials say more than 6,000 people have been evacuated from dozens of inundated cities, towns and villages on both sides of the river. But the true scale of the disaster remains unclear for a region that was once home to tens of thousands of people. At least 14 people have died in the flooding, many are homeless and tens of thousands are without drinking water. By Illia Novikov, Yuras Karmanau and Hanna Arhirova. SENT: 1,030 words, photos.
NORTH-KOREA-DOLLAR-DILLEMA — North Korea has tolerated the widespread use of more stable foreign currencies like U.S. dollars and the Chinese yuan since a bungled revaluation of the won in 2009 triggered runway inflation and public unrest. The so-called "dollarization" phenomenon helped ease inflation and stabilize foreign exchange rates. But experts say the currency substitution may hurt leader Kim Jong Un's authority by undermining the government's control of the money supply and its ability to set monetary policies. By Hyung Jin Kim. SENT: 1,220 words, photos.
CANADA-WILDFIRES — Images of smoke obscuring the New York skyline and the Washington Monument this week have given the world a new picture of the perils of wildfire, far from where blazes regularly turn skies into hazardous haze. By Jennifer Peltz and Rob Gillies. SENT: 1,050 words, photos, video, audio. With CANADA-WILDFIRES-DIY-PURIFIER — Social media helps invent, then circulate info on DIY air purifiers amid wildfire smoke (sent).
BBO-SENTENCED-TO-UMPING — Baseball is steeped in the tradition of fans wanting to jeer the umpire. One Little League in New Jersey is taking a more hands-on approach. It's trying to curb the appetite among the crowd watching 10- and 11-year-olds play baseball who curse at the unpaid volunteers behind the plate. The fans could become the umpires if they won't follow league rules on sportsmanship. Outbursts of bad behavior at sporting events for young people have had frightening consequences for officials at all youth levels. The Deptford Little League is hoping its solution is a preventative one. By Dan Gelston. SENT: 1,430 words, photos. An abridged version is also available.
—————————————————————————
MORE ON WILDFIRES
—————————————————————————
CANADA WILDFIRES-OUTDOOR WORKERS — The hazardous haze from Canada's wildfires is taking its toll on people whose jobs have forced them outdoors along the U.S. East Coast even as a dystopian orange hue led to the cancelation of sports events, school field trips and Broadway plays. SENT: 1,140 words, photos.
CANADA-WILDFIRES-AIR-QUALITY-INDEX — How can you check the air quality in your area and what do the numbers mean? The Environmental Protection Agency monitors the air around the country and compiles an air quality index, or AQI. Here's what to know about the index and how to keep tabs on your area, especially in U.S. regions dealing with smoke from Canadian wildfires. SENT: 370 words, photos.
—————————————————————————
MORE ON RUSSIA-UKRAINE WAR
—————————————————————————
——————————
MORE NEWS
——————————
BET-AWARDS — Drake could make an impactful mark at the BET Awards later this month. The chart-topping performer scored seven nominations at the show airing live on June 25 in Los Angeles. He's up for best male hip-hop artist, male R&B/pop artist along with best collaboration and viewer's choice with Future and Tems for their song "Wait for U." SENT: 310 words, photos.
———————————————————
WASHINGTON/POLITICS
—————-—————————————-
ELECTION 2024-GEORGIA REPUBLICANS — As Georgia's Republican Convention gets underway, a right-wing faction of the party is seeking to punish GOP officials it considers ideological traitors by banning them from the primary ballot in future elections. The plan by allies of Donald Trump could be used to punish elected Republicans who refused his demands to overturn his loss in the 2020 election. By Jeff Amy. SENT: 1,100 words, photos.
CONGRESS-DEBT COMMISSION — House Speaker Kevin McCarthy is studying history and considering the appointment of a mix of lawmakers and business leaders to a new commission to tackle the nation's soaring debt. A Democratic senator calls the effort a "prescription for trouble." By Kevin Freking. SENT: 1,030 words, photo.
REL-DESANTIS-FAITH — As Ron DeSantis wrapped up a 12-stop campaign tour that began in an Iowa evangelical church and ended here in a South Carolina convention center, dozens of pastors met backstage to pray for the presidential candidate. Later, to the 1,500 people in the auditorium, DeSantis closed out his stump speech with a paraphrased Bible verse: "I will fight the good fight, I will finish the race, and I will keep the faith." SENT: 1,520 words, photos.
————————
NATIONAL
————————
TEXAS ATTORNEY GENERAL IMPEACHMENT — The FBI has arrested a businessman at the center of the scandal that led to Texas Attorney General Ken Paxton's historic impeachment, a move that came amid new questions about the men's dealings raised by financial records the Republican's lawyers made public to try to clear him of bribery allegations.
PAT-ROBERTSON-LEGACY — Pat Robertson united tens of millions of evangelical Christians through the power of television and pushed them in a far more conservative direction with the personal touch of a folksy minister. His biggest impact may have been wedding evangelical Christianity to the Republican party, to an extent once unimaginable. SENT: 820 words, photos.
TRANSIT-FINANCIAL-WOES — California's transit agencies are asking Democrats who control the state's government to rescue them like Democrats in New York recently did. It's proving to be a much tougher sell in California. The nation's most populous state is far more automobile-reliant than much of the Northeast. SENT: 1,160 words, photos.
OREGON-ILLEGAL-MARIJUANA — Oregon has long been known as a mecca for high-quality marijuana, but that reputation has come with a downside. Illegal growers offer huge amounts of cash to lease or buy land and then leave behind pollution, garbage and a drained water table. A bill passed by the Oregon Legislature seeks to tackle that by making the landowners themselves responsible for the aftermath. The bill prohibits using rivers or groundwater at the illegal sites. SENT: 700 words, photos.
FOUR KILLED UNIVERSITY OF IDAHO-GAG-ORDER — A judge overseeing the case against Bryan Kohberger, charged with killing four University of Idaho students last fall, is set to hear arguments over a gag order that largely bars attorneys and other parties in the case from speaking with news reporters. SENT: 560 words, photo.
ARTIFICIAL-INTELLIGENCE-THE-COURTS — Two apologetic lawyers responding to an angry judge in Manhattan federal court has blamed ChatGPT for tricking them into including fictitious legal research in a court filing. SENT: 760 words, photo, audio.
—————————————-
INTERNATIONAL
—————————————
SYRIA-ASSAD-AMPHETAMINES — A little white pill has given Syrian President Bashar Assad powerful leverage with his Arab neighbors, who have been willing to bring him out of pariah status in hopes he will stop the flow of highly addictive Captagon amphetamines out of Syria. SENT: 1,130 words, photos.
UAE-CORAL-RESTORATION — Restoration efforts are underway in the United Arab Emirates as coral reefs face threats in the Persian Gulf and the Gulf of Oman. Environment Agency Abu Dhabi is re-planting corals after growing them in nurseries, while Dubai has announced it will plant 1 billion corals along the coast of the emirate. SENT: 1,000 words, photos.
CYPRUS-RUSSIA-SANCTIONS — For Cypriots, it was a collective "here we go again" moment. In April, the U.S. and the U.K. included a handful of Cypriot nationals and Cyprus-registered companies on a list of "enablers" helping Russian oligarchs skirt sanctions. It was an unwelcome reminder of the lingering perception that the island nation somehow remains Moscow's financial lackey. SENT: 860 words, photos.
AUSTRALIA-GAY-HATE — The brother of a gay American who was attacked and fell from a Sydney cliff top in 1988 said elements within local police had demonized their family over their pursuit of justice. SENT: 750 words, photos.
JAPAN-DEVELOPMENT-AID — Japan approved a major revision to its development aid policy Friday to focus on maritime and economic security and its national interests while helping developing nations overcome compound challenges amid China's growing global influence. SENT: 560 words, photo.
PHILIPPINES-VOLCANO — Philippine troops, police and rescue workers began forcibly evacuating residents near Mayon Volcano on Friday as its increasing unrest indicated a violent eruption of one of the country's most active volcanoes is possible within weeks or days. SENT: 460 words, photo.
SUDAN — The United Nations envoy to Sudan, a key mediator in the country's brutal conflict, is no longer welcome in the African country, Sudanese authorities say. SENT: 380 words, photo.
CHINA-HONDURAS — Honduran President Xiomara Castro arrived in Shanghai on Friday on her first visit since China established ties with Honduras, pulling it away from former diplomatic ally Taiwan. SENT: 200 words, photo.
—————————————————
BUSINESS/ECONOMY
—————————————————
FINANCIAL-MARKETS — Asian shares have mostly rose, led by a jump on the Tokyo Stock Exchange where share prices got a boost of optimism from a new bull market on Wall Street. SENT: 600 words, photos, audio.
GENERAL MOTORS-TESLA-CHARGING STATIONS — Electric vehicles made by General Motors will be able to use much of Tesla's extensive charging network beginning early next year under an agreement the two companies announce. SENT: 730 words, photos, audio.
—————————————
ENTERTAINMENT
—————————————
FILM-THE FLASH — "The Flash" filmmaker Andy Muschietti and his producer sister Barbara Muschietti talk about bringing their time-hopping, DC universe-resetting superhero pic to the big screen and convincing both Michael Keaton and Ben Affleck play Batman again. SENT: 1,100 words, photos.
————————
SPORTS
————————
HKN–STANLEY CUP FINAL — Overtime. Season basically on the line. The Florida Panthers keep finding ways to flourish in those moments. And for the first time, they've won a game in the Stanley Cup Final. Carter Verhaeghe snapped a wrister from the slot high into the back of the net 4:27 into overtime and the Panthers rallied to beat the Vegas Golden Knights 3-2 on Thursday night in Game 3. Vegas still leads the title series 2-1, but Florida has life and found a way to turn overtime into its favorite time once again. SENT: 700 words, photos.
TEN–FRENCH OPEN — Novak Djokovic and Carlos Alcaraz are scheduled to play against each other for the first time in more than a year when they meet in the French Open semifinals. The much-anticipated showdown is the first singles match on Friday at Court Philippe Chatrier. It is the 45th Grand Slam semifinal for Djokovic, a 36-year-old from Serbia, and the second for Alcaraz, a 20-year-old from Spain. SENT: 300 words, photos. Will be updated.
————————-
HOW TO REACH US
————————
At the Nerve Center, Vincent K. Willis can be reached at 800-845-8450 (ext. 1600). For photos, (ext. 1900). For graphics and interactives, ext. 7636. Expanded AP content can be obtained from AP Newsroom. For access to AP Newsroom and other technical issues, contact [email protected] or call 844-777-2006.