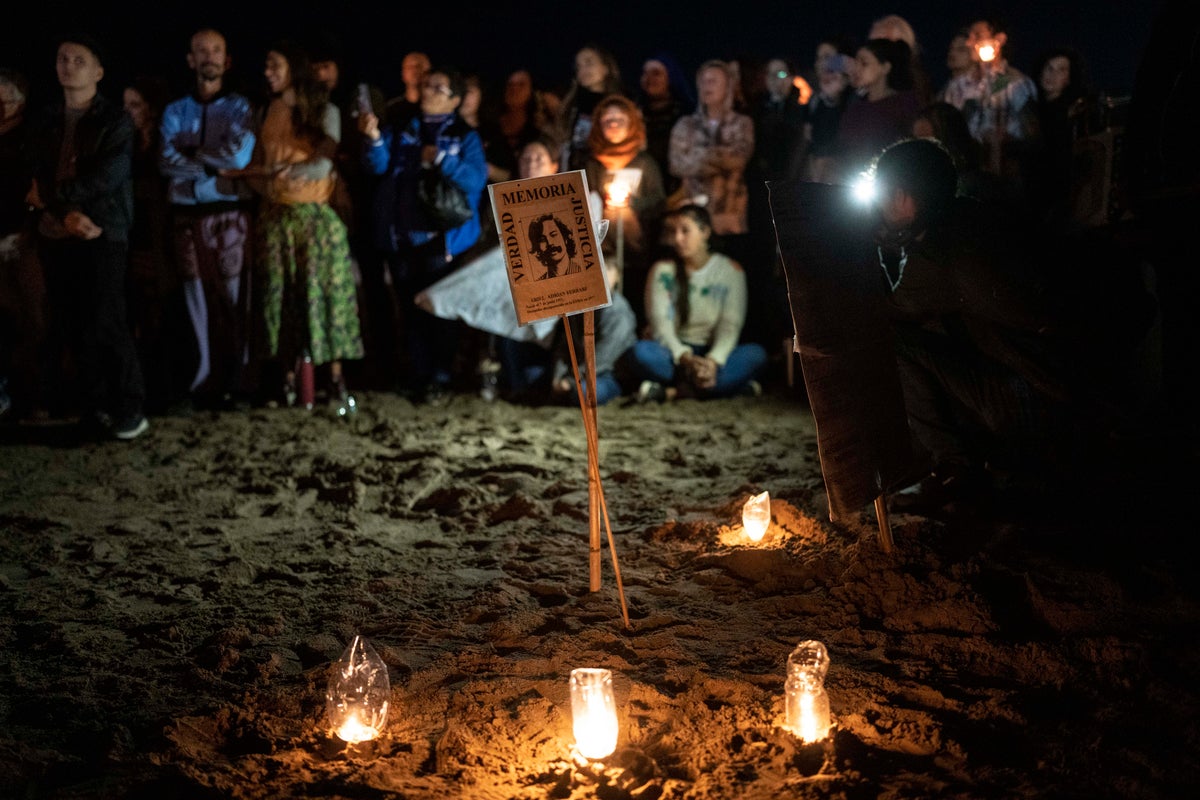 Here are the AP's latest coverage plans, top stories and promotable content. All times EDT. For up-to-the minute information on AP's coverage, visit Coverage Plan.
——————————
TOP STORIES
——————————
SEVERE-WEATHER — A powerful tornado tore through rural Mississippi and Alabama, killing at least seven people, destroying buildings and knocking out power as severe weather that produced hail the size of golf balls moved through several southern states and prompted authorities to warn some in its path that they were in a "life-threatening situation." SENT: 1,110 words, photos, audio.
ELECTION 2024-TRUMP — A defiant Donald Trump is holding the first rally of his 2024 campaign in Waco, Texas, as he faces the prospect of a possible indictment. Trump is gathering with supporters in a city made famous by deadly resistance against law enforcement ahead of the 30th anniversary of the Waco massacre. By Jill Colvin. SENT: 950 words, photos. UPCOMING: 1,100 words after 6 p.m. rally.
CAPITOL RIOT-REPUBLICANS — House Republicans are working quietly but steadily to reframe the narrative of the Capitol riot, seeking to portray many of perpetrators who stormed the building on Jan. 6, 2021, as victims of overreach by government prosecutors. By Congressional Correspondent Lisa Mascaro. SENT: 1,100 words, photos.
YELLEN-BANK CRISIS — Treasury Secretary Janet Yellen worked against the clock with bank regulators, lawmakers and business leaders to come up with a plan that would prevent a full-blown financial crisis. It's a pivotal moment for Yellen, whose extensive experience is being put to the sternest of tests. By Fatima Hussein. SENT: 1,100 words, photos.
UNITED STATES-SYRIA-EXPLAINER — When an Iranian drone struck a U.S. base in northeastern Syria, killing a contractor and wounding several U.S. troops, it was just the latest in a growing number of attacks on American forces in Syria. But its lethality was rare. In most recent cases, no U.S. forces have been hurt in such attacks. By Lolita C. Baldor. SENT: 1,090 words, photos. With UNITED STATES-SYRIA — President Joe Biden says the U.S. does not seek conflict with Iran, but will respond "forcefully" to protect its personnel in Syria and elsewhere (sent).
—————————————————————————
RUSSIA-UKRAINE WAR
—————————————————————————
RUSSIA-UKRAINE-WAR — Long-range Russian bombardment killed at least 10 civilians and wounded 20 others in several parts of Ukraine, officials in Kyiv said, as a Kremlin official boasted that its forces were prepared to repel an expected Ukrainian counteroffensive this spring. SENT: 620 words, photos.
—————————
MORE NEWS
—————————-
CHOCOLATE-FACTORY-EXPLOSION — An explosion at a chocolate factory in Pennsylvania killed two people and left nine people missing, authorities say. SENT: 270 words, photos.
MIGRANTS-TRAIN-CAR — Two migrants were found dead and at least 10 were hospitalized after police in South Texas received a call that they were "suffocating" in a freight train traveling near the U.S.-Mexico border. SENT: 560 words, photos, audio.
———————————————————
WASHINGTON/POLITICS
———————————————————-
TRUMP-LEGAL TROUBLES-POWDER — A non-threatening powdery substance is found with a threatening letter in a mailroom at the offices of Manhattan District Attorney Alvin Bragg, the latest security scare as the prosecutor weighs a potential indictment of Donald Trump. SENT: 550, photos.
ELECTION-2024-TRUMP-WACO — Former President Donald Trump picking Waco, Texas, for the first rally of his 2024 campaign Saturday will put him in the middle of a big Republican state that has reliably delivered him big crowds. SENT: 710 words, photos.
GLOBAL WATER — Humanity's survival depends on how people manage water, U.N. Secretary-General Antonio Guterres says at the end of a three-day conference on global water resources. SENT: 330 words, photos.
————————
NATIONAL
————————
DEA-CORRUPTION — After nearly two years and at least $1.4 million spent, the U.S. Drug Enforcement Administration on Friday released an external review of its overseas operations that barely mentions recent corruption scandals and offers recommendations that critics dismissed as overly vague. SENT: 840 words, photos.
HORSESHOE-CASINO-VEGAS-STRIP — A name paired with poker and Las Vegas lore now has a place on the neon-lit Strip following the rebranding of an iconic hotel with a memorable history at a crossroads shared with some of the most recognizable casinos in the world. SENT: 590 words, photos.
LOS ANGELES SCHOOLS-STRIKE — The Los Angeles Unified School District and union leaders say they reached a deal on pay raises for bus drivers, custodians and other support staff after a three-day strike that shut down the nation's second-largest school system. SENT: 580 words, photos, audio.
HOUSTON-HOSTAGES-FBI-SHOOTING — A 17-year-old has been charged with kidnapping two migrants whose rescue this week from a Houston hotel by FBI agents after days of captivity ended in gunfire that killed another suspect. SENT: 440 words, photos.
——————————————
INTERNATIONAL
——————————————
BRAZIL-BOLSONARO-DIAMONDS-EXPLAINER — Undeclared diamond jewelry brought into Brazil from Saudi Arabia has deepened the legal jeopardy of former Brazilian President Jair Bolsonaro. An investigation into two sets of jewels reportedly worth millions is only the latest scandal threatening the far-right politician. But an extensive paper trail and even videos could make the case particularly daunting for Bolsonaro. SENT: 940 words, photos.
AFRICA-ELECTRIC-SHORTAGES — The electricity shortages that plague many of Africa's 54 countries are a serious drain on the continent's economic growth. In recent years South Africa's power generation has become so inadequate that the continent's most developed economy must cope with rolling power blackouts of eight to 10 hours per day. Africa's sprawling cities have erratic supplies of electricity but large swaths of rural areas across the continent have no power at all. SENT: 970 words, photos.
CHINA-NEW-ZEALAND — New Zealand Foreign Minister Nanaia Mahuta has expressed concern to China over any provision of lethal aid to support Russia in its war against Ukraine during a meeting with her Chinese counterpart. SENT: 300 words, photo.
————————
SPORTS
————————
BKC–NCAA-NO NO. 1s — March has gone from madness to unprecedented. With Miami's win over Houston and San Diego State's takedown of Alabama, the men's NCAA Tournament will not have a No. 1 seed in the Elite Eight for the first time since seeding began in 1979. Purdue, Kansas, Houston and Alabama are all gone, ensuring the Final Four will not have a No. 1 team for the first time since 2011 and the third overall. The four teams deemed by the NCAA to be the best in the country combined to win five tournament games this year. That's the fewest by three among No. 1 seeds since the field expanded to 64 teams in 1985. By John Marshall. SENT: 470 words, photos. With NCAA-SAN DIEGO ST-ALABAMA — San Diego State ousts top seed Alabama from March Madness; NCAA-MIAMI-HOUSTON — Miami beats No. 1 seed Houston (both sent).
BKC–NCAA-PRINCETON-CREIGHTON — Creighton used its size, 3-point shooting and a swarming second-half defense to end the March Madness run of Princeton, beating the 15th-seeded Tigers 86-75 in the Sweet 16. The sixth-seeded Bluejays advanced to their first regional final since they were part of an eight-team NCAA Tournament in 1941. Creighton will play No. 5 seed San Diego State in Sunday's South Region final, with each team seeking its first Final Four. Ryan Kalkbenner, the two-time Big East defensive player of the year, scored 22 points to lead the Bluejays to their sixth win in seven games. Baylor Scheierman made five 3s and finished with 21 points. Ryan Langborg led Princeton with 26 points. By Michael Marot. SENT: 700 words, photos.
BKC–NCAA-XAVIER-TEXAS — Tyrese Hunter scored 19 points and second-seeded Texas rolled to an 83-71 victory over third-seeded Xavier to reach the Elite Eight of the NCAA Tournament for the first time in 15 years. The highest seed left in the tourney will play No. 5 seed Miami on Sunday night for a spot in the Final Four in Houston. Marcus Carr and Christian Bishop scored 18 points each, Sir'Jabari Rice had 16 and Timmy Allen had 11 for the Longhorns, who played most of the way without Dylan Disu, their star big man who has a foot injury. Adam Kunkel had 21 points to lead the Musketeers. By Dave Skretta. SENT: 850 words, photos.
—————————————-
HOW TO REACH US
——————————————
At the Nerve Center, Vincent K. Willis can be reached at 800-845-8450 (ext. 1600). For photos, (ext. 1900). For graphics and interactives, ext. 7636. Expanded AP content can be obtained from AP Newsroom. For access to AP Newsroom and other technical issues, contact [email protected] or call 844-777-2006.