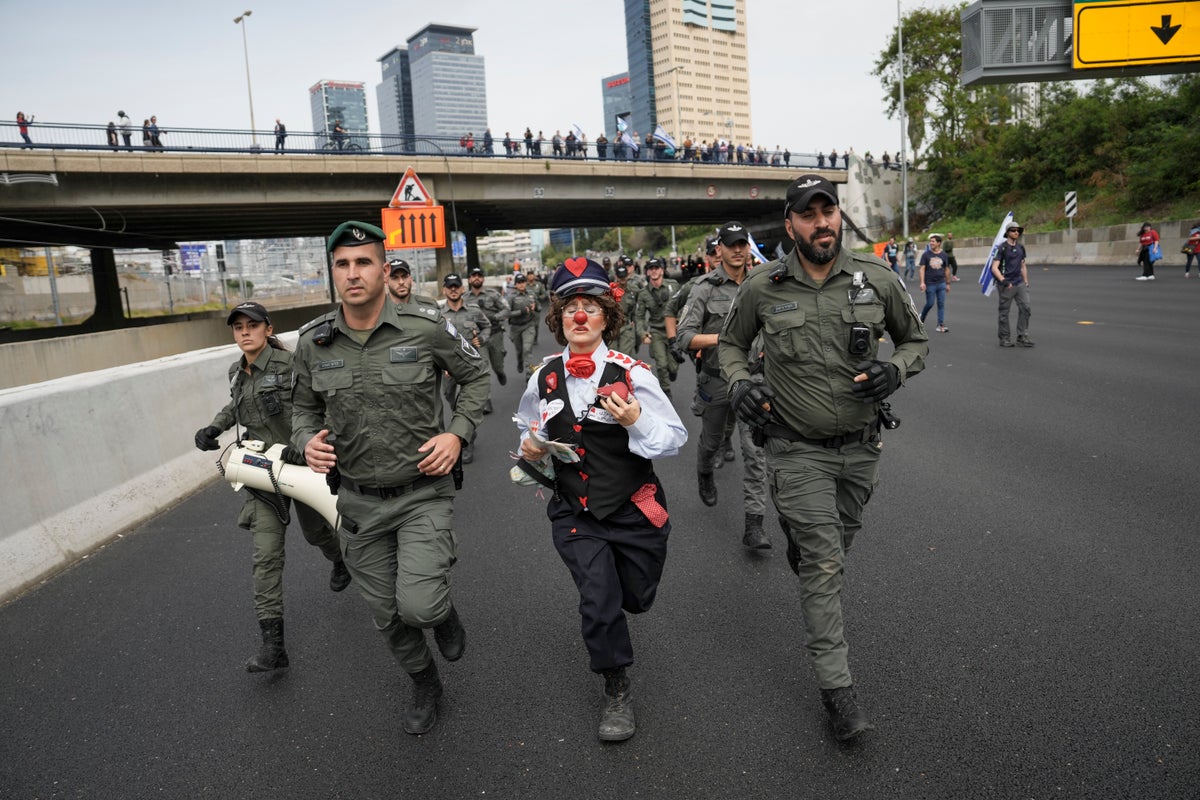 Here are the AP's latest coverage plans, top stories and promotable content. All times EDT. For up-to-the minute information on AP's coverage, visit Coverage Plan.
——————————
TOP STORIES
——————————
UNITED-STATES-SYRIA — A U.S. contractor was killed and five U.S. service members and one other U.S. contractor were wounded when a suspected Iranian drone struck a facility on a coalition base in northeast Syria on Thursday, the Pentagon says. By Lou Kesten and Jon Gambrell. SENT: 680 words, photo.
KOREAS-TENSIONS — North Korea has claimed to have tested a nuclear-capable underwater drone designed to generate a gigantic "radioactive tsunami" that would destroy naval strike groups and ports. Analysts were skeptical that the device presents a major new threat, but the test underlines the North's commitment to raising nuclear threats. By Kim Tong-Hyung. SENT: 1,090 words, photos, video.
MISINFORMATION-AI-DEEPFAKES — Former President Donald Trump getting gang-tackled by riot-gear-clad New York City police officers. Russian President Vladimir Putin in prison grays behind the bars of a dimly lit concrete cell. The highly detailed, sensational images have inundated Twitter and other platforms in recent days, amid news that Trump faces possible criminal charges and the International Criminal Court has issued an arrest warrant for Putin. By Arijeta Lajka and Philip Marcelo. With TRUMP-LEGAL TROUBLES — Trump grand jury turns to other matters, done for the week (sent).
TRAFFICKING CASE-TEXAS MOM — Irma Reyes feels like she can't wake up from nightmare. In a Texas case involving her daughter, prosecutors gave two men charged with sex trafficking a deal to walk free with five years' probation. Reyes' daughter was 16 when the men were accused of keeping her at a motel where men paid to have sex with the girl. Their cases are among thousands under a cloud of dysfunction at Texas Attorney General Ken Paxton's office. By Jake Bleiberg. SENT: 2,350 words, photos, video. An abridged version of 1,010 words is also available.
SOCIAL-MEDIA-KIDS-UTAH — Children and teens in Utah would lose access to social media apps such as TikTok if they don't have parental consent and face other restrictions under a first-in-the-nation law designed to shield young people from the addictive platforms. By Sam Metz and Barbara Ortutay. SENT: 1,000 words, photos.
IRAQ-INVASION-LEGACY-OIL — Basra province boasts most of Iraq's oil reserves and is symbolic of the deep disparities that have endured since the 2003 U.S.-led invasion that remade the country's political order. Rich in resources, the province ranks among the poorest and most underdeveloped in Iraq, which baffles experts. Local officials and residents blame widespread corruption in the government. Oil exports are double what they were before the invasion, and Iraq's state budgets are almost entirely funded by oil revenues. Still, the government fails to provide many basic services, including electricity and water. By Samya Kullab. SENT: 1,130 words, photos.
—————————————————————————
RUSSIA-UKRAINE WAR
—————————————————————————
RUSSIA-UKRAINE-WAR — Ukraine's president made his third visit in two days to areas that have felt the brunt of Russia's war, with a trip to the southern Kherson region that was retaken from the Kremlin's forces. A senior Kyiv commander hinted that a Ukrainian counteroffensive could come "very soon." SENT: 770 words, photos.
————————
MORE NEWS
————————
TRUMP-COLUMNIST-LAWSUIT — Jurors' names will be kept secret at the upcoming civil trial in a writer's rape lawsuit against former President Donald Trump, a judge has ruled, citing "a very strong risk" they would otherwise face harassment and more. SENT: 480 words, photo.
GWYNETH-PALTROW-SKING-LAWSUIT — Gwyneth Paltrow and the man who broke four ribs after the two collided at a Utah ski resort seven years ago are both expected to testify in a trial over his claims that the movie star's recklessness caused his concussion and lasting physical injuries. SENT: 480 words, photos, video, audio.
SENATE-ETHICS-GRAHAM — The Senate Ethics Committee is admonishing South Carolina Sen. Lindsey Graham for soliciting campaign contributions inside a federal building after a Nov. 2022 Fox News interview in which he asked viewers to donate to a GOP candidate. SENT: 340 words, photo.
ASTEROID-FLYBY — An asteroid big enough to wipe out a city will zip harmlessly between Earth and the moon's orbit this weekend, missing both celestial bodies. SENT: 260 words, photo.
SOC-CHINA-CORRUPTION — China's scandal-plagued football association has been rocked by new corruption probes into its chiefs of discipline and competition. SENT: 380 words, photo.
———————————————————
WASHINGTON/POLITICS
———————————————————-
CONGRESS-PARENTS RIGHTS — House Republicans are pressing forward with a vote on a midterm campaign promise, a bill would give parents greater oversight of what is taught in public schools. Critics say it is a burdensome proposal that would fuel a far-right movement that has resulted in book bans. By Stephen R. Groves. SENT: 940 words, photos. UPCOMING: 1,000 words after vote, timing uncertain.
CAPITOL RIOT-PROUD BOYS — As revelations that a defense witness was also an FBI informant roil the already contentious Capitol riot trial of members of the far-right Proud Boys group, prosecutors say that the informant was never told to gather information about the defendants or their lawyers. SENT: 780 words, photo.
CAPITOL RIOT-FOX NEWS — The lawyer for a one-time Trump supporter caught up in a Jan. 6 conspiracy theory demands that Fox News and Tucker Carlson retract and apologize for repeated "falsehoods" about the man's actions. SENT: 640 words, photos.
CAPITOL RIOT-PELOSI'S LAPTOP — A Pennsylvania woman linked to a far-right extremist movement is sentenced to three years in prison for storming the U.S. Capitol and invading then-House Speaker Nancy Pelosi's office with other rioters. SENT: 820 words, photo.
CONGRESS-CHINA — Two women who experienced life in Chinese "reeducation" camps for Uyghurs told lawmakers of lives under imprisonment and surveillance, rape and torture as a special House committee focused on countering China shined a light on human rights abuses in the country. SENT: 1,020 words, photos.
BIDEN-CONSERVATION-FORESTS — The Biden administration and industry groups have pledged to promote logging practices and research intended to protect imperiled species on private forest lands. SENT: 570 words, photo.
BIDEN-CANADA — President Joe Biden arrived in Canada for talks with Prime Minister Justin Trudeau on several of the world's most difficult challenges: the war in Ukraine, climate change, trade, mass migration and an increasingly assertive China. SENT: 1,110 words, photos.
————————
NATIONAL
————————
DEATH-PENALTY-FIRING-SQUADS-EXPLAINER — The image of gunmen in a row firing in unison into the chest of a condemned prisoner may conjure up a bygone, less enlightened era. But the idea of using firing squads is making a comeback. Idaho lawmakers passed a bill this week seeking to add the state to the list of those authorizing firing squads. Currently that is Mississippi, Utah, Oklahoma and South Carolina. Renewed interest comes in part as states scramble for alternatives to lethal injection after pharmaceuticals barred the use of their drugs. SENT: 990 words, photo.
GENDER IDENTITY-STATES-EXPLAINER — A look at the status nationwide of state laws and legislation restricting or banning discussions in school of sexual orientation and gender identity as Florida, which launched the "Don't Say Gay" movement, looks to expand its prohibition through high school. SENT: 930 words, photos.
MOTHER-DAUGHTER-KILLED — Kirkland Warren was out on bail pending a long-delayed murder trial in Arkansas. But when he was arrested in southwestern Washington state early this month on charges that he assaulted his ex-girlfriend and fired a gunshot into her apartment, he quickly posted bond and was released again. Just a few days later, his ex-girlfriend, Meshay Melendez, 27, and her 7-year-old daughter, Layla Stewart, vanished. Police named Warren a person of interest in their disappearance. The discovery of their bodies on Wednesday has raised questions about why someone facing a murder charge in another state would be released from custody after being arrested for a serious domestic violence offense. SENT: 790 words, photos.
WILDLIFE-BRIDGES-NEW-MEXICO — New Mexico will build its first wildlife highway overpasses for free-roaming cougars, black bears, bighorn sheep and other creatures large and small and will also set aside $100 million for conservation projects, under two bills signed by Gov. Michelle Lujan Grisham. SENT: 620 words, photos.
XCEL-ENERGY-NUCLEAR-LEAK — Water containing a radioactive material has leaked for a second time from a nuclear plant near Minneapolis and the plant will be shut down, but there is no danger to the public, the plant's owner says. SENT: 560 words, photo.
——————————————
INTERNATIONAL
——————————————
PHILIPPINES-CHINA — Filipino diplomats are expected to unleash a slew of protests over China's aggressive behavior in the South China Sea, including targeting a Philippine coast guard ship with a powerful military laser, when they meet with Chinese officials, an official says. SENT: 880 words, photos.
CHINA-US-SOUTH-CHINA-SEA — China threatened "serious consequences" after the U.S. Navy sailed a destroyer around the disputed Paracel Islands in the South China Sea for the second day in a row, in a move Beijing claimed was a violation of its sovereignty and security. SENT: 630 words, photo.
———————————————
HEALTH & SCIENCE
——————————————-
GLOBAL WATER — A lack of drinking water and healthy sanitation infrastructure around the world is dire and getting worse, United Nations experts warned in a report. By Michael Weissenstein. SENT: 360 words, photos.
SCI–ORIGINS ANIMAL EMPATHY — The basic capacity for empathy may have been hardwired into prehistoric animals that lived 450 million years ago – before fish, mammals and other critters with backbones, including us, diverged on the tree of life, according to a new study. By Christina Larson. SENT: 480 words, photo.
————————————————-
BUSINESS/ECONOMY
—————————————————
FINANCIAL MARKETS — Shares fell in Asia as worries over turmoil in the banking sector and recession risks overshadowed gains on Wall Street. Benchmarks declined in most major markets, while U.S. futures were higher. Oil prices fell. SENT: 690 words, photos.
JAPAN-TOSHIBA — Scandal-embattled Japanese electronics and technology manufacturer Toshiba has accepted a $15 billion tender offer from Japan Industrial Partners, a buyout fund made up of major banks and companies. SENT: 460 words, photos.
————————
SPORTS
————————
BKC–NCAA-GONZAGA-UCLA — Gonzaga and UCLA played one NCAA Tournament game that left the Zags' star player bawling, and another game that stunned the Bruins. Add another to the list. Maybe the maddest one in March yet. Julian Strawther hit a 3-pointer with 7.2 seconds left to answer a 3-pointer by UCLA's Amari Bailey, lifting Gonzaga to a wild 79-76 win over UCLA Thursday night in the Sweet 16. By Basketball Writer John Marshall. SENT: 660 words, photos.
BKC—NCAA-FLORIDA ATLANTIC-TENNESSEE — When the horn sounded on the greatest victory in the history of Florida Atlantic athletics, Nick Boyd and Bryan Greenlee hopped onto the press row table to celebrate. Instead of going to the locker room, some of the Owls players made their way up into the stands to sing "New York, New York" with their fans. The Owls used a second-half push led by Michael Forrest to beat fourth-seeded Tennessee 62-55 on Thursday night in the Sweet 16. By College Sports Writer Ralph D. Russo. SENT: 750 words, photos.
NCAA-TOURNAMENT-CAPSULES — Markquis Nowell broke the NCAA Tournament record for assists in a game with 19, his last two on spectacular passes in the final minute of overtime, and Kansas State beat Michigan State 98-93 in a Sweet 16 thriller at Madison Square Garden. SENT: 660 words, photo.
HKN—HOCKEY PRIDE NIGHTS-EXPLAINER — Pride nights, held annually for several years by National Hockey League teams to show support for the LGBTQ community, are in the spotlight following several high-profile incidents this season. A handful of players have objected to participating in pregame warmups that included Pride-themed jerseys, most recently Florida's Eric and Marc Staal on Thursday night. UPCOMING: 770 words, photos by 6 a.m. With: HKN–Blackhawks-Pride Night — NHL team won't wear Pride jerseys, citing new Russian law (sent).
————————
HOW TO REACH US
————————
At the Nerve Center, Vincent K. Willis can be reached at 800-845-8450 (ext. 1600). For photos, (ext. 1900). For graphics and interactives, ext. 7636. Expanded AP content can be obtained from AP Newsroom. For access to AP Newsroom and other technical issues, contact [email protected] or call 844-777-2006.