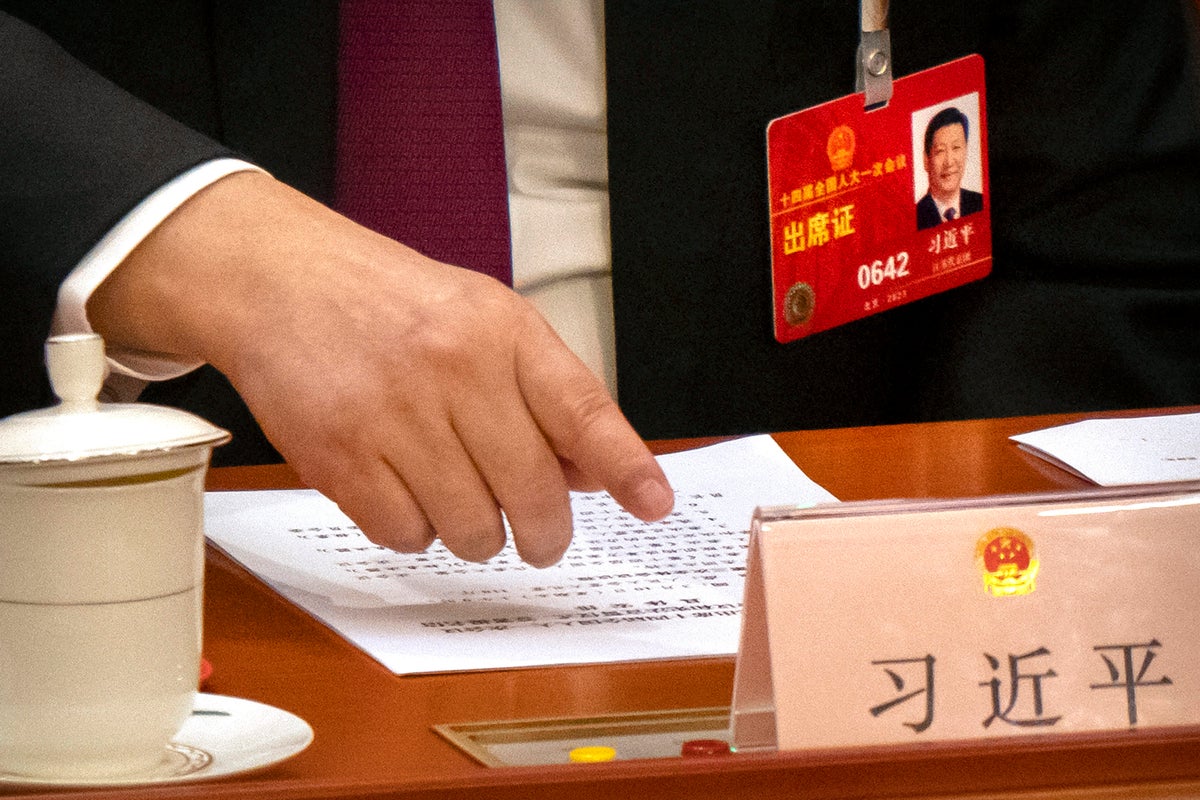 Here are the AP's latest coverage plans, top stories and promotable content. All times EST. For up-to-the minute information on AP's coverage, visit Coverage Plan.
——————————
TOP STORIES
——————————
GERMANY-SHOOTING — A shooting at a Jehovah's Witnesses hall in the German city of Hamburg killed eight people, apparently including the perpetrator, police say. An unspecified number of other people were wounded, some of them seriously. SENT: 570 words, photos, video. By Pietro De Christofaro and Geir Moulson. With JEHOVAH'S-WITNESS-GLANCE — Jehovah's Witness beliefs and history in Germany (sent).
BIDEN-BUDGET — President Joe Biden's federal budget is a statement of values. He believes the wealthy and large corporations should pay more taxes to help stem deficits and lift Americans toward middle-class stability. Republicans led by House Speaker Kevin McCarthy intend to challenge Biden with values of their own. They want to slash the social safety net, trim support for Ukraine and end so-called "woke" policies. By Lisa Mascaro and Josh Boak. SENT: 1,080 words, photos, video. With BUDGET-BIDEN-HIGHLIGHTS — Here's what Biden's budget would mean — if it had a chance; BUDGET-BIDEN-CANCER — Biden to seek more than $2.8B from Congress for cancer fight; BUDGET-PACIFIC-ISLAND — Biden budget aims at China with billions for Pacific islands (all sent).
CHINA-CONGRESS-PRESIDENT — Chinese leader Xi Jinping was awarded a third five-year term as president Friday, putting him on track to stay in power for life at a time of severe economic challenges and rising tensions with the U.S. and others. SENT: 900 words, photos. With CHINA-LEADERSHIP — Loyal and experienced, China's other top leaders take posts (sent).
TRUMP-LEGAL-TROUBLES — Former President Donald Trump has been invited to testify before a New York grand jury that has been investigating hush money payments made on his behalf during his 2016 presidential campaign, according to one of his lawyers. By Michael R. Sisak. SENT: 700 words, photos.
UKRAINIANS-LIVING-IN-LIMBO — As many as 20,000 Ukrainians who were granted permission to remain in the U.S. for one year after fleeing the early fighting in their native country are facing the expiration of their humanitarian parole. Advocates say the Biden administration has said it's working on a fix but has not issued guidance on how to extend their legal status, which is also tied to benefits including housing assistance and food stamps. By Julie Watson. SENT: 920 words, photos.
IDITAROD-HEAT — Mushers and their dogs in the Iditarod Trail Sled Dog Race face plenty of variables in the Alaska wilderness. An unexpected one this year has been heat that is taking a toll in a sport better suited for temperatures well below zero. By Mark Theissen. SENT: 830 words, photos, audio.
————————————————————————-
MORE ON RUSSIA-UKRAINE WAR
————————————————————————
RUSSIA-UKRAINE-WAR — Russia launched a massive barrage of missiles and drones that hit residential buildings and critical infrastructure across Ukraine, killing six people and leaving hundreds of thousands without heat or electricity. The largest such attack in three weeks also put Europe's largest nuclear plant at risk by knocking it off the power grid for hours before it was reconnected. By Hanna Arhirova and Elena Becatoros. SENT: 780 words, photos, videos.
——————————
MORE NEWS
——————————
TRUMP-BOOK — Donald Trump will release a new book next month that features letters from celebrities and politicians written to him through the years. SENT: 830 words, photos.
EPPS-GUN-SEIZED-INDIANAPOLIS-AIRPORT — Actor and comedian Mike Epps has apologized to fans after security screeners found a gun in a carry-on bag at Indianapolis International Airport. Agents from the Transportation Security Administration called airport police Sunday morning after finding a Smith & Wesson .38-caliber pistol loaded with four rounds in Epps' backpack. SENT: 290 words, photo.
SHAWN KEMP-ARREST — Former NBA star Shawn Kemp acted in self-defense when he exchanged gunfire in a Washington parking lot while trying to retrieve a stolen cell phone and other items, his attorneys say. SENT: 250 words. photos.
——————————————————
WASHINGTON/ POLITICS
———————————————————
UNITED STATES-EUROPEAN COMMISSION — President Biden meets with President Ursula von der Leyen of the European Commission to discuss the war in Ukraine, efforts to combat the climate crisis and other issues. By Aamer Madhani and Raf Casert. UPCOMING: 790 words, photos by 5:15 a.m. Meeting at 2 p.m.
CAPITOL RIOT-PROUD BOYS — Prosecutors are employing an unusual strategy to prove that leaders of the far-right Proud Boys extremist group orchestrated a violent plot to stop Congress from certifying President Joe Biden's 2020 electoral victory. They're calling it the "tools theory." Prosecutors claim former Proud Boys national chairman Enrique Tarrio and four associates weaponized underlings to serve as tools of a conspiracy to stop the peaceful transfer of power. By Michael Kunzelman. SENT: 990 words, photo.
ELECTION 2024-DESANTIS-IOWA — Florida Gov. Ron DeSantis heads to Iowa to introduce himself to an expectant audience of Republicans, making a long-awaited visit ahead of a likely 2024 presidential bid. With the Iowa caucuses less than a year away, Republicans in the state are ready to take a harder look at DeSantis, viewed as a top rival to Donald Trump. By Thomas Beaumont. UPCOMING: 770 words, photo by 6 a.m. First event at 10 a.m.
————————-
NATIONAL
—————————
OBIT-ROBERT-BLAKE — Robert Blake, the Emmy award-winning performer who went from acclaim for his acting to notoriety when he was tried and acquitted in the killing of his wife, has died at age 89. A statement released on behalf of his niece, Noreen Austin, says Blake died from heart disease, surrounded by family at home in Los Angeles. By Special Correspondent Linda Deutsch. SENT: 1,080 words, photos, audio.
MISSING-COLLEGE-STUDENT-MURDER-TRIAL — The man convicted of killing Kristin Smart, who vanished from a California college campus more than 25 years ago, Is scheduled to be sentenced for her murder. SENT: 530 words, photos.
————————————-
INTERNATIONAL
—————————————
JAPAN-FUKISHIMA — Twelve years after the triple reactor meltdowns at the Fukushima Daiichi nuclear power plant, Japan is preparing to release a massive amount of treated radioactive wastewater into the sea. Japanese officials say the release is unavoidable and should start soon. By Mari Yamaguchi. SENT: 1,190 words, photos.
IRAQ-MORALITY-CRACKDOWN — Only a few months into its term, Iraq's government is suddenly enforcing a long-dormant law banning alcohol imports and arresting people over social media content deemed morally offensive. The crackdown has raised alarm among religious minorities and rights activists. By Qassim Abul-zahra and Abby Sewell. SENT: 970 words, photos.
CLIMATE-EAST-AFRICA-CYCLONE-DROUGHT — In the east and Horn of Africa, a harrowing drought. In the south of the continent on the same eastern coast, a deluge. Meteorologists told The Associated Press the uneven and devastating water distribution across Africa's eastern states is caused natural weather systems and exacerbated by human-made climate change with cyclones sucking up water that would otherwise be destined for nations further north. They say both natural weather cycles and human-caused climate change are to blame. SENT: 840 words, photos.
INDIA-AUSTRALIA — Australia wants to strengthen security cooperation with India while also deepening economic and cultural ties, Prime Minister Anthony Albanese says ahead of talks with Indian Prime Minister Narendra Modi. SENT: 510 words, photos.
MALAYSIA-CORRUPTION — Former Prime Minister Muhyiddin Yassin was charged Friday with corruption and money laundering, making him Malaysia's second ex-leader to be indicted after leaving office. SENT: 460 words, photos.
FIJI-BAINIMARAMA-ARRESTED — Fiji's former leader Frank Bainimarama has been released on bail after pleading not guilty to a charge that he abused his power as prime minister by stopping a police investigation. SENT: 430 words, photos.
————————————————
HEALTH & SCIENCE
———————————————-
ALASKA-VOLCANOS — A second volcano in remote Alaska is experiencing elevated earthquake activity this week, signaling an increased potential for eruption, officials say. Earthquake activity near Takawangha Volcano increased over the past 48 hours and are continuing, Alaska Volcano Observatory officials say. SENT: 310 words, photo.
————————————————-
BUSINESS/ECONOMY
—————————————————
FINANCIAL MARKETS — Asian stock markets followed Wall Street lower Friday ahead of a U.S. jobs update amid worries about possible further interest rate hikes. Shanghai, Tokyo, Hong Kong and Sydney declined. Oil prices edged lower. SENT: 640 words, photos.
ECONOMY-JOBS-REPORT — A month ago, the government dropped a bombshell jobs report that showed that America's employers added a sizzling half-million-plus positions in January — twice the December gain and far more than economists had expected. The February jobs report will be closely watched by economists who are eager to know whether the January blowout was a one-time blip or some sign of a strengthening economy. SENT: 780 words, photo.
JAPAN-CENTRAL-BANK — The appointment for the next head of Japan's central bank has won parliamentary approval, challenging a new monetary leadership with steering the world's third-largest economy through inflation and other looming risks. SENT: 330 words, photo.
———————
SPORTS
———————
BBO–CLOSING THE GAP — All over baseball, the race is on. Some of the sport's brightest minds are working on the gap between the technology available to big league hitters, and the technology behind a pitching renaissance. By Baseball Writer Jay Cohen. UPCOMING: 1,100 words, photos by 6 a.m. EST.
BKC—GEORGETOWN-EWING FIRED — Patrick Ewing was fired as Georgetown's basketball coach after the latest in a series of rough seasons at the school he led to a national championship as a player. By Howard Fendrich. SENT: 855 words, photos.
——————————
HOW TO REACH US
——————————
At the Nerve Center, Vincent K. Willis can be reached at 800-845-8450 (ext. 1600). For photos, (ext. 1900). For graphics and interactives, ext. 7636. Expanded AP content can be obtained from AP Newsroom. For access to AP Newsroom and other technical issues, contact [email protected] or call 844-777-2006.