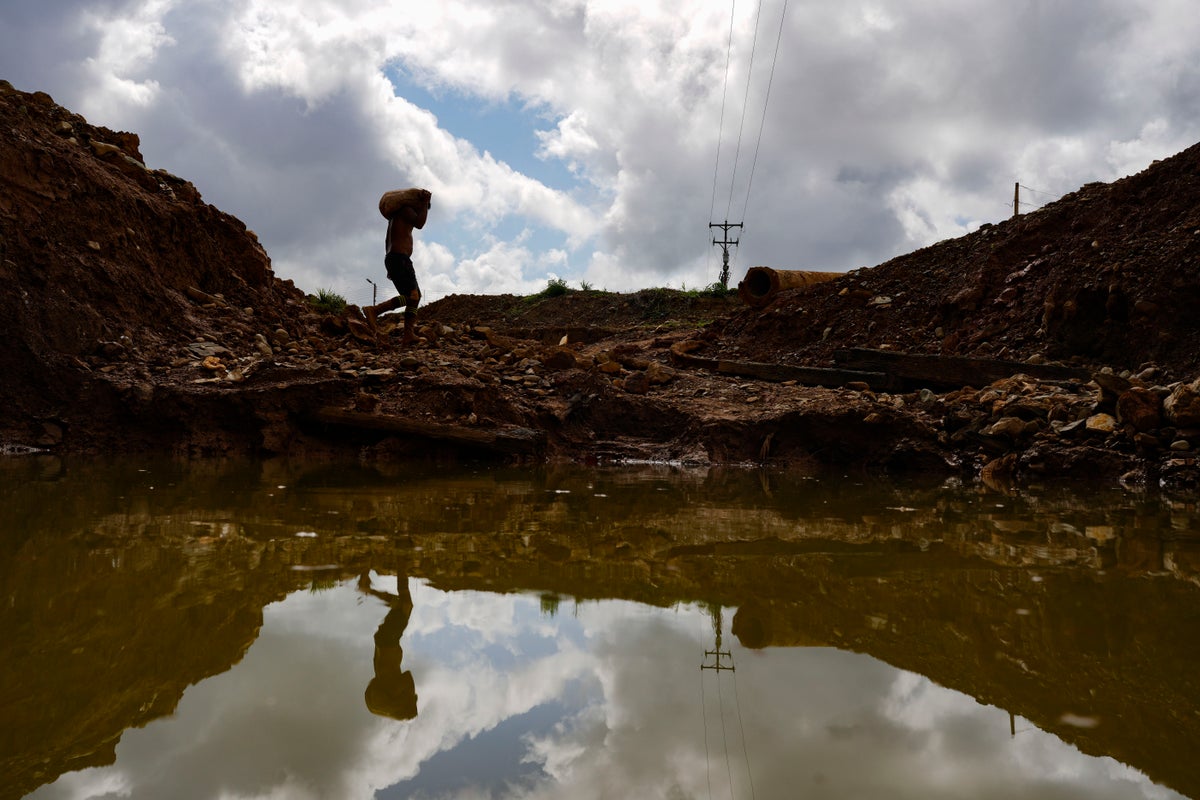 Here are the AP's latest coverage plans, top stories and promotable content. All times EDT. For up-to-the minute information on AP's coverage, visit Coverage Plan.
——————————-
TOP STORIES
———————————-
DEBT LIMIT — House Speaker Kevin McCarthy says "every hour matters" in debt ceiling talks with President Joe Biden's team, but lawmakers have left town for the holiday weekend just days before the U.S. could face an unprecedented default that could hurl the global economy into chaos. By Lisa Mascaro, Stephen Groves and Kevin Freking. SENT: 900 words, photos, video. With DEBT LIMIT-X DATE-EXPLAINER — "X-date" calculations aim to figure out when the U.S. may run short of cash. SENT: 870 words, photos.
TEXAS-ATTORNEY-GENERAL-INVESTIGATION — Texas Attorney General Ken Paxton teetered on the brink of impeachment after years of scandal, criminal charges and corruption accusations that the state's Republican majority had largely met with silence until now. In an unanimous decision, a Republican-led House investigative committee that spent months quietly looking into Paxton recommended impeaching the state's top lawyer on 20 articles, including bribery, unfitness for office and abuse of public trust. By Acacia Coronado and Jake Bleiberg. SENT: 1,150 words, photos, audio.
ABORTION-INDIANA — An Indiana board decided Thursday night to reprimand an Indianapolis doctor after finding that she violated patient privacy laws by taking publicly about providing an abortion to a 10-year-old rape victim from neighboring Ohio. By Tom Davies. SENT: 950 words, photos.
CAPITOL RIOT-OATH KEEPERS — Oath Keepers founder Stewart Rhodes has been sentenced to 18 years in prison for seditious conspiracy in the Jan. 6, 2021, attack on the U.S. Capitol. He was sentenced Thursday after a landmark verdict convicting him of spearheading a weekslong plot to keep former President Donald Trump in power. He's the first of the Jan. 6 defendants convicted of seditious conspiracy to receive his punishment.. By Michael Kunzelman, Alanna Durkin Richer and Lindsay Whitehurst. SENT: 1,000 words, photos, video.
TYPHOON-MAWAR — Chainsaws buzzed as neighbors helped each other clear toppled trees and began cleaning the wreckage of Typhoon Mawar, which walloped Guam as the strongest typhoon to hit the island in over two decades but appeared to have passed without leaving death or massive destruction in its wake. By Grace Garces Bordallo and Jennifer Sinco Kelleher. SENT: 920 words, photos, video, audio.
NEPAL-EVEREST-ANNIVERSARY — As the mountaineering community prepares to celebrate the 70th anniversary of the conquest of Mount Everest, there is growing concern about temperatures rising, glaciers and snow melting, and weather getting harsh and unpredictable on the world's tallest mountain. By Binaj Gurubacharya. SENT: 710 words, photos.
————————————————————————-
MORE ON RUSSIA-UKRAINE WAR
————————————————————————-
RUSSIA UKRAINE WAR-MILITARY AID — Defense Secretary Lloyd Austin says that European allies are developing a coordinated program to train Ukrainian forces on the F-16 fighter jet. But Pentagon leaders warn that it will be a costly and complex task and won't be a magic solution to the war. SENT: 800 words, photos.
UKRAINE PRESIDENT-COMMENCEMENT — Ukrainian President Volodymyr Zelenskyy delivered a surprise commencement address via livestream at Johns Hopkins University in Baltimore on Thursday. SENT: 430 words, photos.
———————
MORE NEWS
———————
LIGHTHOUSE-GIVEAWAYS — Ten lighthouses that for generations have stood like sentinels along America's shorelines protecting mariners from peril and guiding them to safety are being given away at no cost or sold at auction by the federal government. SENT: 530 words, photos.
WRONGFUL-CONVICTION-MAN-FREED — A California man who spent 33 years in prison for attempted murder has been declared innocent and freed, the Los Angeles County district attorney has announced. SENT: 360 words, photos.
ROMEO AND JULLIET LAWSUIT — A Los Angeles County judge has said she will dismiss a lawsuit that the stars of 1968's "Romeo and Juliet" filed over the film's nude scene, finding that their depiction could not be considered child pornography and they filed their claim too late. SENT: 570 words, photo.
PERU-COCAINE-NAZI-FLAG — Peruvian anti-drug police have seized 58 one-kilo packages of cocaine bearing a picture of a Nazi flag on the outside and the name Hitler printed in low relief. SENT: 210 words, photo.
NAVY-SEAL DEATH — The training program for Navy SEALs is plagued by widespread medical failures, poor oversight and the use of performance enhancing drugs that have increased the risk of injury and death to candidates seeking to become an elite commando, according to a highly critical new investigation triggered by the death of a sailor last year. By Lolita C. Baldor. SENT: 1,180 words, photo.
——————————————————-
WASHINGTON/POLITICS
———————————————————
BIDEN-ANTISEMITISM — President Joe Biden has announced what he said is the most ambitious and comprehensive undertaking by the U.S. government to fight hate, bias and violence against Jews, outlining more than 100 steps the administration and its partners can take to combat an alarming rise in antisemitism. SENT: 800 words, photo, audio.
ELECTION 2024-PENNSYLVANIA-SENATE — A hard-right Pennsylvania state lawmaker said Thursday night that he will not challenge Democratic Sen. Bob Casey, leaving the GOP field wide open as Republican Party officials try to recruit a strong candidate in the moderate battleground state to help capture a Senate majority in 2024. SENT: 690 words, photos.
MINNEOSOTA-LYFT-UBER — Gov. Tim Walz has vetoed a bill that would have mandated higher pay and job security for Lyft and Uber drivers in Minnesota, saying the legislation wasn't ready to become law. SENT: 610 words, photos.
———————
NATIONAL
———————
SUPREME-COURT-WETLANDS — The U.S. Supreme Court has stripped federal agencies of authority over millions of acres of wetlands, weakening a bedrock environmental law enacted a half-century ago to cleanse the country's badly polluted waters. SENT: 1,080 words, photos.
MISSISSIPPI-POLICE-INDICTMENT — Three former police officers who were indicted by a Mississippi grand jury joked around about a man who died in their custody, with one of them questioning whether to call an ambulance for the man immediately, body-camera footage shows. SENT: 860 words, photos, video, audio.
CALIFORNIA-DANGEROUS-RIVERS — California rivers fed by this winter's massive Sierra Nevada snowpack have been turned into deadly torrents, drawing warnings from public safety officials ahead of the Memorial Day weekend's traditional start of outdoor summer recreation. SENT: 840 word, photos.
——————————————
INTERNATIONAL
—————————————-
HUNGARY-CHINESE-BATTERY-FACTORY — Residents, environmentalists and opposition politicians in eastern Hungary are worried that a sprawling battery factory will exacerbate existing environmental problems and hit the country's precious water supplies. SENT: 1,190 words, photos.
AFGHANISTAN-WOMEN — Two top rights groups have slammed the severe restrictions imposed on women and girls by the Taliban in Afghanistan as gender-based persecution, which is a crime against humanity. SENT: 590 words, photos.
POLYGAMOUS-SECT-LEADER-INDICTED — Members of a small polygamous group accused of child sex abuse of underage girls who the group's leader claimed as brides are expected to appear in federal court. SENT: 510 words, photo.
INDIA-CHEETAHS — Three cheetah cubs born to a big cat that was brought to India from Africa last year died in central India's Kuno National Park in the past week, forest officials said, as a heat wave in the region sent temperatures soaring. SENT: 330 words, photos.
VENEZUELA-GOLD-MINING-PHOTO-GALLERY — A proliferation of gold mines in Venezuela offers grueling, dangerous work. SENT: 340 words, photos.
———————————————
HEALTH & SCIENCE
———————————————
MED-LONG-COVID — A U.S. study suggests 1 in 10 people are getting long COVID after an omicron infection. The National Institutes of Health is studying nearly 10,000 U.S. adults to help better understand why some people suffer debilitating health problems that can last for months or years after even a mild case of COVID-19. SENT: 490 words, photos, audio.
VIRUS OUTBREAK-PILL — U.S. health regulators have given full approval to Pfizer's COVID-19 pill Paxlovid. Thursday's action means the drug has now been fully vetted by the U.S. government and can remain on the market indefinitely. SENT: 390 words, photo.
————————————————
BUSINESS/ECONOMY
————————————————
FINANCIAL MARKETS — Asian markets were mixed as a deadline loomed for Congress to reach a deal on the U.S. government debt or face a potentially calamitous default. SENT: 680 words, photos, audio.
HYUNDAI-LG-BATTERY-PLANT-GEORGIA — Hyundai and LG Energy Systems announced Thursday they will build a $4.3 billion electric battery plant on the site of Hyundai Motor Group's new electric vehicle assembly plant in southeast Georgia. SENT: 640 words. photo.
FORD-TESLA — All of Ford Motor Co.'s current and future electric vehicles will have access to about 12,000 Tesla Supercharger stations in the U.S. and Canada starting next spring. SENT: 430 words, photos.
CHINA-TRADE — Commerce Secretary Gina Raimondo and her Chinese counterpart, Wang Wentao, expressed concern Thursday about policies of each other's governments following Chinese raids on consulting firms and U.S. curbs on exports of semiconductor technology, their governments say. SENT: 400 words, photos.
——————————————-
ENTERTAINMENT
———————————————
THE-STREAM — Sure, lots of folks are eagerly anticipating this Sunday's "Succession" finale. But what if you haven't followed the Roy family drama? There's plenty of new don't miss new television, movies, music and games headed to a device near you. SENT: 1,110 words, photos.
BOOKS-JAMES-M-CAIN — A rare James M. Cain story, "Blackmail" is featured in the new issue of Strand Magazine, a quarterly which has unearthed obscure works by Ernest Hemingway, William Faulkner and many others. SENT: 540 words.
CANNES-PHOTO-GALLERY-FLEETING-GLIMPES — The Cannes Film Festival, a blink-and-you'll-miss-it blur, can never be seen in full. Though a wide-screen spectacular, Cannes is often spied only in fleeting glimpses. SENT: 150 words, photos.
———————
HOW TO REACH US
———————
At the Nerve Center, Vincent K. Willis can be reached at 800-845-8450 (ext. 1600). For photos, (ext. 1900). For graphics and interactives, ext. 7636. Expanded AP content can be obtained from AP Newsroom. For access to AP Newsroom and other technical issues, contact [email protected] or call 844-777-2006.