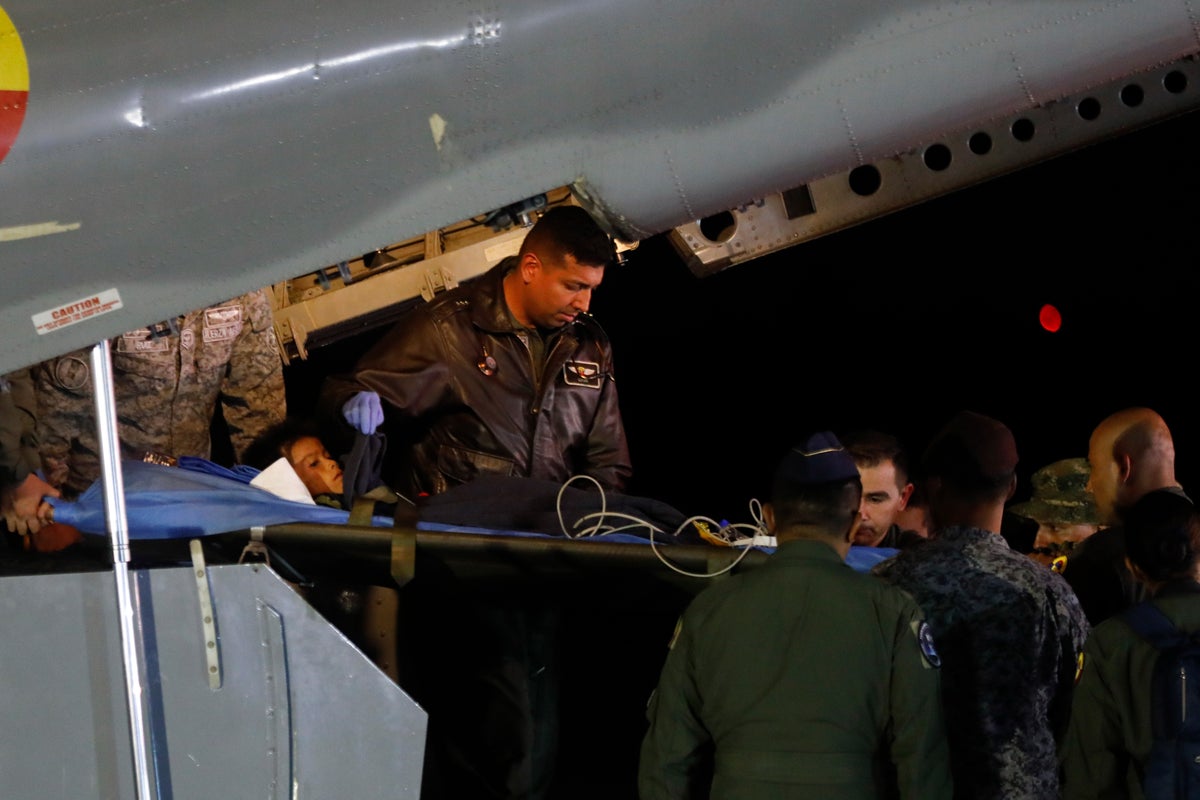 Here are the AP's latest coverage plans, top stories and promotable content. All times EDT. For up-to-the minute information on AP's coverage, visit Coverage Plan. And get a heads-up on top stories coming this weekend in the Weekend Lookahead Digest.
—————————
ONLY ON AP
—————————-
REDISTRICTING-BALANCE-OF-POWER — Democrats have for years bemoaned partisan redistricting plans that helped Republicans win far more congressional seats than expected. But that advantage has disappeared. In the first elections held with 2020 census data, Democrats battled back with their own gerrymandering that shaped districts to their advantage and essentially evened the outcome. By David A. Lieb. SENT: 1,300 words, photos. With REDISTRICTING-BALANCE-OF-POWER-LAWSUITS — New voting districts could change again in some states before the 2024 elections (sent).
———————————
TOP STORIES
———————————-
ELECTION 2024-TRUMP — Donald Trump is set to make his first public appearances since his federal indictment. He is speaking Saturday to friendly Republican audiences in Georgia and North Carolina as he seeks to rally his supporters to his defense. By Bill Barrow. SENT: 920 words, photos. UPCOMING: 1,100 words after events: 2:30 p.m. speech in Georgia, 7:10 p.m. speech in North Carolina.
TRUMP-CLASSIFIED DOCUMENTS-CONGRESS — Part of Donald Trump's defense is well underway in the halls of Congress, where Republicans have been preparing for months to wage an aggressive counter-offensive against the Justice Department. By Mary Clare Jalonick and Farnoush Amiri. SENT: 1,140 words, photos.
COLOMBIA-PLANE-CRASH-CHILDREN — Four Indigenous children survived an Amazon plane crash that killed three adults and then wandered on their own in the jungle for 40 days before being found alive by Colombian soldiers. By Manuel Rueda. SENT: 680 words, photos, video.
LEARNING-TO-READ — Exiting from the pandemic, the assumption might be students who returned quickly to in-person learning might be the least scathed academically. But the upheaval still took a toll, even in tiny rural communities like Columbus, Kansas. Three years later, an elementary school teacher has more third graders than ever who are reading below grade level. Third grade typically is the last year students are taught to read. By Heather Hollingsworth. SENT: 1,810 words, photos. This story moved as the Sunday spotlight.
GREY-TEAM-VETERANS-CENTER — A Florida organization is helping veterans with post-traumatic stress disorder and other mental and physical ailments get back into the civilian world. The Boca Raton-based Grey Team has worked with more than 700 veterans since its founding seven years ago. The center uses a 90-day program of exercise and high-tech machines to help the veterans. By Terry Spencer. SENT: 930 words, photos.
BOSTON-PRIDE — The biggest Pride parade in New England returns to Boston after a three-year hiatus, with a fresh focus on social justice and inclusion rather than corporate backing. By Steve LeBlanc. SENT: 640 words, photos.
———————————-———————————-———————-
MORE ON TRUMP-CLASSIFED DOCUMENTS
———————————-———————————-———————-
TRUMP-CLASSIFIED DOCUMENTS-LEGAL TAKEAWAYS — The federal indictment against Donald Trump accuses the former president of illegally hoarding classified documents at his Florida estate after leaving the White House in 2021, and then scheming and lying to thwart government efforts to recover them. Justice Department prosecutors brought 37 felony counts against Trump in their indictment. SENT: 1,020 words, photos.
TRUMP-CLASSIFIED DOCUMENTS-KEY MOMENTS — The criminal indictment against Donald Trump includes allegations that he stored classified documents in a bathroom and shower at his Florida club. SENT: 780 words, photos, video.
TRUMP-CLASSIFIED DOCUMENTS-TIMELINE — The 49-page federal indictment of former President Donald Trump lays out a stunning timeline of events, detailing allegations that he not only mishandled sensitive material, but also took steps to hide records and impede investigators. SENT: 1,910 words, photos, audio.
———————————-———————————-———————-
MORE ON RUSSIA-UKRAINE WAR
———————————-———————————-———————-
RUSSIA-UKRAINE-WAR-HUMANITARIAN-HELP — The humanitarian situation in Ukraine is "hugely worse" than before the Kakhovka dam collapsed, the U.N.'s top aid official has warned. Undersecretary-General Martin Griffiths says an "extraordinary" 700,000 people are in need of drinking water and warned that the ravages of flooding in one of the world's most important breadbaskets will almost inevitably lead to lower grain exports, higher food prices around the world, and less to eat for millions in need. SENT: 840 words, photos.
RUSSIA-UKRAINE-WAR — Thousands of people are believed to be trapped by floodwaters across a swath of Ukraine after a catastrophic dam collapse. Officials say that more than 6,000 people have been evacuated from dozens of inundated cities, towns and villages on both sides of the river. But the true scale of the disaster remains unclear for a region that was once home to tens of thousands of people. At least 14 people have died in the flooding. By Illia Novikov, Yuras Karmanau and Hanna Arhirova. SENT: 1,100 words, photos.
——————————
MORE NEWS
——————————
LIVING-UNDERWATER-RECORD — A university professor who spent 100 days living underwater at a Florida Keys lodge for scuba divers has resurfaced and raised his face to the sun for the first time since March 1. SENT: 360 words, photos, audio.
OPIOID SETTLEMENT-NEW-MEXICO — New Mexico has settled with Walgreens for $500 million over the pharmacy chain's role in distributing highly addictive prescription painkillers. SENT: 270 words.
SNOWBANK-BODY-MURDER-FOR-HIRE — The Colorado man who prosecutors say abducted and killed a Vermont man as part of an international murder for hire conspiracy has pleaded guilty in federal court to charges that could land him in prison for life. SENT: 220 words photo.
JAPAN-AIRPORT-RUNWAY-CLOSED — Two passenger planes bumped into each other on a runway at a major Tokyo airport but no injuries were reported, Japanese media reports say. SENT: 160 words, photos.
SOMALIA-HOTEL-ATTACK — Security forces in Somalia have ended an hourslong extremist attack on a beachside hotel in the capital, Mogadishu, state media reports. There was no immediate word on any deaths. SENT: 130 words, photos.
———————————————————
WASHINGTON/POLITICS
—————-—————————————-
REALITY-SHOW-LEGISLATURE — Mention televised legislative debates, and what may come to mind are stuffy, policy-wonk discussions broadcast by C-SPAN. This year's Nebraska Legislature was more like a reality TV show, with culture-war rhetoric, open hostility among lawmakers, name-calling, yelling and more. SENT: 940 words, photos.
BIDEN — President Joe Biden has traveled to the recently renamed Fort Liberty in North Carolina to sign an executive order that aims to bolster job opportunities for military and veteran spouses whose careers are often disrupted by their loved ones' deployments. SENT: 780 words, photos.
CONGRESS-FAA-AIRFARES — Lawmakers are considering rolling back an Obama-era rule that requires airlines to show the total price of a ticket upfront in advertising, while also tweaking training requirements for airline pilots and making other changes in a massive bill covering the Federal Aviation Administration. SENT: 540 words, photos, audio.
BORDER-PATROL-CHIEF — The Biden administration has named U.S. Border Patrol veteran Jason Owens to lead the agency, replacing retiring chief Raul Ortiz at a time of intense political scrutiny over the administration's immigration policies. SENT: 370 words, photo.
————————
NATIONAL
————————
BUILDING-COLLAPSE-IOWA-WARNINGS — It seems everyone from the structural engineer to city officials to tenants had concerns about the 116-year-old Davenport apartment building. But no one ordered residents out, and it was only when a section of the six-story building tumbled to the ground on May 28 that everyone seemed to connect the dots. By then, three men were dead, about 50 tenants were left homeless and the city was faced with one of its taller buildings at risk of crumbling in the heart of its downtown. SENT: 1,410 words, photos.
GARDENING-SMOKE — Smoke from hundreds of wildfires burning in Canada drove down air quality across swaths of the Eastern U.S. this week, a problem all too familiar in many Western states. In the New York City suburbs where I live, the air became smoggy and orange, categorized for a time by monitoring agencies as "hazardous." SENT: 590 words, photos.
LOS-ANGELES-POLICE-FATAL-SHOOTING — A Los Angeles police sergeant and five officers broke department policy when they opened fire last year on an armed man who refused to follow officers' commands, killing him, a police commission has found. SENT: 620 words, photos.
POLICE-SHOOTING-COLORADO — A Black teen fatally shot by an officer was armed with a pellet gun and not a semiautomatic handgun, police in suburban Denver have revealed. SENT: 560 words, photo.
SCHOOL SHOOTING-FLORIDA DEPUTY — A police officer who rushed into a high school building during the 2018 Parkland shooting has testified that a sheriff's deputy outside confirmed that the shooter was upstairs. SENT: 490 words, photo, audio.
—————————————-
INTERNATIONAL
—————————————
SOUTH-AFRICA-WILDLIFE-ART-EXHIBIT — Often depicted as an integral feature of the continent, African wildlife, from iconic big beasts to its vast array of species, continues to attract millions of foreign travelers every year. SENT: 750 words, photos.
UNITED-NATIONS-MALI — Attackers killed one U.N. peacekeeper and seriously injured eight others in Mali's northern Timbuktu region, an area where extremists continue to operate, the United Nations say. SENT: 430 words.
NICARAGUA-CRACKDOWN — The government of Nicaragua has announced it has confiscated properties belonging to 222 opposition figures who were forced into exile in February after being imprisoned by the regime of President Daniel Ortega. SENT: 330 words, photo.
PAKISTAN-BUDGET — Pakistan's cash-strapped government has presented its draft for the national budget, allocating funds to fight climate change despite staggering $30 billion in losses from last summer's devastating floods. SENT: 310 words, photos.
TAIWAN-COSTGUARD-DRILLS — Taiwanese President Tsai Ing-wen on Saturday said the self-ruled island would work to improve its rescue and defense capabilities with new technologies, adding that strengthening Taiwan is key to maintaining peace. SENT: 290 words, photos.
GUATEMALA-MIGRANT-CENTERS — Migrant transit centers fiananced by the United States will be set up in Guatemala to receive applications from Central American citizens seeking to apply for work visas, family reunifications or refugee status, an official says. SENT: 250 words.
———————————————
HEALTH & SCIENCE
———————————————-
MED—ALZHEIMER'S DRUG — Health advisers have unanimously backed the full approval of a closely watched Alzheimer's drug, a key step toward opening insurance coverage to U.S. seniors with early stages of the brain-robbing disease. SENT: 790 words, photo, audio.
—————————————————
BUSINESS/ECONOMY
—————————————————
FTX-BANKRUPTCY — The names of individual customers of collapsed cryptocurrency exchange FTX Trading can be permanently shielded from public disclosure, a Delaware bankruptcy judge has ruled. SENT: 620 words, photo.
AIRLINES-ANTITRUST — American Airlines and JetBlue say they should be allowed to keep selling tickets on each other's flights in the Northeast and link their frequent-flyer programs despite losing an antitrust trial over their partnership. SENT: 330 words, photo.
—————————————
ENTERTAINMENT
—————————————
MUSIC-REVIEW-JESS-WILLIAMSON — Jess Williamson's fifth solo album "Time Ain't Accidental" takes place on a lyrical road trip that unpacks America, its western landscapes, reckless storms and evanescent roots, transforming country music's legacy into her own search for redemption, writes Associated Press reviewer Amancai Biraben. SENT: 390 words, photo.
————————
SPORTS
————————
BKN–NBA FINALS — The mission for the Denver Nuggets was clear: Come to Miami, get two wins and head back home with a chance to finally become NBA champions. It's officially there for the taking. SENT: 930 words, photos.
HKN–STANLEY CUP PREVIEW — So, we've got ourselves a series. Less than 200 seconds from falling behind three games to none, the Florida Panthers have new life in the Stanley Cup Final against the Vegas Golden Knights. SENT: 700words, photos.
————————-
HOW TO REACH US
————————
At the Nerve Center, Vincent K. Willis can be reached at 800-845-8450 (ext. 1600). For photos, (ext. 1900). For graphics and interactives, ext. 7636. Expanded AP content can be obtained from AP Newsroom. For access to AP Newsroom and other technical issues, contact [email protected] or call 844-777-2006.