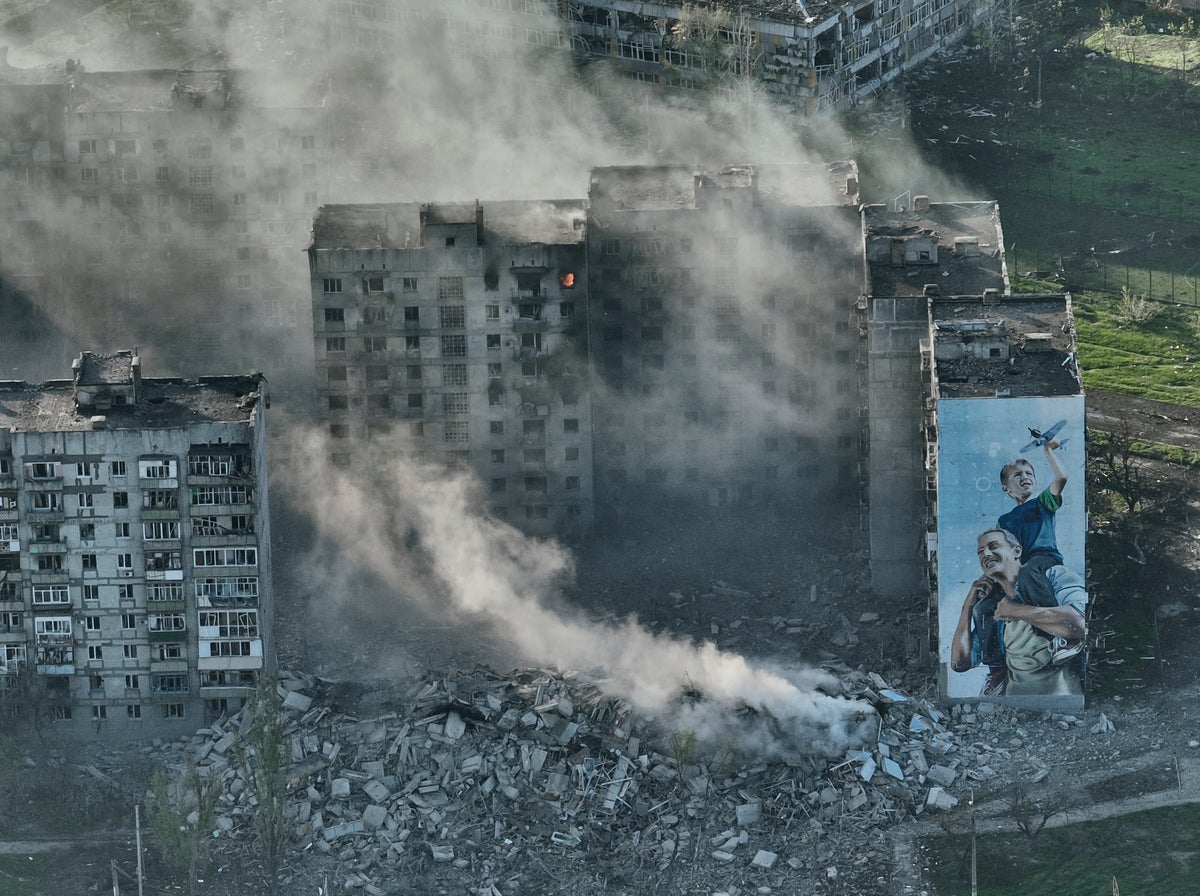 Here are the AP's latest coverage plans, top stories and promotable content. All times EDT. For up-to-the minute information on AP's coverage, visit Coverage Plan.
———————-
ONLY ON AP
———————-
AP POLL-BIDEN-ECONOMY — As President Joe Biden embarks on his reelection campaign, just 33% of American adults say they approve of his handling of the economy and only 24% say national economic conditions are in good shape, according to a new poll from The Associated Press-NORC Center for Public Affairs Research. By Aamer Madhani and Emily Swanson. SENT: 1,110 words, photos.
———————-
TOP STORIES
———————-
DEBT LIMIT — President Joe Biden and House Speaker Kevin McCarthy are set to meet at the White House at a pivotal moment as Washington works to strike a budget compromise and raise the nation's borrowing limit in time to avert a devastating federal default. Lisa Mascaro, Stephen Groves and Zeke Miller. SENT: 990 words, photos. With DEBT LIMIT-EXPLAINER — Why it's a struggle and how the impasse could end.
RUSSIA-UKRAINE-WAR-BAKHMUT — Although Russia claims it has won control of Ukraine's eastern city of Bakhmut, after a grinding nine-month conflict in which tens of thousands of fighters have died, top Ukrainian military leaders say the battle is not over. Ukrainian officials acknowledge they now control only a small part of Bakhmut. But, Ukraine says, their fighters' presence has played a key role in their strategy of exhausting the Russian military. By Samya Kullab. SENT: 1,110 words, photos.
BORDER PATROL-CUSTODY DEATH-EXPLAINER — The death in Border Patrol custody of an 8-year-old Panamanian girl is the second child migrant fatality in two weeks under government supervision, raising questions about how prepared authorities are to address medical emergencies of people arriving after an often-exhausting journey. By Elliot Spagat. SENT: 1,210 words, photos. With BORDER PATROL-CUSTODY DEATH — Girl sought medical help three times on day she died.
CONSIDERED VIEW-A CHANGING FLORIDA — For many of those who live in Florida, recent months have brought some changes — many linked to Gov. Ron DeSantis. Lost in all of the cultural and political changes are more traditional concerns like the rising cost of living. Rents are going sky-high. Property insurance, whether you live near the coast or not, is becoming less available and less affordable. SENT: 1,460 words, photos. Also see FLORIDA TRAVEL WARNINGS below.
ELECTION 2024-SCOTT — As he launches his presidential campaign, Sen. Tim Scott of South Carolina is officially wading into a GOP primary battle already largely dominated by two commanding figures: former President Donald Trump and Florida Gov. Ron DeSantis. By Meg Kinnard. SENT: 770 words, photos. UPCOMING: Event at 11 a.m.
UVALDE SCHOOL SHOOTING-THINGS TO KNOW — Fired officers. An ongoing criminal investigation. No new gun laws. A year after a gunman killed 19 students and two teachers at Robb Elementary School, what to know about the worst classroom shooting in U.S. history and the fallout from the slow and bungled police response. By Paul J. Weber. SENT: 590 words, photos.
——————————-
SPOTLIGHTING VOICES
——————————-
GUATEMALAN FASHION SHOW-PHOTO GALLERY — A Guatemala-born designer combined Indigenous weaving technique, modern clothing design and colorful history from her native country in a recent runway showcase in Brownsville, Texas. SENT: 260 words, photos.
———————-
MORE NEWS
———————-
CELTICS-HEAT — Heat roll past Celtics 128-102, take 3-0 lead in Eastern Conference finals. SENT: 990 words, photos.
EL SALVADOR-SOCCER STAMPEDE — Fans crash through gate at El Salvador soccer match in stampede that kills 12. SENT: 610 words, photos, video.
GENDER PRONOUNS-FIRINGS — Pronoun usage gets dorm directors fired at New York Christian college. SENT: 710 words, photo.
HOLLYWOOD WRITER'S STRIKE-BOSTON — Warner CEO booed at BU as writers' strike persists. SENT: 450 words, photos.
PHILIPPINES-POST OFFICE FIRE — Fire destroys main post office in Philippine capital. SENT: 180 words, photos.
———————-
NATIONAL
———————-
FLORIDA TRAVEL WARNINGS — The NAACP over the weekend issued a travel advisory for Florida, joining two other civil rights groups in warning potential tourists that recent laws and policies championed by Gov. Ron DeSantis and Florida lawmakers are "openly hostile toward African Americans, people of color and LGBTQ+ individuals." SENT: 550 words, photos.
———————-
INTERNATIONAL
———————-
PAPUA NEW GUINEA-US-SECURITY — The United States is scheduled to sign a new security pact with Papua New Guinea as it competes with China for influence in the Pacific. Papua New Guinea's location just north of Australia makes it strategically significant. SENT: 590 words, photos.
GREECE-ELECTIONS — Greek Prime Minister Kyriakos Mitsotakis, whose conservative party scored a landslide election victory but without the seats in Parliament to win outright, indicated he will seek a second election in a bid to consolidate victory without a coalition partner. SENT: 800 words, photos, video.
ISRAEL-PALESTINIANS — Three Palestinians were killed in an Israeli army raid in a West Bank refugee camp early, Palestinian health officials said, while the Biden administration sharply condemned Israel's latest act of settlement expansion. SENT: 660 words, photos.
SOUTH AFRICA SCHOOL TOILETS — More than 3,300 South African schools are still using pit toilets, and human rights groups have been pressuring the government to make a change. UPCOMING: 890 words, photos by 5 a.m.
————————-
HEALTH/SCIENCE
————————-
SPACEX-CREW LAUNCH — Saudi Arabia's first astronauts in decades rocketed toward the International Space Station on a chartered multimillion-dollar flight. By Aerospace Writer Marcia Dunn. SENT: 550 words, photos, video.
———————-
BUSINESS/ECONOMY
———————-
SOCIAL MEDIA-CAR THEFTS — A sharp uptick in thefts of Hyundais and Kias over the past two years has been linked to viral videos posted to TikTok and other social media platforms that teach people how to exploit a security vulnerability to steal the cars. UPCOMING: 1,330 words, photos by 5 a.m.
NABE-SURVEY OF ECONOMISTS — The Federal Reserve will make only modest progress in its fight against inflation for the rest of this year, even while keeping its benchmark interest rate at a 16-year high, a group of business economists predict in a survey. By Economics Writer Christopher Rugaber. SENT: 310 words, photo.
FINANCIAL MARKETS — Asian shares mostly drifted higher as investors fretted whether the U.S. government would be able to reach a deal to avoid a federal default. By Business Writer Yuri Kageyama. SENT: 550 words, photos.
———————-
SPORTS
———————-
MAJOR BROOKS — Brooks Koepka didn't sound terribly interested in measuring how much of an effect his PGA Championship victory would mean for LIV Golf, the Saudi-funded rival league. By Golf Writer Doug Ferguson. UPCOMING: 1,000 words, photos by 6 a.m.
VINICIUS JUNIOR-RACISM — Vinícius Júnior was subjected to racist abuse yet again with the Brazil soccer star saying Spain's LaLiga "now belongs to racists." By Sports Writer Tales Azzoni. SENT: 980 words, photos. With VINICIUS JUNIOR-RACISM-BRAZIL — Brazil's president, players support Vinícius.
———————-
HOW TO REACH US
———————-
At the Nerve Center, Jerome Minerva can be reached at 800-845-8450 (ext. 1600). For photos, Masayo Yoshida (ext. 1900). For graphics and interactives, ext. 7636. Expanded AP content can be obtained from AP Newsroom. For access to AP Newsroom and other technical issues, contact [email protected] or call 844-777-2006.