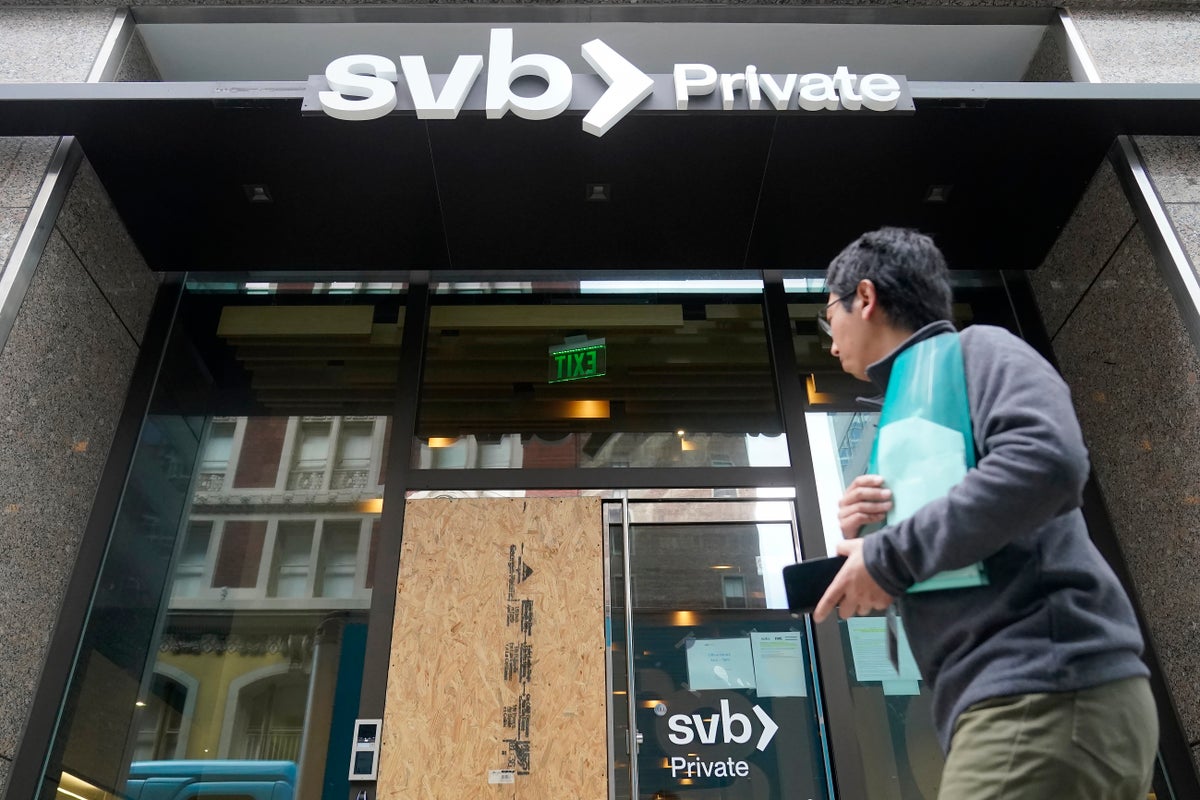 Here are the AP's latest coverage plans, top stories and promotable content. All times EDT. For up-to-the minute information on AP's coverage, visit Coverage Plan.
——————————
ONLY ON AP
——————————
INVESTIGATION-TRACKED-CHILD WELFARE — As part of a yearlong investigation, The Associated Press has obtained the data points underpinning several algorithms deployed by child welfare agencies to understand how they predict which children could be at risk of harm. Among the factors they use to measure a family's risk: race, poverty rates, disability status and previous child abuse or neglect complaints. By Sally Ho and Garance Burke. SENT: 3,240 words, photos. An abridged version of 1,150 words is also available.
——————————
TOP STORIES
——————————
BANK COLLAPSE-ANXIETY BEFORE THE RESCUE — After a frenetic weekend of round-the-clock briefings, U.S. policymakers took the audacious step of guaranteeing all the deposits of the failed Silicon Valley Bank, hoping to restore confidence in the financial system after the second-biggest bank failure in U.S. history. A look at how the plan came together. By Lisa Mascaro, Chris Megerian and Paul Wiseman. SENT: 1,020 words, photos, video. With BANK COLLAPSE-FEDERAL RESERVE — Fed criticized for missing red flags before bank collapse.
RUSSIA-UKRAINE-WAR — A Russian fighter jet struck the propeller of a U.S. surveillance drone over the Black Sea in a "brazen violation of international law," causing American forces to bring down the unmanned aerial vehicle, the United States said. But Russia insisted its warplanes didn't hit the MQ-9 Reaper drone. Instead, it said the drone maneuvered sharply and crashed into the water following an encounter with Russian fighter jets that had been scrambled to intercept it near Crimea. By Karl Ritter. SENT: 1,220 words, photos, videos. With UNITED STATES-RUSSIA-DRONE COLLISION-EXPLAINER.
HONDURAS-CHINA — Honduras President Xiomara Castro announced that her government will seek to establish diplomatic relations with China, which would imply severing relations with Taiwan. SENT: 880 words, photos.
SAN FRANCISCO REPARATIONS — Payments of $5 million to every eligible Black adult, the elimination of personal debt and tax burdens, guaranteed annual incomes of at least $97,000 for 250 years and homes in San Francisco for just $1 a family. These were some of the more than 100 recommendations made by a city-appointed reparations committee tasked with the thorny question of how to atone for centuries of slavery and systemic racism. By Janie Har. SENT: 1,030 words, photos.
INVOKING NAZI GERMANY — From the Ukraine war to American politics, invoking Nazi Germany rarely comes without controversy no matter where it pops up. The cases of two prominent people in the past week — BBC soccer presenter Gary Lineker and Pope Francis — are no exception. A look at how this often radioactive reference is perceived by those closest to the Holocaust itself. By National Writer Hillel Italie. SENT: 900 words, photos.
PAKISTAN-POLITICS — Supporters of former Prime Minister Imran Khan threw bricks at police who fought back with clubs and tear gas for a second day after officers tried to arrest Khan for failing to appear in court on graft charges. By Babar Dogar and Munir Ahmed. SENT: 550 words, photos, video.
————————
MORE NEWS
————————
PEOPLE-LINDSAY LOHAN — Lindsay Lohan announces pregnancy in Instagram post. SENT: 100 words, photo.
CONGRESS-SANTOS — U.S. Rep. Santos files paperwork for possible reelection bid. SENT: 280 words, photos.
CARTER-BIDEN — Biden says Jimmy Carter has asked him to deliver his eulogy. SENT: 500 words, photos.
HUMAN REMAINS-WAREHOUSE — Remains of 160 people found in Bay Area cremation warehouse. SENT: 350 words, photos.
——————————
WASHINGTON/POLITICS
——————————
DEMOCRATS-CAMPAIGN AIDE — Growing up Black in a majority white county in Georgia helped Quentin Fulks understand what Democrats had to do to win in a historically conservative state. SENT: 1,210 words, photos.
——————————
NATIONAL
——————————
NURSING HOMES-LIVING IN POVERTY — Across the U.S., hundreds of thousands of nursing home residents are locked in a wretched bind: Driven into poverty, forced to hand over all income and left to live on an allowance as low as $30 a month — an allowance Congress hasn't raised in decades. By National Writer Matt Sedensky. UPCOMING: 1,410 words, photos by 7 a.m. With NURSING HOMES-LIVING IN POVERTY-LOCALIZE IT.
ABORTION PILLS — A federal judge will hear arguments in a high-stakes court case that could threaten access to medication abortion and blunt the authority of U.S. drug regulators. SENT: 690 words, photos. UPCOMING: Hearing at 10 a.m.
WINTER WEATHER — A winter storm dumped heavy, wet snow in parts of the Northeast, causing tens of thousands of power outages, widespread school closings, dangerous driving conditions and a plane to slide off a taxiway. SENT: 930 words, photos, video.
——————————
INTERNATIONAL
——————————
SYRIA-RECONSTRUCTION — The recent deadly earthquake in Turkey and Syria which caused billions of dollars in damage is boosting the prospects of Syria's once widely shunned president return to the Arab fold but is not likely to jump-start large-scale reconstruction in the war-ravaged country in the foreseeable future. UPCOMING: 1,030 words, photos by 4 a.m.
UNITED STATES-STILL IN IRAQ-EXPLAINER — Twenty years after the U.S. invaded Iraq, in blinding explosions of shock and awe, American forces remain in the country in what has become a small but consistent presence to ensure an ongoing relationship with a key military and diplomatic partner in the Middle East. SENT: 1,050 words, photos.
SOUTH KOREA-JAPAN-YOON — South Korea's president wants to quickly overcome decades of lingering hostility left over from Japan's past colonial rule of the Korean Peninsula and forge a united front on North Korea's nuclear ambitions and other regional security and economic challenges facing the neighbors. SENT: 1,060 words, photos.
AUSTRALIA-NUCLEAR-SUBMARINES — Former Australian Prime Minister Paul Keating launched a blistering attack on his nation's plan to buy nuclear-powered submarines from the United States to modernize its fleet, saying "it must be the worst deal in all history." SENT: 530 words, photo.
INDIA-FASHION-PHOTO GALLERY — Behind the runway glamour, a fashion army at work. SENT: 370 words, photos.
——————————
BUSINESS/ECONOMY
——————————
FINANCIAL MARKETS — Asian stock markets rebounded after Wall Street stabilized following declines for bank stocks and U.S. inflation eased but stayed high. By Business Writer Joe McDonald. SENT: 610 words, photos.
HOUSING SLUMP-AFFORDABILITY — Homeownership is likely to remain a pipe dream for many Americans this spring homebuying season. By Business Writer Alex Veiga. UPCOMING: 1,090 words, photos by 5 a.m.
————-
SPORTS
————-
NCAA CAPSULES — Jamarius Burton made a go-ahead jumper with 10 seconds left and Pitt edged Mississippi State 60-59 in a back-and-forth First Four game that featured 21 lead changes — most in the NCAA Tournament in five years. Texas A&M-Corpus Christi held off Southeast Missouri State to earn the first NCAA Tournament win in program history. SENT: 350 words, photos.
DIAMOND SPORTS-BANKRUPTCY — Diamond Sports Group, the largest owner of regional sports networks, filed for Chapter 11 bankruptcy protection. By Sports Writer Joe Reedy. SENT: 440 words, photos.
META-JOB CUTS — Facebook parent Meta is slashing 10,000 jobs, about as many as the social media company announced late last year in its first round of cuts, as uncertainly about the global economy hits the technology sector particularly hard. SENT: 370 words, photos.
—————————————
ARTS/ENTERTAINMENT
—————————————
ALEC BALDWIN-SET SHOOTING — A special prosecutor who doubles as a state legislator is stepping down from her role in the manslaughter case against actor Alec Baldwin in the death of a cinematographer on a New Mexico film set. SENT: 320 words, photo.
——————————
HOW TO REACH US
——————————
At the Nerve Center, Jerome Minerva can be reached at 800-845-8450 (ext. 1600). For photos, Shuji Kajiyama (ext. 1900). For graphics and interactives, ext. 7636. Expanded AP content can be obtained from AP Newsroom. For access to AP Newsroom and other technical issues, contact [email protected] or call 844-777-2006.