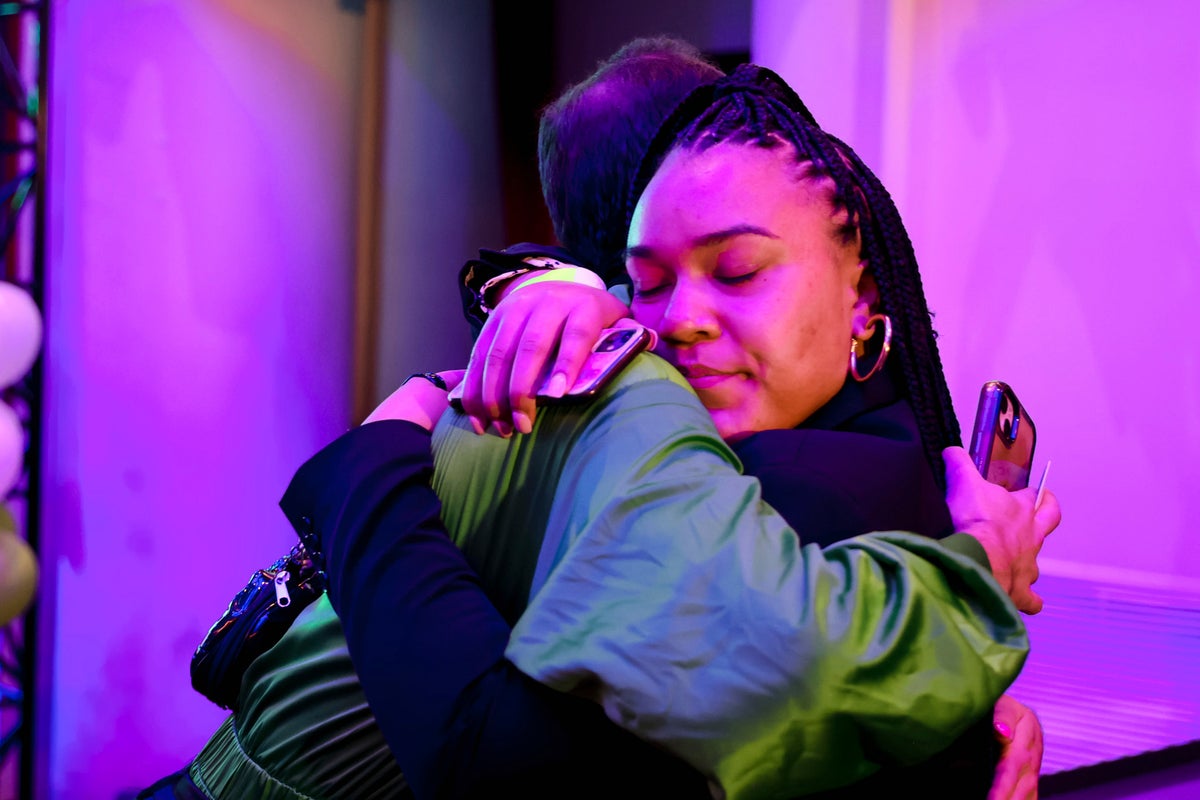 Here are the AP's latest coverage plans, top stories and promotable content. All times EST. For up-to-the minute information on AP's coverage, visit Coverage Plan.
——————-
ONLY ON AP
——————-
FBI-POLITICS — The FBI finds itself in a challenging moment as it conducts simultaneous investigations involving classified documents held by Donald Trump and President Joe Biden. In an interview with The Associated Press, FBI Director Christopher Wray acknowledges it is a tough time but downplays the impact that the "noise" had on the FBI's day-to-day work. By Eric Tucker and Del Quentin Wilber. SENT: 1,370 words, photos.
——————-
TOP STORIES
——————-
CHINA-US — President Xi Jinping's accusation that Washington is trying to hold China back reflects mounting frustration that Beijing's pursuit of prosperity and global influence is threatened by U.S. curbs on access to technology, support for Taiwan and other moves. By Joe McDonald. UPCOMING: 800 words by 3:30 a.m., photos.
CAPITOL RIOT-INVESTIGATION — Handed some 41,000 hours of Jan. 6 security footage, Fox News' Tucker Carlson has launched an impassioned new effort to explain away the deadly Capitol attack, linking the Republican Party ever more closely to pro-Trump conspiracy theories about the 2021 riot. By Lisa Mascaro, Mary Clare Jalonick and Farnoush Amiri. SENT: 1,280 words, photos, video. With VOTING MACHINES-DEFAMATION LAWSUIT — Fox Corp. Chairman Rupert Murdoch says 2020 election was fair: court filings.
BIDEN-CHINA-COVID — The Biden administration is preparing to relax COVID-19 testing restrictions for travelers from China as soon as Friday, according to two people familiar with the decision. By Aamer Madhani and Zeke Miller. SENT: 600 words, photo.
ELECTION 2023-OKLAHOMA-MARIJUANA — Oklahoma voters rejected the legalization of recreational marijuana, following a late blitz of opposition from faith leaders, law enforcement and prosecutors. Oklahoma would have become the 22nd state to legalize adult use of cannabis and join conservative states like Montana and Missouri that have approved similar proposals in recent years. By Sean Murphy. SENT: 580 words, photos.
MEXICO-MISSING AMERICANS — A road trip to Mexico for cosmetic surgery veered violently off course when four Americans were caught in a drug cartel shootout, leaving two dead and two held captive for days in a remote region of the Gulf coast before they were rescued from a wood shack, officials said. By Alfredo Peña, Fabiola Sánchez and Travis Loller. SENT: 810 words, photos, videos. With MISSING AMERICANS-MEDICAL TOURISM-EXPLAINER — Medical tourism: Traveling outside U.S. for care is common.
ARTIFICIAL INTELLIGENCE-BIG BUSINESS — Even if you haven't tried artificial intelligence tools that can write essays and poems or conjure new images on command, chances are the companies that make your household products are already starting to do so. But AI experts warn that businesses should carefully consider potential harms to customers, society and their own reputations before rushing to embrace these products. By Technology Writers Matt O'Brien and Haleluya Hadero. UPCOMING: 980 words, photo by 5 a.m.
——————————-
MORE ON RUSSIA-UKRAINE WAR
——————————-
RUSSIA-UKRAINE-WAR-BAKHMUT-EXPLAINER — The six-month battle for the Ukrainian city of Bakhmut has been the longest and bloodiest fight of the war so far. A look at Bakhmut, the battle and its possible consequences. SENT: 880 words, photos.
RUSSIA-UKRAINE-WAR-BLACKSMITH — A blacksmith in the eastern Ukrainian city of Donetsk is practically beating swords into ploughshares, and turning one man's trash into treasures. SENT: 200 words, photos.
——————-
MORE NEWS
——————-
FLIGHT ATTACK — How passengers teamed up to restrain man on chaotic flight. SENT: 680 words, photos, video.
TWITTER-MUSK-FIRING — Elon Musk apologizes after mocking laid-off Twitter employee. SENT: 410 words, photos.
OBIT-IAN FALCONER — Author Ian Falconer of "Olivia" books for children dies. SENT: 320 words.
EYEDROPS-RECALL — FDA: Two more eyedrop brands recalled due to risks. SENT: 280 words, photo.
————————-
WASHINGTON/POLITICS
————————-
CONGRESS-DC — Biden's support of a resolution to block new District of Columbia crime laws has split members of his own party amid rising concerns about crime in the nation's capital and other cities. SENT: 1,030 words, photo. UPCOMING: 1,100 words after vote, expected around 5 p.m.
——————-
NATIONAL
——————-
TRAIN-DERAILMENT-OHIO — Federal investigators are opening a wide-ranging investigation into one of the nation's biggest railroads following a fiery derailment on the Ohio-Pennsylvania border last month and several other accidents involving Norfolk Southern, including the death of a train conductor. SENT: 710 words, photos.
TEXAS EXECUTION — A Texas inmate convicted of fatally stabbing his estranged wife and drowning her 6-year-old daughter in a bathtub nearly 14 years ago was executed. SENT: 790 words, photos.
——————-
INTERNATIONAL
——————-
TAIWAN-CHINA-CUTTING INTERNET — Thousands of residents of Taiwan's outlying islands near the Chinese coast have been without the internet for the past month, and Taiwan's largest service provider claims China is to blame. SENT: 1,230 words, photos.
ISRAEL-PALESTINIANS — The Israeli army raided a home in a refugee camp in the occupied West Bank, triggering a battle that killed at least six Palestinians and wounded more than two dozen others, Palestinian health officials said. SENT: 1,090 words, photos.
COLOMBIA-MILITARY-WOMEN — For the first time in 25 years, Colombia has opened military service to women. SENT: 580 words, photos.
UNITED NATIONS-WOMEN AND PEACE — On the eve of International Women's Day, leading women's rights campaigners at the United Nations and the African Union and a Nobel Peace Prize laureate criticized male-dominated governments for excluding women from peace negotiations. SENT: 760 words, photo.
AFGHANISTAN-WOMEN'S RIGHTS — Since the Taliban takeover of Afghanistan, the country has become the most repressive in the world for women and girls, deprived of many of their basic rights, the United Nations said. SENT: 490 words, photos.
GEORGIA-PROTESTS — Georgian authorities used tear gas and water cannon outside the parliament building in the capital Tuesday against protesters who oppose a proposed law some see as stifling freedom of the press. SENT: 330 words, photos, video.
——————-
BUSINESS/ECONOMY
——————-
FINANCIAL MARKETS — Asian shares were mostly lower as investors fretted that the Federal Reserve might raise interest rates faster if pressure stays high on inflation. By Business Writer Yuri Kageyama. SENT: 750 words, photos.
BOURBON CRAZE — Buttery, smooth, oaky — these are characteristics of the best bourbons, qualities that a growing cult of aficionados is willing to pay an astonishing amount of money for, and to even bend or break laws. SENT: 1,130 words, photos.
——————-
SPORTS
——————-
ALL-FEMALE NBA BROADCAST — An all-female ensemble will produce Wednesday's game between the Dallas Mavericks and New Orleans Pelicans. By Sports Writer Pat Graham. UPCOMING: 700 words, photos by 6 a.m.
———————————
ARTS/ENTERTAINMENT
———————————
OSCARS-HOLLYWOOD'S FAVORITE VILLAIN — Hollywood's favorite villain is a self-styled disrupter, a social media savant and a visionary (allegedly). Yes, the industry's go-to bad guy is a tech bro. By Film Writer Jake Coyle. SENT: 1,170 words, photos.
——————-
HOW TO REACH US
——————-
At the Nerve Center, Jerome Minerva can be reached at 800-845-8450 (ext. 1600). For photos, Hiro Komae (ext. 1900). For graphics and interactives, ext. 7636. Expanded AP content can be obtained from AP Newsroom. For access to AP Newsroom and other technical issues, contact [email protected] or call 844-777-2006.