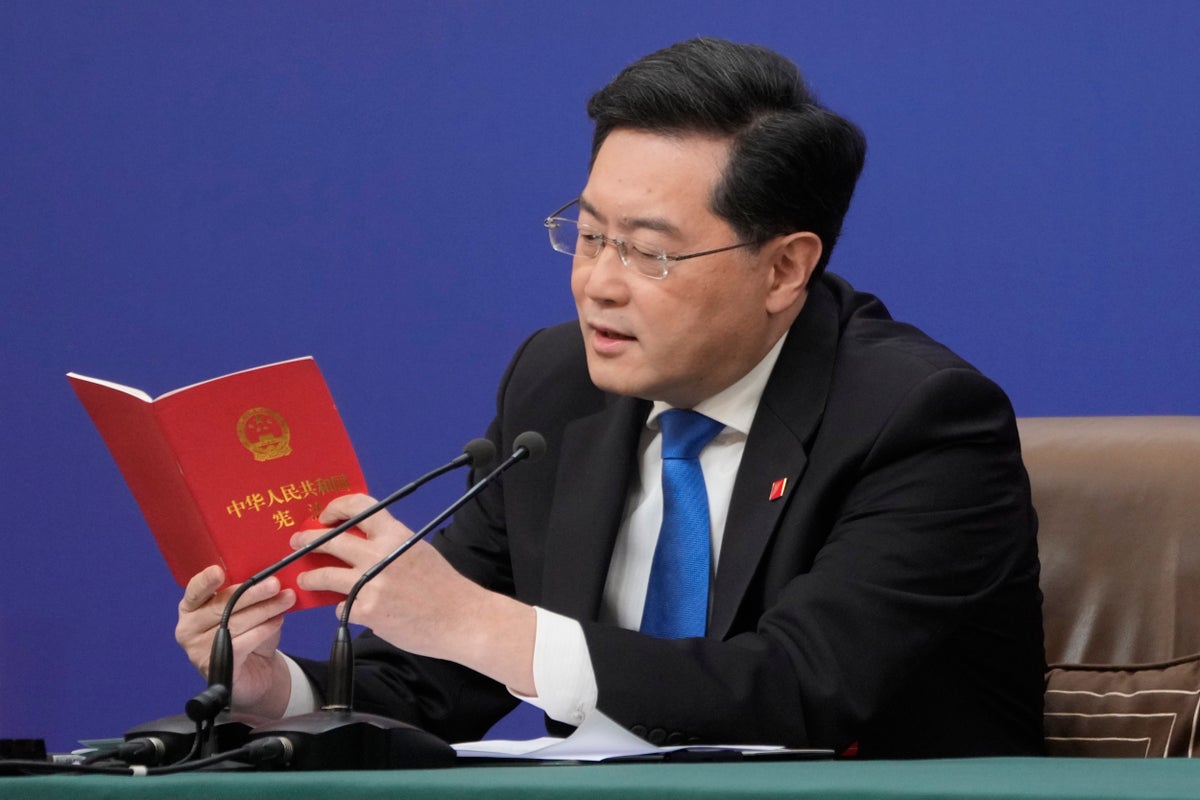 Here are the AP's latest coverage plans, top stories and promotable content. All times EST. For up-to-the minute information on AP's coverage, visit Coverage Plan.
————————–
ONLY ON AP
————————–
AP POLL-BORDER SECURITY — A new poll by The Associated Press-NORC Center for Public Affairs Research indicates that voters support adjusting the number of immigrants and asylum-seekers allowed into the country. About 4 in 10 U.S. adults say the level of immigration and asylum-seekers should be lowered, while about 2 in 10 say they should be higher. By Elliot Spagat. SENT: 1,140 words, photos.
————————–
TOP STORIES
————————–
CHINA-US-INFLUENCE — China has long been seen by the U.S. as a prolific source of anti-American propaganda but less aggressive in its influence operations than Russia. Now many in Washington think China is increasingly following Russia's lead — and there's growing concern the U.S. isn't doing enough to respond. By Nomaan Merchant and Matthew Lee. SENT: 1,330 words, photos.
CHINA-CONGRESS — In his first news conference since taking office, Chinese Foreign Minister Qin Gang lashed out at the United States over deteriorating bilateral relations and Washington's support for Taiwan. He also insinuated that America was undermining efforts for peace in Ukraine in order to extend the conflict for its own benefit. SENT: 1,100 words, photos. With CANADA-CHINA-FOREIGN INTERFERENCE — Canada to examine if China interfered in its 2021 elections.
FEDERAL RESERVE-POWELL-CONGRESS — If measures of the U.S. economy keep coming in hot, as they did in January, the Federal Reserve will likely have to raise interest rates even higher than it has already signaled — and keep them there longer — Chair Jerome Powell will likely warn in testimony to Congress. By Economics Writer Christopher Rugaber. SENT: 460 words, photo. UPCOMING: Testimony at 10 a.m.
MEXICO-MISSING AMERICANS — Four Americans who traveled to Mexico last week to seek health care got caught in a deadly shootout and were kidnapped by heavily armed men who threw them in the back of a pickup truck, officials from both countries said. By Alfredo Peña and Matthew Barakat. SENT: 950 words, photos.
ISRAEL-POLITICS-BREAKING RANKS — A contentious judicial overhaul plan that has divided Israel is also tearing at what Israeli Jews see as the country's main unifying force: the military. Some reservists are refusing to show up for duty and former commanders are defending their actions as a natural response to what they see as an impending change toward autocracy. By Tia Goldenberg. SENT: 1,070 words, photos.
FRANCE PENSION REFORMS PROTEST — Garbage collectors, utility workers and train drivers are among people walking off the job across France to show their anger at a bill raising the retirement age to 64, which unions see as a broader threat to the French social model. SENT: 630 words, photos.
————————–
MORE NEWS
————————–
ROCHESTER CONCERT STAMPEDE — Two dead in stampede at GloRilla concert in New York. SENT: 690 words, photos, video.
ALEC BALDWIN-SET SHOOTING — DA stands by prosecutor in Alec Baldwin set-shooting case. SENT: 430 words, photo.
FLIGHT ATTACK — Man accused of trying to open jet's door, attacking crew. SENT: 670 words, photo.
HAWAII-WHALE HARASSMENT — Hawaii cites man for harassing humpback whale, dolphins. SENT: 170 words.
————————–
WASHINGTON/POLITICS
————————–
FLORIDA-STATE OF THE STATE — Gov. Ron DeSantis is poised to position himself as a champion of conservative causes during a State of the State address that will likely be as much about his national ambitions as it is an assessment of Florida's status in the wake of a pandemic and a series of crippling storms. SENT: 920 words, photos.
SUPREME COURT-JACKSON HONORED — The naming of a Miami-area street for Justice Ketanji Brown Jackson brings to four the number of sitting Supreme Court justices similarly honored. UPCOMING: 1,100 words, photos by 6 a.m.
————————–
NATIONAL
————————–
POLICE TRAINING SITE-PROTEST — More than 20 people from around the country faced domestic terrorism charges after dozens in black masks attacked the site of a police training center under construction in a wooded area outside Atlanta where one protester was killed in January. SENT: 840 words, photos, video.
TRUMP-LEGAL TROUBLES — Donald Trump's former spokesperson Hope Hicks met with Manhattan prosecutors who are investigating hush-money payments made to women on the ex-president's behalf — the latest member of the Republican's inner circle to be questioned in the renewed probe. SENT: 720 words, photos.
US JOURNALIST-PIRATE KIDNAPPING — Two men have been convicted of helping Somali pirates who kidnapped a U.S. journalist for ransom in 2012 and held him for 2 1/2 years, prosecutors said. SENT: 390 words, photos.
ELECTION 2023-OKLAHOMA-MARIJUANA — Oklahoma voters will decide whether to make the state one of the most conservative to green light cannabis use for adults. SENT: 390 words, photos. UPCOMING: Polls open at 8 a.m. and close at 8 p.m.
BRIBERY INVESTIGATION-OHIO — Jurors hear closing arguments at the federal trial of former state House Speaker Larry Householder and former Ohio Republican Party chair Matt Borges, who are charged in a $60 million bribery scheme involving FirstEnergy that federal prosecutors call the largest corruption case in state history. SENT: 180 words.
TEXAS EXECUTION — A Texas inmate faces execution for fatally stabbing his estranged wife and drowning her 6-year-old daughter in a bathtub nearly 14 years ago. SENT: 630 words, photos. UPCOMING: Execution scheduled for 7 p.m.
————————–
INTERNATIONAL
————————–
KOREAS-TENSIONS — The influential sister of North Korea's leader warned that her country is ready to take "quick, overwhelming action" against the United States and South Korea, a day after the U.S. flew a nuclear-capable B-52 bomber in a demonstration of strength against the North. SENT: 670 words, photos.
SOUTH-KOREA-JAPAN — South Korean President Yoon Suk Yeol defended his government's contentious plan to use local funds to compensate Koreans enslaved by Japanese companies before the end of World War II, saying it's crucial for Seoul to build future-oriented ties with its former colonial overlord. SENT: 980 words, photos.
MALAYSIA-FLOODS — Malaysian police have found the body of a young woman trapped in a car that was swept away by rushing waters, the fifth death of seasonal floods that have also forced more than 43,000 people to flee their homes. SENT: 290 words, photos. With INDONESIA-LANDSLIDES — Indonesia landslides kill 10, rescuers search for 42 missing.
————————
HEALTH/SCIENCE
————————
JAPAN-ROCKET FAILURE — Japan's space agency intentionally destroyed a new H3 rocket moments into its launch after the ignition for the second stage of the country's first new rocket series in more than two decades failed. SENT: 400 words, photos.
————————-
BUSINESS/ECONOMY
————————-
FINANCIAL MARKETS — Asian shares were mixed in muted trading, as investors tried to digest a slew of economic data and awaited moves by the U.S. Federal Reserve. By Business Writer Yuri Kageyama. SENT: 700 words, photos. With AUSTRALIA-ECONOMY — Australia hikes key interest rate to 3.6% to fight inflation.
—————-
SPORTS
—————-
SAINTS-CARR — The New Orleans Saints say former Raiders quarterback Derek Carr has agreed to a four-year contract. By Sports Writer Brett Martel. SENT: 740 words, photos.
————————–
HOW TO REACH US
————————–
At the Nerve Center, Jerome Minerva can be reached at 800-845-8450 (ext. 1600). For photos, Shuji Kajiyama (ext. 1900). For graphics and interactives, ext. 7636. Expanded AP content can be obtained from AP Newsroom. For access to AP Newsroom and other technical issues, contact [email protected]org or call 844-777-2006.