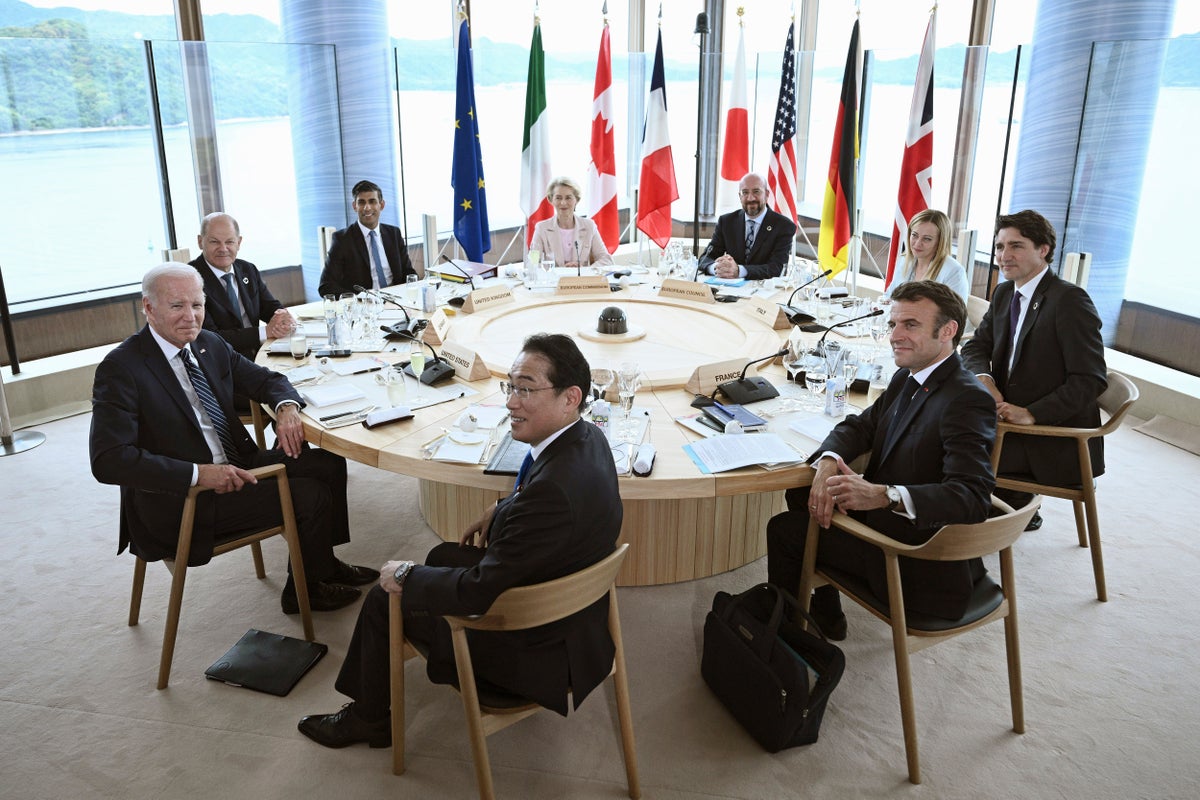 Here are the AP's latest coverage plans, top stories and promotable content. All times EDT. For up-to-the minute information on AP's coverage, visit Coverage Plan.
————————
ONLY ON AP
———————-
AP POLL-DEBT LIMIT — Most U.S. adults say they are highly concerned about the impact on the national economy if the U.S. debt limit is not increased and the government defaults on its loans. That's according to a survey from The Associated Press-NORC Center for Public Affairs Research. By Darlene Superville and Fatima Hussein. SENT: 710 words, photos.
——————————
TOP STORIES
——————————-
G7-SUMMIT — Leaders of the world's most powerful democracies have huddled to discuss new ways to punish Russia for its 15-month invasion of Ukraine, days before President Volodymyr Zelenskyy joins the Group of Seven summit in person on Sunday. By Zeke Miller, Foster Klug and Elaine Kurtenbach. SENT: 1,430 words, photos. With G7-JAPAN-EXPLAINER — G7 Hiroshima summit: Who's participating, what will be discussed? (sent)
G7-JAPAN-DEALING-WITH-CHINA — Leaders of the Group of Seven advanced economies are generally united in voicing concern about China. The question is how to translate that worry into action. Over the past two years, President Joe Biden's administration has sought to reframe the relationship with Beijing and build support among like-minded nations for a strong response to what officials in Washington and some other Western democracies say is "economic coercion." By Elaine Kurtenbach and Josh Boak. SENT: 1,080 words, photos.
RUSSIA-UKRAINE WAR-OFFENSIVE-EXPLAINER —Western allies have shipped billions of dollars worth of weapons systems and ammunition to Ukraine with an urgency to get the supplies to Kyiv in time for an anticipated spring counteroffensive. Now summer is just weeks away. While Russia and Ukraine are focused on an intense battle for Bakhmut, the Ukrainian spring offensive has yet to begin. By Tara Copp. SENT: 820 words, photos.
LEAKED DOCUMENTS-INVESTIGATION — A judge is poised to decide whether a Massachusetts Air National Guard member accused of leaking highly classified military documents will remain bars while he awaits trial. By Alanna Durkin Richer and Eric Tucker. SENT: 680 words, photo. UPCOMING: 900 words after 3:30 p.m. hearing.
TIK-TOK-BAN-MONTANA-LAWSUIT — Five TikTok content creators have filed a lawsuit seeking to overturn Montana's first-in-the-nation ban on the video sharing app, arguing the law is an unconstitutional violation of free speech rights. By Amy Beth Hanson, Haleluya Hadero and Matthew Brown. SENT: 760 words, photo, video, audio.
GLOBAL CYCLING GAINS-PANDEMIC — A Rutgers-Virginia Tech study of cycling in various North American and European cities finds that many new bikeways were built during the height of COVID-19. And these efforts were rewarded with increased cycling in places that undertook robust development. By Calvin Woodward. SENT: 1,250 words, photos.
—————————————-
SPOTLIGHTING VOICES
—————————————-
GRADUATION-INDIGENOUS-REGALIA — For Native American students, tribal regalia is often passed down through generations and worn at graduations to signify connection with the community. A bill vetoed earlier this month by Oklahoma Gov. Kevin Stitt, a Republican, would have allowed any public school student to wear traditional garments, feathers, beaded caps or stoles or similar objects of cultural and religious significance. SENT: 670 words, photos.
———————————————————
RUSSIA-UKRAINE WAR
———————————————————-
RUSSIA-UKRAINE-WAR — Russia fired 30 cruise missiles against different parts of Ukraine early Thursday in the latest nighttime test of Ukrainian air defenses, which shot down 29 of them, officials said. SENT: 905 words, photos.
———————-
MORE NEWS
———————-
AUSTRALIA-ELDERLY-WOMAN-POLICE-TASER — A 95-year-old woman is in critical condition, two days after police shocked her with a stun gun as she approached them with a walking frame and a steak knife in an Australian nursing home. SENT: 370 words, photo.
SUBWAY-CHOKEHOLD-DEATH — Jordan Neely, whose chokehold death on the New York City subway set off a debate about vigilantism, homelessness and public safety, will be mourned by his family at a church in Harlem. SENT: 290 words, photos.
BRIDE-KILLED — The alleged drunken driver who police say slammed into newlyweds riding along a South Carolina beach road now faces a wrongful death lawsuit alongside several establishments accused of overserving her on the night of the crash, which killed the bride. SENT: 430 words, photos.
IRAN-PROTESTS — Iran has executed three men accused of deadly violence during last year's anti-government protests despite objections from human rights groups. SENT: 70 words, photo.
RUSHDIE-PEN-GALA — Salman Rushdie made an emotional and unexpected return to public life Thursday night, attending the annual gala of PEN America and giving the event's final speech as he accepted a special prize, the PEN Centenary Courage Award, just nine months being after being stabbed repeatedly and hospitalized. SENT: 960 words, photos, video.
MACOA-CHINA-SECURITY-LAW — Echoing the crackdown on freedoms in neighboring Hong Kong, the former Portuguese colony of Macao has revised its legal system to face "new adverse challenges in terms of national security." SENT: 450 words, photo.
PACIFIC-EARTHQUAKE — A 7.7 magnitude earthquake in the far Pacific posed a tsunami threat for Vanuatu. The Pacific Tsunami Warning Center said waves up to 3 feet above tides were possible for Vanuatu, much lower than the initial forecast. SENT: 110 words.
NATIONAL DEBT-FACT-FOCUS — As political leaders work to reach a deal to raise the debt ceiling, some online have pointed fingers as to who is to blame for the national debt. One online claim argues former President Donald Trump increased the debt "more than any other President in American history." SENT: 820 words, photo.
JAIL-BEATING-GEORGIA — A grand jury in Georgia has indicted three former sheriff's officers in the beating of a Black jail detainee that was recorded by security cameras. SENT: 280 words, photos.
———————————————————
WASHINGTON/POLITICS
———————————————————-
TRANS-HEATLH-ABORTION-NEBRASKA — Conservative Nebraska lawmakers are expected to have just enough votes to pass a bill that combines a ban on gender-affirming care for minors with a 12-week abortion ban. SENT: 510 words, photo.
NAVY-SUICIDES — A Navy investigation prompted by a spate of suicides is recommending widespread improvements in housing, food, parking and internet for sailors as well as changes to mental health and other personnel programs. By Lolita C. Baldor. SENT: 1,200 words, photos.
CONGRESS-OVERSIGHT — Former FBI employees accused the bureau of politicization in congressional testimony a day after the agency disclosed that two of the men had seen their security clearances revoked over concerns about how their views of the Capital attack on Jan. 6, 2021, affected their work. SENT: 1,140 words, photos.
CONGRESS-OVERSIGHT-AFGHANISTAN — The chairman of the House Foreign Affairs Committee accepts a State Department offer to view a slightly redacted, classified cable from U.S. diplomats in Kabul sent shortly before the U.S. withdrawal from Afghanistan. SENT: 420 words, photo.
———————-
NATIONAL
———————-
WALKABLE-COMMUNITIES — With pedestrian deaths in the U.S. at their highest point in four decades, advocates and urban residents across the nation are urging city councils and state lawmakers to break from transportation spending focused on road improvements and car culture. From Salt Lake City to Atlanta to Charlotte, North Carolina, frustrated residents are pushing for increased funding for public transportation and improvements that make it safer to travel by bike or on foot. By Sharon Johnson. SENT: 1,080 words, photos, video.
SHOOTINGS-THE-INFORMATION-VACUUM — Social media has law enforcement facing increasing pressure to release information fast amid a surge of mass shootings. Police began to harness social media a decade ago, most famously after the Boston Marathon bombing in 2013. The four-day manhunt ended with police tweeting: "CAPTURED!!! The hunt is over." It was groundbreaking at the time. Now experts says it is the the basic level expected of law enforcement. The issue is that bystanders are sometimes shooting videos of the bodies and posting them online, as happened after a recent mall shooting in Texas. Heather Hollingsworth. SENT: 1,250 words, photos.
DISNEY-FLORIDA-CALIFORNIA-RELOCATION — The Walt Disney Co. says it's scrapping plans to build a new campus in central Florida and relocate 2,000 employees from Southern California to work in digital technology, finance, and product development. Thursday's announcement follows a year of attacks from Gov. Ron DeSantis and the Legislature, with Disney filing a First Amendment lawsuit against him and other officials last month. SENT: 590 words, photos.
KARI LAKE-ELECTION-CHALLENGE — The trial for Kari Lake's only remaining legal claim in her challenge to the Arizona governor's race ended without a decision. Attorneys for Gov. Katie Hobbs, Secretary of State Adrian Fontes and Maricopa County, who had yet to bring out any of their own witnesses, asked Judge Peter Thompson to go ahead and enter a judgment based on partial findings. SENT: 850 words, photos.
—————————————
INTERNATIONAL
—————————————-
KASMIR-G20-MEETING — As India prepares to host a meeting of tourism officials from the Group of 20 in the disputed region of Kashmir, authorities have deployed elite commandos and stepped up security in the region's largest city. SENT: 880 words, photos.
CHINA-CENTRAL-ASIA-SUMMIT — Chinese leader Xi Jinping promised to build more railway and other trade links with Central Asia and proposed jointly developing oil and gas sources at a meeting with the region's leaders that highlighted Beijing's growing influence. SENT: 310 words, photos.
ECUADOR-PRESIDENT — Ecuador's Constitutional Court has voted unanimously to reject multiple challenges that sought to invalidate President Guillermo Lasso's decree dissolving the opposition-led National Assembly as it tried to oust him in an impeachment trial. SENT: 720 words, photos.
SOUTH-KOREA-JAPAN — South Korea will send a 21-member team of government experts to Japan next week to visit the Fukushima nuclear power plant where they will review contentious Japanese plans to release treated but slightly radioactive water into the sea. SENT: 610 words, photos.
NEW-ZEALAND-HOSTEL-FIRE — New Zealand police have lowered the confirmed death toll from a Wellington hostel fire from six people to five, although they said they still haven't finished searching the dangerous four-story building. SENT: 450 words, photos.
HONG-KONG-PUBLISHER'S-TRIAL — A Hong Kong court has dismissed a jailed pro-democracy publisher's legal bid in his fight to use a British lawyer in his landmark national security trial. SENT: 490 words, photo.
AUSTRALIA-DOCTOR-FREED — An 88-year-old Australian doctor held captive by Islamic extremists in West Africa for more than seven years has been freed and has returned to Australia. SENT: 340 words, photo.
VATICAN-CAR — A car driven by someone with apparent psychiatric problems rushed one of the entrance gates of the Vatican. It managed to get past Swiss Guards and reach the Apostolic Palace courtyard before coming to a stop. SENT: 170 words, photos.
———————————————-
HEALTH & SCIENCE
———————————————-
SCI–COSTLY EL NINO — The natural burst of El Nino warming that changes weather worldwide is far costlier with longer-lasting expenses than experts had thought, averaging trillions of dollars in damage, a new study found. SENT: 940 words, photos.
————————————————
BUSINESS/ECONOMY
————————————————-
FINANCIAL MARKETS — Asian shares were mostly higher as hopes grow that the U.S. Congress will reach a deal to avoid defaulting on the nation's debt. SENT: 650 words, photos.
————————
SPORTS
————————
BKN–LAKERS-NUGGETS — Jamal Murray scored 23 of his 37 points in the fourth quarter and the Denver Nuggets beat the Los Angeles Lakers 108-103 to take a 2-0 lead in the Western Conference finals. SENT: 860 words, photos.
HKN–PANTHERS-HURRICANES — Matthew Tkachuk beat Frederik Andersen in the final seconds of the fourth overtime to give the Florida Panthers a 3-2 victory over the Carolina Hurricanes early Friday in Game 1 of the Eastern Conference final. SENT: 700 words, photos.
GLF–PGA CHAMPIONSHIP — So much talk about this PGA Championship has been the restoration project of Oak Hill. Equally astonishing is the restoration of Bryson DeChambeau. SENT: 1,130 words, photos.
———————-
HOW TO REACH US
———————-
At the Nerve Center, Vincent K. Willis can be reached at 800-845-8450 (ext. 1600). For photos, (ext. 1900). For graphics and interactives, ext. 7636. Expanded AP content can be obtained from AP Newsroom. For access to AP Newsroom and other technical issues, contact [email protected] or call 844-777-2006.