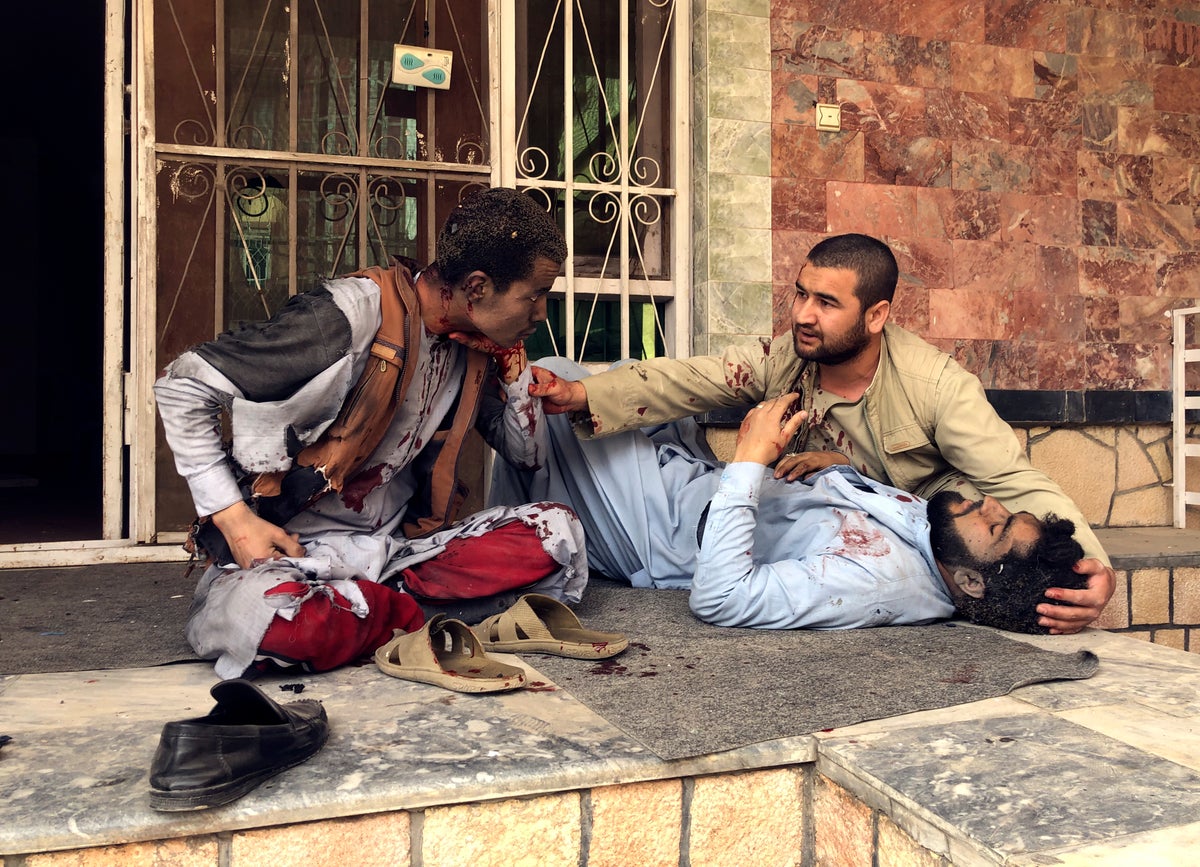 Here are the AP's latest coverage plans, top stories and promotable content. All times EST. For up-to-the minute information on AP's coverage, visit Coverage Plan.
——————————
TOP STORIES
——————————
SILICON-VALLEY-BANK-WASHINGTON — Can Washington come to the rescue of the depositors of failed Silicon Valley Bank? Is it even politically possible? That was one of the growing questions in Washington Sunday as policymakers tried to figure out whether the U.S. government — and its taxpayers — should bail out a failed bank that largely served Silicon Valley, with all its wealth and power. By Ken Sweet. SENT: 1,000 words, photos. With: SILICON-VALLEY-BANK — Treasury Secretary Janet Yellen says the federal government will not bail out Silicon Valley Bank, but is working to help depositors who are concerned about their money. By Chris Megerian. SENT: 730 words, photos.
CALIFORNIA BOAT DEATHS — Eight people were killed when two suspected smuggling boats overturned off the coast San Diego, and crews are searching Sunday for seven additional victims, authorities said. By Elliot Spagat and Gregory Bull. SENT: 400 words, photos. Developing.
UNITED STATES-SAUDI SECRECY — Officials who oversee Saudi Arabia's tens of billions of dollars in U.S. investments haven't been shy about flaunting their ties with top American business and political figures, down to wearing MAGA caps as they swing golf clubs alongside former President Donald Trump. But they've been silent about many of the details of these relationships. That's changing as a result of a U.S. lawsuit pitting the Saudi-owned golf tour upstart LIV against the PGA Tour. By Ellen Knickmeyer. SENT: 1,250 words, photos.
PENCE-TRUMP — Former Vice President Mike Pence on Saturday harshly criticized former President Donald Trump for his role in the Jan. 6 riot at the U.S. Capitol, widening the rift between the two men as they prepare to battle over the Republican nomination in next year's election. By Zeke Miller and Chris Megerian. SENT: 480 words, photo.
OSCARS — It's almost time to give the Academy Awards a big hand. OK, maybe we should rephrase that. A year after Will Smith strode on stage at the Dolby Theatre and slapped Chris Rock in the face, the Oscars will reconvene for a ceremony that will try to move past one of the most infamous moments in Academy Awards history. By Film Writer Jake Coyle. SENT: 810 words, photos. UPCOMING: Show runs from 8 to 11 p.m., with red carpet preceding; will be updated throughout the day and after close. With OSCARS-LIVE-UPDATES — Latest news from carpet, show; OSCARS-HOW TO WATCH — How to stream the Oscars live; OSCARS-GUIDE — Everything to know about the Oscars tonight; OSCARS-REHEARSALS — Glimpse into Oscars rehearsals shows stars at Dolby Theatre; OSCARS-CHANEL-DINNER — Hollywood stars spend Oscars eve at annual Chanel dinner (all sent). Stories coming during awards include OSCARS-FASHION; OSCARS-LIST; OSCARS-DIRECTOR; OSCARS-ACTRESS; OSCARS-ACTOR; OSCARS-DOCUMENTARY; OSCARS-ORIGINAL SONG; OSCARS-ANIMATED FEATURE; OSCARS-INTERNATIONAL FILM; OSCARS-SUPPORTING ACTRESS; OSCARS-SUPPORTING ACTOR; other separates on merits.
COLLEGE-SPORTS-COACHING-AFTER-ROE — The Supreme Court's decision to overturn Roe v. Wade has added another complicated layer for college coaches to navigate. More than a dozen states have enacted laws against abortion. For decades, that topic has not necessarily been a consideration for female athletes choosing colleges. Now it is. And if the athlete lives in a state with strict abortion laws and chooses to tell their coach, the coach may be put in a difficult position. By Will Graves. SENT: 1270 words, photos. This is the Monday Spotlight.
————————————————————————-
RUSSIA-UKRAINE WAR
————————————————————————
RUSSIA-UKRAINE-WAR — Russian forces have made progress in their campaign to capture the city of Bakhmut in eastern Ukraine, the focus of the war's longest ground battle, but their assault will be difficult to sustain without more significant personnel losses, British military officials said. SENT: 870 words, photos.
——————————
MORE NEWS
——————————
BBC-LINEKER — The BBC's sports coverage faced a second day of severe disruptions as dozens of staff refused to work in solidarity with top soccer host Gary Lineker, who was suspended by the broadcaster after he tweeted criticism of the British government's asylum policy. SENT: 860 words, photo.
MMA-POWER SLAP — An energetic crowd packed the UFC Apex in Las Vegas to watch Power Slap 1 on Saturday night. Four new champions were crowned in Dana White's latest creation. SENT: 580 words, photos
FILM-BOX OFFICE — Oscar weekend belonged to "Scream VI" in theaters, as the horror sequel notched a franchise-best $44.5 million in domestic ticket sales, according to studio estimates Sunday. SENT: 380 words, photos.
——————————————————
WASHINGTON/ POLITICS
———————————————————
ELECTION-2022-REPUBLICANS — While former President Donald Trump holds a tight grasp on much of the GOP base, there is a notable minority of Republican voters who don't consider themselves members of his "Make America Great Again" movement. SENT: 1,070 words, photos. ELECTION 2024-YOUNGKIN — Glenn Youngkin, who has risen quickly from political newcomer to Virginia governor and now potential 2024 presidential candidate, has scored a series of legislative victories that allies say could help him in a possible White House race. But some priorities have been stymied by the Democratic-majority state Senate. SENT: 1,110 words, photos.
————————-
NATIONAL
—————————
MEXICO-KIDNAPPED-AMERICANS-GRIEVING — The sister of an American killed in an attack in Mexico says that she and he both had a bad feeling about the trip. Zalandria Brown tells The Associated Press over the phone that her brother Zindell Brown was worried about taking his first trip outside the country. SENT: 700 words, photos.
CALIFORNIA STORMS — Wet, miserable weather continued across huge swaths of California as an atmospheric river that caused major flooding flowed eastward and makes way for another onslaught of rain and snow that could yet again pummel the beleaguered region as soon as Monday night. SENT: 660 words, photos.
MICHIGAN-GUNS — Democrats are expected to bring a sweeping 11-bill gun safety package before the Michigan Legislature this week, emboldened by their sweeping victories in statewide elections in November that gave them legislative control. Responding to two mass school shootings in 15 months, the party's leaders say it is only the beginning of gun reform in the state. SENT: 920 words, photos.
COCONUT-SHORELINE-PROTECTION — Coastal communities around the world are adding a tropical twist to shoreline protection, courtesy of the humble coconut. From the sands of the Jersey Shore to the islands of Indonesia, strands of coconut husk made into mats or rolled into logs are being incorporated into shoreline protection projects. SENT: 860 words, photos.
————————————-
INTERNATIONAL
—————————————
ARGENTINA-POPE-FRANCIS — When Jorge Bergoglio of Argentina became Pope Francis, much of his home country celebrated as if it had just won a soccer World Cup championship. A decade later, the first Latin American leader of the Catholic Church generates divided opinions and much less fervor. Observers say the pope is keeping his home country at arm's length to avoid being drawn into Argentina's political polarization of the past two decades. SENT: 980 words, photos.
GREECE-TRAIN-COLLISION-PROTESTS — Thousands of people protested against safety deficiencies in Greece's railway network nearly two weeks after dozens were killed in the country's deadliest train crash. SENT: 340 words, photos.
MOLDOVA-PROTESTS — Moldovan police said they have foiled a plot by groups of Russia-backed actors who were specially trained to cause mass unrest during a protest the same day in the capital against the country's new pro-Western government. SENT: 615 words.
IRAQ — Iraq's prime minister promised sweeping measures to tackle climate change — which has affected millions across the country — including plans to meet a third of the country's electricity demands using renewable energy. SENT: 370 words, photos.
KENYA-CRASH-TOURISTS-KILLED — Two foreign tourists, German and Swiss nationals, died after the vehicle they were traveling in veered off the road and overturned in Kenya's Maasai Mara national reserve, police said. SENT: 160 words.
CHINA-CONGRESS-CENTRAL-BANK-GOVERNOR — China has reappointed Yi Gang as head of the central bank in an effort to reassure entrepreneurs and financial markets by showing continuity at the top while other economic officials change during a period of uncertainty in the world's second-largest economy. SENT: 640 words, photo.
ISRAEL-PALESTINIANS — Israeli forces shot and killed three Palestinian gunmen who opened fire on troops in the occupied West Bank, the military said, the latest bloodshed in a year-long wave of violence in the region. SENT: 380 words, photos.
SYRIA-ISRAEL — Israeli missiles targeted a western Syria, wounding three Syrian soldiers, Syrian state media reports. SENT: 190 words, photo.
IRAN-US — Iran's top diplomat claimed that a prisoner swap was near with the U.S., though he offered no evidence to support his assertion. The U.S. immediately dismissed his comments as a "cruel lie." SENT: 420 words, photo.
MIGRATION-ITALY — Intelligence reports indicate nearly 700,000 migrants are in Libya awaiting an opportunity to set out by sea toward Italy, a lawmaker from Premier Giorgia Meloni's far-right party said. SENT: 500 words, photos.
FRANCE-PENSION-REFORMS — A contentious bill that would raise the retirement age in France from 62 to 64 got a push forward with the Senate's adoption of the measure amid strikes, protests and uncollected garbage piling higher by the day. SENT: 420 words, photos.
YEMEN-IRAN-SAUDI-ARABIA — Iran's mission to the United Nations says a breakthrough agreement with Saudi Arabia restoring bilateral relations will help bring a political settlement to Yemen's yearslong war, Iranian state media reported. SENT: 460 words.
NIGERIA-ARMED VIOLENCE — Gunmen killed at least 16 people during an attack in northwest Nigeria. The assailants stormed the Zangon Kataf Local Government Area in Kaduna state and opened fire after a confrontation with police at a checkpoint, Yabo Ephraim, the government said. SENT: 224 words.
————————————-
BUSINESS
————————————-
EARNS-ARAMCO — Oil giant Saudi Aramco reported earning $161 billion last year, claiming the highest-ever recorded annual profit by a publicly listed company and drawing immediate criticism from activists. SENT: 930 words, photos.
———————
SPORTS
———————
——————————————
HOW TO REACH US
——————————————
At the Nerve Center, Rob Jagodzinski can be reached at 800-845-8450 (ext. 1600). For photos, (ext. 1900). For graphics and interactives, ext. 7636. Expanded AP content can be obtained from AP Newsroom. For access to AP Newsroom and other technical issues, contact [email protected] or call 844-777-2006.