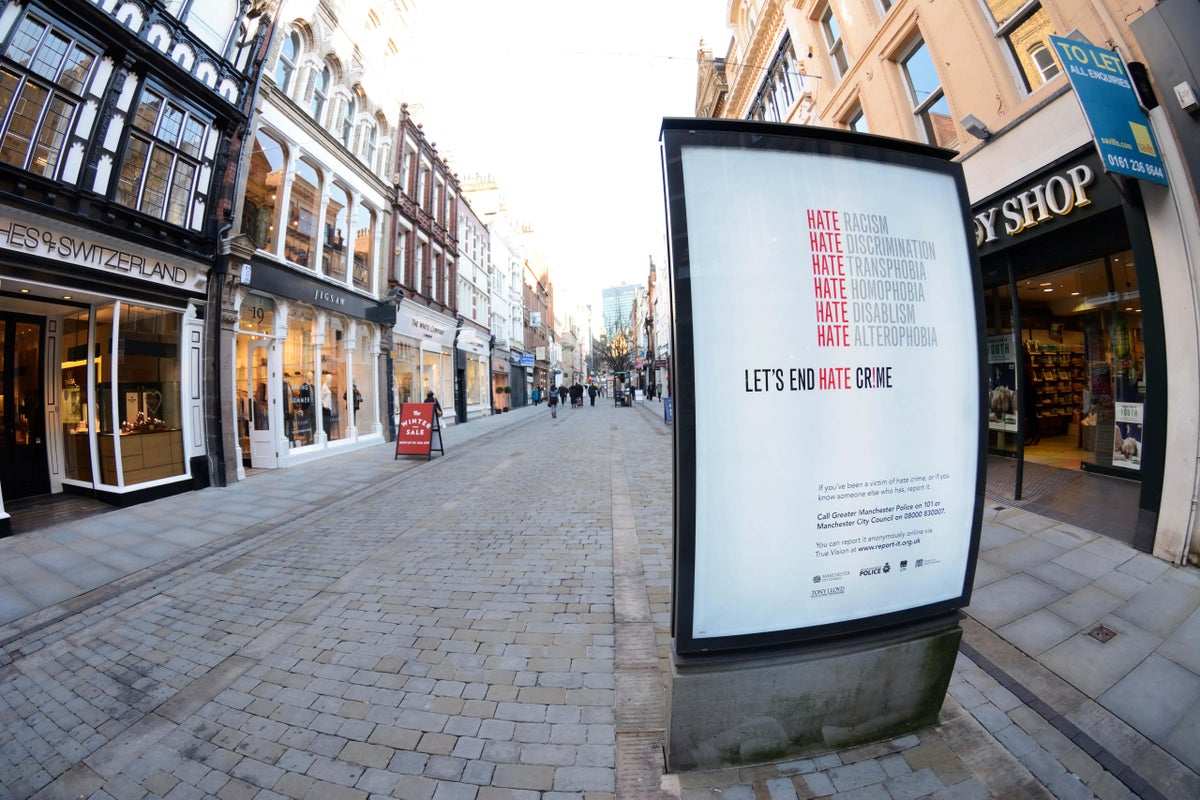 Police forces and the Government should tackle antisemitism and Islamophobia as "major drivers" of hate crime levels in England and Wales, an equality body has said.
Home Office figures show two in five (42%) cases of religious hate crime recorded by the police in both countries in 2021/22 were against Muslims. Around one in four (23%) were against Jewish people and 8% were against Christians.
The Equality and Human Rights Commission (EHRC) recommended in a new report: "Central and local government and police forces should take, and report on, action to tackle antisemitism and Islamophobia as major drivers of levels of hate crime."
It said the fact religious hate crime has not reduced from 2018 to the "same degree" as other such crimes should be addressed.
The watchdog identified "sudden increases" in racial or religiously motivated offences sparked by political or terrorist incidents.
Religious hate crimes recorded since Palestinian militant group Hamas attacked Israel last month were not taken into account in the report.
The Equality and Human Rights Monitor report is produced for Parliament every five years by the EHRC, which is the regulator of equality laws in Britain and the human rights watchdog for England and Wales.
It reflects challenges the country has faced since 2018, including the Covid-19 pandemic, rising cost of living prices and the conflict in Ukraine.
Schools have been urged to "take action to address" the "underperformance" of boys relative to girls in primary and secondary education.
The EHRC says employers should be required to publish plans to address any disparities identified in the recruitment, retention, progression and pay of disabled workers.
It has suggested a requirement for Government and health providers to look at the poorer physical and mental health experienced by transgender people.
Among the other findings are that a quarter of over-65s in the UK do not have access to the internet in their home.
Gay and lesbian Britons suffer twice as much domestic abuse (11.3%) compared to heterosexual people (5.1%), the report said.
Baroness Kishwer Falkner, who chairs the EHRC, said: "While we welcome the improvements made over the past five years, it is clear that substantial action is required in many areas.
"Our report and recommendations aim to inform discussions and decisions for years to come, promoting action and tangible progress.
"By addressing disparities that affect specific groups, we can collectively improve services and work towards a fairer society."
A Home Office spokesperson said: "There is no place for hate in our society and we condemn the recent antisemitic and anti-Muslim hate crimes that have been reported.
"Whilst recently published statistics – covering the year to March 2023 – show there has been an overall reduction in hate crimes recorded by police, any instance of hate crime is one too many.
"We expect the police to fully investigate all hate crimes and make sure the cowards who commit them feel the full force of the law."