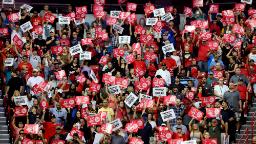 A version of this story first appeared in CNN Business' Before the Bell newsletter. Not a subscriber? You can sign up right here. You can listen to an audio version of the newsletter by clicking the same link.

Washington, DC
CNN
 — 

Organized labor in the United States is having a moment. From the automobile industry to Hollywood, US workers have gone on strike at rates not seen in years and even more could walk off the job to demand better contracts.
The public will continue to support them – that is until the strikes begin to affect Americans' daily lives.
A Gallup poll released in August showed that Americans have grown more supportive of labor unions, with 43% of those surveyed indicating they want unions to gain more power, up from a record low of 25% in a 2009 survey following the Great Recession. Americans are also developing a more positive view of unions, with 61% in the same poll believing unions help rather than hurt the US economy, the highest level since the 1990s.
Not only are unions enjoying increasing support – including from a sitting US president – but the strikes also seem to be working. The Writers Guild of America, with more than 11,000 members, recently settled its strike, securing better pay and protections for its members. And even without having to go on strike, the Teamsters union's threat to do so, which would have shaken the US economy to its core, significantly improved wages for part-time workers
Two unions of culinary workers and bartenders that represent 60,000 employees in Las Vegas and Reno voted last week to authorize a strike, and it doesn't seem like the United Auto Workers will be done striking any time soon.
Americans nowadays are siding with striking workers, unless those workers perform some kind of essential function, such as driving the bus they take to get to work in the mornings or piloting the plane that flies them to their hometown during the holidays.
"Support will continue to be high during the UAW strike because when it comes to cars, consumers have alternatives. Toyota is still going to produce and Honda is still going to produce," Andrew Flowers, labor economist at Appcast, told CNN. "It's when strikes affect your daily life that public sentiment could sour."
The effect on sentiment from essential workers walking off the job also depends on how long a strike lasts. Americans could be able to put up with some short-lived inconvenience.
Nationwide strikes in Germany earlier this year significantly disrupted public transportation, impacting hundreds of thousands of passengers at German airports. Germans were still supportive of the walkouts, but would Americans be as supportive in the same scenario?
Swiss multinational investment bank UBS says it is not aware of a probe by the US Department of Justice into suspected compliance-related missteps by its subsidiary Credit Suisse that reportedly allowed Russian clients to skirt sanctions, reports my colleague Eva Rothenberg.
"The recent reporting on an alleged probe by the US Department of Justice into sanctions-related compliance failures at Credit Suisse and UBS is inaccurate. We're not aware of such a probe," UBS told CNN in a statement. "UBS and CS have significantly and proactively reduced their Russia-related exposure."
According to a person familiar with the matter, UBS has been in touch with the DOJ regarding the reported probe.
The bank's reaction comes on the heels of a Bloomberg report, which cited anonymous people familiar with the matter and asserted that the Justice Department had briefed lawyers for UBS (UBS) about Credit Suisse's alleged involvement in sanctions violations.
CNN reached out to the Justice Department for comment but has not received a response.
Monday: S&P Global and the Institute for Supply Management release September surveys gauging economic activity in the US manufacturing sector. Fed officials Jerome Powell, Patrick Harker, Michael Barr, John Williams and Loretta Mester deliver remarks.
Tuesday: Earnings from McCormick. The US Labor Department releases August figures on job openings, quits, hires and layoffs. Atlanta Fed President Raphael Bostic delivers remarks.
Wednesday: S&P Global and the Institute for Supply Management release September surveys gauging economic activity in the US services sector. Fed Governor Michelle Bowman delivers remarks.
Thursday: Earnings from Constellation Brands, Conagra and Levi Strauss & Co. The US Labor Department reports the number of worker filings for jobless benefits in the week ended September 30. The US Commerce Department releases August data on exports and imports. Fed officials Loretta Mester, Tom Barkin, Mary Daly and Michael Barr deliver remarks.
Friday: Earnings from Carnival Corp. The US Labor Department releases September data on the state of the job market, including payroll gains, wage growth and the unemployment rate.