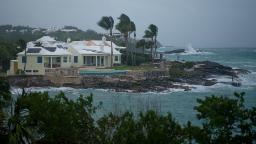 Here's what else you need to know to Get Up to Speed and On with Your Day.
(You can get "5 Things You Need to Know Today" delivered to your inbox daily.
Sign up here
.)
1. Hurricane Fiona
Canadians are bracing for what could be the strongest storm to ever hit their country's coast. Hurricane Fiona, which already battered the Caribbean, is now forecast to brush by Bermuda today before
slamming into eastern Canada
on Saturday morning. Residents in Nova Scotia and Prince Edward Island are being warned to prepare for
Fiona's impact
. The Category 4 storm, which has already claimed the lives of at least five people and
knocked out power for millions
this week, will bring damaging winds, high waves and heavy rainfall that may lead to prolonged power outages, local officials said. Several schools, government offices and other businesses in the region have closed today in preparation for the storm.
2. Ukraine
3. Migrants
4. Pandemic fraud
5. Air travel
BREAKFAST BROWSE
Space Force theme song becomes comedy fodder
Boston Celtics suspend head coach for entire NBA season
Ye West apologizes to Kim Kardashian in 'GMA' interview
Fetuses smile for carrots but grimace over kale, study suggests
Highlights from London Fashion Week
QUIZ TIME
According to the FAA, how many hours of flight experience are required before a pilot may work for an airline?
A. 250
B. 500
C. 1,000
D. 1,500
TODAY'S NUMBER
6.9%
TODAY'S QUOTE
"Today the government of Nicaragua pulled our television signal, denying Nicaraguans news and information from our television network, which they have relied upon for 25 years."
TODAY'S WEATHER
AND FINALLY
Sidewalk drawings that will mess with your perception