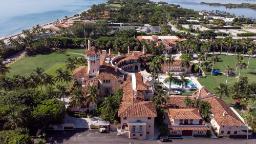 Here's what else you need to know to Get Up to Speed and On with Your Day.
(You can get "5 Things You Need to Know Today" delivered to your inbox daily.
Sign up here
.)
1. Trump
Former President Donald Trump was dealt
double legal blows
on Wednesday as he attempts to fend off investigations on multiple fronts. An appeals court handed the Justice Department a victory by allowing it to continue looking at
documents marked as classified
that were seized from Trump's Mar-a-Lago residence last month. Three judges, including two appointed by Trump, ruled that the public has a strong interest in ensuring his retention of the material did not cause "exceptionally grave damage to the national security." Separately, New York state Attorney General
Letitia James
filed a
civil fraud lawsuit
Wednesday against Trump, three of his adult children and the Trump Organization, alleging they were involved in an expansive fraud lasting over a decade that the former President used to enrich himself. 
2. Gas prices
3. Russia
4. Hurricane Fiona
5. Covid-19
BREAKFAST BROWSE
Two people claim $1.34 billion Mega Millions lottery prize
Aaron Judge hits 60th home run of the season
Profane botanist can't stop cursing about a huge tree
'The Bachelorette' finale did not exactly end in happily ever after
Stephen Colbert talks about the worst thing that ever happened to him
TODAY'S NUMBER
18 million
TODAY'S QUOTE
"No one knows whether this process will lead to a recession or, if so, how significant that recession would be."
TODAY'S WEATHER
AND FINALLY
Grizzly bears put household items to the test