CNN
 — 

The FAA has received 670 reports of unruly passengers on flights this year, according to recent data from the US transportation agency. One of the latest travelers to receive a citation for erratic behavior struck a Frontier Airlines flight attendant with an intercom phone after becoming belligerent onboard, police said.
Here's what else you need to know to Get Up to Speed and On with Your Day.
(You can get "CNN's 5 Things" delivered to your inbox daily. Sign up here.)
Florida Republican Gov. Ron DeSantis is expected to enter the 2024 presidential race this week, sources tell CNN. While polls show former President Donald Trump remains the clear primary front-runner, quiet efforts are underway by the Biden campaign to prepare for DeSantis. The campaign has already started putting cash and efforts into Florida — and will decide in the coming months whether to put more. Meanwhile, GOP Sen. Tim Scott of South Carolina has filed to run for president in 2024, according to the Federal Election Commission's website, and will formally enter the primary race today. Scott, the only Black Republican in the Senate, is also poised to receive an endorsement from the No. 2 Senate Republican, Sen. John Thune. He joins a growing GOP field looking to challenge President Joe Biden as he seeks a second term.
President Biden and House Speaker Kevin McCarthy are set to meet again today as the clock winds down on the nation's debt ceiling drama. On Sunday, Biden issued a stark warning that congressional Republicans could use a national default to damage him politically and acknowledged that time had run out to use potential unilateral actions to raise the federal borrowing limit. Unless a compromise to raise the government's borrowing authority is reached within days, the US could lose its reputation as the stable anchor of the global economy. Millions of people could see retirement and veterans benefits put on hold once the government exhausts its ability to pay its debts. A default would also reverberate through the financial market, likely triggering a recession that would cause serious job losses and shatter a sense of economic security for many families.
A SpaceX rocket carrying a former NASA astronaut and three paying customers took off from Florida Sunday. The crew is embarking on a weeklong stay aboard the International Space Station, marking the second all-private mission to the orbiting outpost. The SpaceX mission, in partnership with Axiom Space, is making history on a few fronts. With this voyage, stem cell researcher Rayyanah Barnawi became the first woman from Saudi Arabia to travel to space and former NASA astronaut Peggy Whitson became the first woman to command a private spaceflight. Among the paying customers on board is John Shoffner, an American who made his fortune in the international telecom business and founded the hardware company Dura-Line Corp. Saudi Arabia also paid to fly two citizens: Barnawi and Ali AlQarni, a fighter pilot in the Royal Saudi Air Force.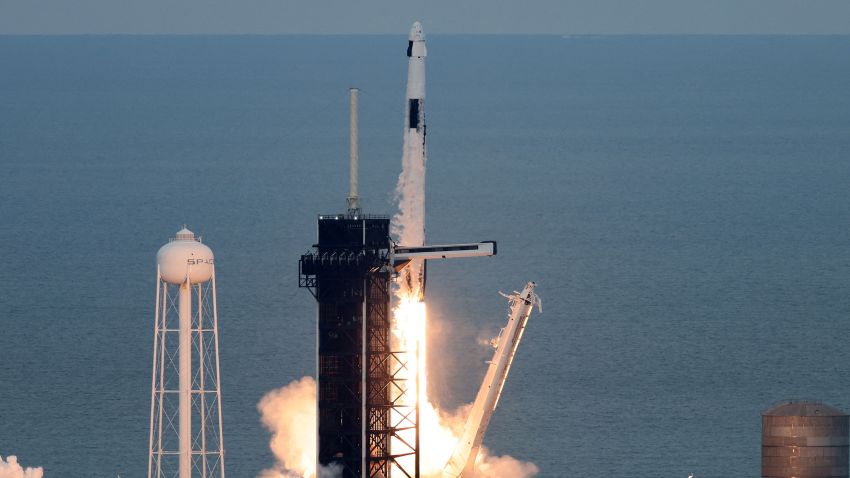 See moment of liftoff as manned rocket blasts off to space
Ukrainian President Volodymyr Zelensky compared the damage in the eastern city of Bakhmut to the destruction wrought on Hiroshima after it was hit by an atomic bomb, as he denied Russia had captured the frontline city. Zelensky's comments came days after the chief of the Russian mercenary group Wagner claimed that his fighters had seized Bakhmut — a statement met with counterclaims from Ukraine. If confirmed, the capture of Bakhmut would mark Russia's first gain in months, but the city's symbolism always outweighed its strategic importance. Moscow has thrown huge amounts of manpower, weaponry and attention toward the city but largely failed to break down a stubborn Ukrainian resistance that had outlasted most expectations.
US supports F-16 fighter jets and pilot training for Ukraine
Meta has been fined a record-breaking $1.3 billion by the European Union for transferring data belonging to Facebook's EU users to servers in the US. The fine is the largest ever levied under Europe's signature data privacy law, known as the General Data Protection Regulation. Meta's infringement is "very serious since it concerns transfers that are systematic, repetitive and continuous," said Andrea Jelinek, chair of the European Data Protection Board. Meta, which also owns WhatsApp and Instagram, said it would appeal the ruling, including the fine. There would be no immediate disruption to Facebook in Europe, the company said. 
Taylor Swift fan goes viral for becoming security guard to attend concert
When tickets sold out swiftly online, this fan found another way into the "Eras" tour — by becoming a security guard. Watch the video here.
Michael Block wins big payout after PGA Championship fairytale
A sensational hole-in-one capped off a storybook PGA Championship ending for this humble golfer. Plus, Brooks Koepka sealed his fifth major title.
This is the most expensive ice cream in the world
Here's the scoop: A small serving of this white truffle ice cream topped with gold leaf costs more than $6,300. It better be tasty… 
Striking looks from Cannes Film Festival
The stars did not disappoint. See the most captivating looks from the week.
Montana's TikTok ban leaves users and business owners reeling
A Montana woman who built her business on TikTok is scrambling to navigate the statewide ban set to take effect in January.
7
That's how many hours firefighters in the Philippines battled a massive inferno Sunday at the historic Manila Central Post Office. Photos of the blaze show large flames and thick smoke billowing from the windows of the neoclassical building built in 1926. Officials said an investigation will be launched into the cause of the fire, and investigators haven't ruled out the possibility of an electrical fault or arson.
"I remain positive and confident on a daily basis that the wheels are turning. I just wish they would turn a little bit more quickly."
— Paul Whelan, an American who is wrongfully detained in Russia, telling CNN on Sunday that he feels confident the US government is trying to secure his release but wishes it could be resolved faster. Whelan was detained in 2018 by Russian authorities who accused him of spying. The US was unable to secure Whelan's release in prisoner swaps that brought home two other wrongfully detained Americans last year: Trevor Reed in April and Brittney Griner in December.
Check your local forecast here>>>
This ghost town is home to Africa's rarest predator
Ruins in the Namib Desert provide valuable shelter for brown hyenas in the hostile climate. Watch the stunning video here. (Click here to view)