CNN
 — 

It's almost time for clocks to "spring forward" one hour for Daylight Saving Time. Yes, it's Daylight Saving Time, with the singular use of "saving," not "savings." Although embraced by some, the twice-yearly switcheroo is disliked by lawmakers and scientists alike, as studies have shown the change disrupts body rhythms..
Here's what else you need to know to Get Up to Speed and On with Your Day.
(You can get "CNN's 5 Things" delivered to your inbox daily. Sign up here.)
The National Transportation Safety Board is sending investigators to Ohio today after a Norfolk Southern freight train derailed there over the weekend, prompting calls to shelter in place before authorities announced the wreck was not hazardous. This comes just one month after another Norfolk Southern train derailment across the state in East Palestine, Ohio, put the company under intense scrutiny over hazardous materials that seeped into the town. After the latest incident, authorities at a Sunday news conference once again sought to assure the local community that the air, water and soil are safe. Meanwhile, crews in East Palestine are still working to clear contaminated soil and liquid from the toxic wreck that occurred on February 3.
Intense fighting is raging around the city of Bakhmut in eastern Ukraine, where analysts assess that Russian forces are encircling Ukrainian units. This marks the first time in eight months that the Russians are on the cusp of taking a Ukrainian city. Amid heightening tensions, the US is also working with Ukrainian pilots to determine how long it would take to train them to fly F-16 fighter jets, three sources briefed on the matter told CNN. While there is no indication at this time that flight training is underway, the step suggests the US has not completely closed the door on providing F-16s. Ukraine has been pushing for the US to provide fighter jets and top Ukrainian officials have escalated their public lobbying campaign in recent days, arguing that they need the planes to defend against Russian missile and drone attacks.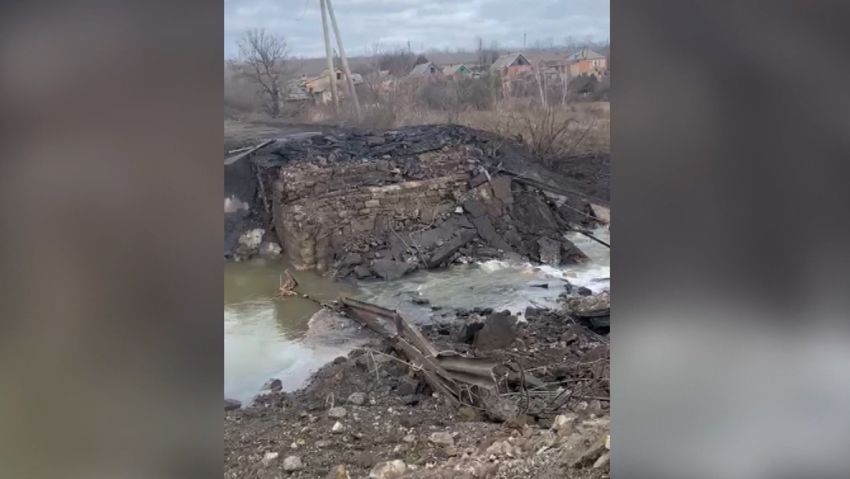 Video shows critical Bakhmut supply bridge destroyed by Russian forces
More than 40 million federal student loan borrowers could be eligible for up to $20,000 in debt forgiveness, but they will likely have to wait several more months before the Supreme Court rules on whether President Joe Biden can implement his proposed relief program. The Supreme Court heard oral arguments last week in two cases challenging Biden's student loan forgiveness program, but justices aren't expected to issue their decision until late June or early July. If the Supreme Court ultimately gives the student loan forgiveness program the green light, it's possible the government will begin issuing some debt cancellations fairly quickly. When the ruling comes will also determine when federal student loan payments, which have been paused due to the pandemic since March 2020, will restart.
President Biden made a fresh call Sunday for new voting protections during remarks in Selma, Alabama, to commemorate the 58th anniversary of the landmark "Bloody Sunday" march, which galvanized the civil rights movement and helped lead to an expansion of voting rights. Biden's stop in Selma came as he and fellow Democrats have struggled to pass their own sweeping voting rights measures, with dim prospects of passage in a newly Republican-controlled House of Representatives. "I've made it clear: I will not let a filibuster obstruct the sacred right to vote," Biden said. Amid expectations that he will announce a reelection bid this year, Biden's remarks had the flavor of a campaign speech, as he ticked through what he saw as his administration's accomplishments and concluded with what many consider to be a potential 2024 slogan: "Let's finish the job."
A top US general visited Syria for the first time over the weekend and met with US troops. The US maintains approximately 900 troops in Syria who are there as part of the campaign to defeat ISIS. In addition to meeting with the troops, US Chairman of the Joint Chiefs of Staff Gen. Mark Milley inspected force protection measures, his spokesman said. The Syrian Foreign Ministry condemned what it called Miley's "illegal" visit to the US military base, saying it was a "flagrant violation of the country's sovereignty and territorial integrity," according to state news agency SANA. Two weeks before Milley's visit, US and coalition forces at Green Village in Syria came under rocket attack, according to US Central Command.
CNN anchor Kasie Hunt gives birth in surprise 13-minute labor
Instead of their planned hospital birth, CNN anchor Kasie Hunt and her husband welcomed their second child in the most unforgettable way!
99% of people got this trivia question wrong
Ready to test your knowledge? See if you can answer some of the most challenging questions from the live mobile game HQ Trivia. Take the quiz here.
Chris Rock tackles Oscars slap in live Netflix special
The comedian saved these jokes about the incident until the last ten minutes of the show.
King Charles invites Harry and Meghan to coronation
But it remains unclear if the Duke and Duchess of Sussex will attend due to their ongoing rift with the royal family. 
Painting recovered by Holocaust victims' heirs sets auction record
A Kandinsky painting that once belonged to victims of the Nazi Holocaust has sold for nearly $45 million. 
Guitarist Gary Rossington, the last surviving founding member of Southern rock band Lynyrd Skynyrd, has died, the band announced Sunday evening. He was 71. Rossington was among the Lynyrd Skynyrd band members inducted into the Rock and Roll Hall of Fame in 2006 and contributed to many of the group's most iconic songs, including "Sweet Home Alabama" and "Free Bird."
9
That's nearly how many years it's been since Malaysia Airlines flight 370 disappeared mysteriously while en route from Kuala Lumpur to Beijing. On Sunday, families of the passengers on board called on the Malaysian government to allow US exploration firm Ocean Infinity to mount a new search for the missing plane after previous operations came up short.
"The reality is that he has the support in the Republican party, and he could very well be the candidate."
– Former US defense secretary and ex-CIA director Leon Panetta, joining CNN on Sunday to discuss the possibility of another Donald Trump presidency. "I think it would be a terrible message to send to the world," he added. Panetta's comments came after Trump delivered a speech at the Conservative Political Action Conference on Saturday – filled with wildly inaccurate claims about his own presidency, Joe Biden's presidency, foreign affairs, crime, elections and other subjects.
Check your local forecast here>>>
Riding a kayak over a 134-foot waterfall
This takes daring to a new level! (Click here to view)